Friends of Humbug Gathering 2017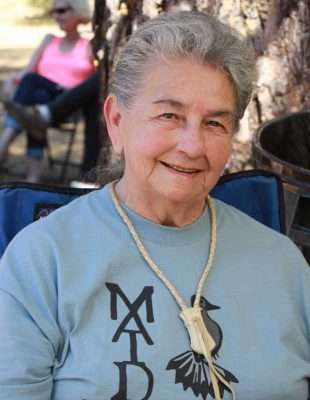 The Maidu Summit Consortium & Conservancy hosted the Friends of Humbug Gathering 2017 with a potluck July 22 at Yellow Creek Hunter's Camp in northern Humbug Valley, not far from Yellow Creek. The public was also welcome to bring a favorite food to share.
The new site at Yellow Creek Hunter's Camp was due to PG&E closing its Yellow Creek Campground this year for maintenance, the typical location of the annual event, noted Ken Holbrook, Maidu Summit executive director.      Temporary signage was posted on the day of the event to help direct attendees to the new location.
He said the event was another successful gathering of community supporters and stakeholders, honoring the Maidu Summit Consortium's member group, Friends of Humbug.
Holbrook noted that this event recognizes and celebrates the work being done to transfer Humbug Valley (Tásmam Kojóm) land back to the Mountain Maidu people and appreciation for all who support this initiative.
The potluck included traditional singing, dancing, storytelling, crafts and other features of Mountain Maidu culture. The festivities were drug and alcohol free.
"We served a potluck lunch to approximately 60 public donors and guests as well as providing traditional arts performances," that entertained those who attended, Holbrook said.
The Friends of Humbug Gathering 2017 was sponsored by the Feather River Land Trust, Sage Creek Insurance, Coldwell Banker Kehr/O'Brien, Feather River Properties and Lassen Drug Co., "who generously contributed to the cost of the festivities and to whom we are grateful," he said.       A prize-drawing that included many unique items was staged and "many of our guests contributed to the fun."
Holbrook stated that the consortium enjoys providing a potluck every summer "as a means of recognizing goodwill and celebrating the important commitment to our efforts shown by the public," adding that the family-friendly event means a lot to the many donors and volunteers who attend the celebrations.
He explained that the Maidu Summit Consortium is a nonprofit group representing nine member organizations of Maidu Indians of Lassen and Plumas counties in their united quest to protect and steward their traditional homelands.
Wendy Planck, Friends of Humbug member, said of the event, "We all had an awesome time. Myself and my family were very touched by the event and the positive energy."
Reina Rogers, MSC board member, shared her excitement as well, saying that everyone who attended "had a lot of fun hanging out with old friends as well as meeting new ones."
MSC Vice-Chairperson Beverly Benner-Ogle shared that, "The event went very well despite receiving last minute notice of the closure at Yellow Creek Campground. … We thank the U.S. Forest Service for helping us," she said, by opening up a different site for the festivities, held from noon to 6 p.m.
Afterward, a few of the volunteers stayed overnight at a nearby campsite.
"Our land conservation projects focus on sacred sites and critical habitats that are integral to our goal of enhancing the resources that allow for the lifeways of the Maidu People," Holbrook added.
For more information, contact Kenneth C. Holbrook at 258-2299 or email [email protected]
The Maidu Summit Consortium office is located at 289 Main St., G7, in the Stover Landing office complex in downtown Chester.