Friends of Plumas Wilderness to launch Wild Rivers of the Lost Sierra awareness campaign
Standing on the banks of the Middle Fork Feather River, feeling a cool breeze rustling in the firs and listening to the wild, rushing waters tumbling headlong over boulders on their westward course, one feels a deep sense of peace, gratitude and joy. It smells so good out here.
Plumas County is famous for its scenic roadways and endless forested vistas, but it may be the places where there are no roads that make a heart most glad.
"Everybody needs beauty … places to play in and pray in where nature may heal and cheer and give strength to the body and soul alike," said conservationist John Muir.
He was right.
Celebrating 'Local and Wild'
These thoughts came to mind one day when Darrel Jury, president of the local Friends of Plumas Wilderness group, sat down over a steaming cup of cocoa at Quincy Provisions to talk about the significance of working to protect 200 miles of wild and scenic rivers — like the Feather — as well as 50,000 riverside acres of wilderness.
Beginning at 7 p.m. on Monday, Feb. 12, with a free-admission "Wild Words" presentation on "The Feather River: Yesterday, Today and Tomorrow" at the West End Theater in Quincy, FPW will launch its 2018 "Wild Rivers of the Lost Sierra" campaign to increase awareness about "the value of protecting these areas," Jury explained.
The event is the first of FPW's Local/Wild Plumas County series that will honor the 50-year anniversary of the national Wild and Scenic Rivers Act. Others will follow, all to be held at 7 p.m. and sponsored by the Little-Kittinger Foundation.
On Monday, March 19, at the West End Theater, panelists Michael Jackson, Steve Evans and Mike and Sally Yost will share stories about the establishment of the Bucks Lake Wilderness.
On Thursday, April 26, at the Town Hall Theater in Quincy, the Plumas Earth Days Community Sustainability Awards will be held, followed by a guest appearance with acclaimed conservationist and photographer-author Tim Palmer who will discuss his breathtaking photos and new book "Wild and Scenic Rivers: An American Legacy."
Founded in the early 1970s, FPW is dedicated to studying, exploring and maintaining the integrity of natural ecosystems in the Northern Sierra and Southern Cascades. With its partners, FPW was instrumental in the 1984 designation of the Bucks Lake Wilderness.
The nonprofit is currently working with Feather River College's Sustainability Action Team and the English department to host the Local/Wild series.
Middle Fork fame
"When the Wild and Scenic Rivers Act was established in 1968, only eight charter rivers in the whole country were included," Jury said. "The exciting thing was that the Middle Fork Feather River was one of those eight."
Originally, the entire river above Lake Oroville was protected for 154 miles. In 1976, the river designation was redefined to exclude over 77 miles of streams in Sierra Valley. The protected remainder encompasses 77.6 miles of the Middle Fork that flows west from a location south of Beckwourth to Lake Oroville, including a corridor that is one-quarter-mile wide on either side of the river.
The congressionally designated "Wild Zone" totals 11,080 acres, Jury explained.
Over 280 major rivers protected
According to the U.S. Geological Survey, America has 2.9 million total miles of rivers and streams.
The wild and scenic system includes about 13,000 miles of waterways nationwide and while significant, amounts to less than one-quarter of one percent of America's rivers.
Five decades later, the federal act now covers 289 major rivers and a total of 495 rivers, forks and tributaries. California rivers that have been added since the act's inception include the American, Big Sur, Klamath, Merced, Smith, Trinity, Tuolumne and many others.
Designated rivers are classified as wild, scenic, or recreational — dependent upon criteria that consider levels of primitiveness, lack of pollution, inaccessibility or the presence of trails and roads, and development or the absence of it, among other factors.
The Middle Fork Feather River qualifies for all three designations, apportioned this way: as recreational from Beckwourth to Lee Summit; as scenic from Lee Summit to Red Bridge and Milsap Bar; and wild from Red Bridge to Lake Oroville.
As people came and went at the coffee shop, ordering baked goods and eyeing the delicious handmade candies on display, Jury pointed out the many values of the Feather River for power-generation, water supply, wildlife habitat, recreational uses and economic activities that support the region, such as tourism.
The 100-mile-long Feather River watershed is the largest watershed in the Sierra Nevada, which are the headwaters of the State Water Project that supplies water to 23 million Californians.
"We live in an area where we have the potential, if we manage it properly, to continue to have clean water, clean air, wildlife, recreational opportunities and a high quality of life," Jury commented.
Wild Rivers of the Lost Sierra
The FPW's Wild Rivers of the Lost Sierra awareness campaign is only one part of the work the organization is doing.
The organization has received grants to fund its volunteer work and has partnerships in progress with the Wilderness Society and California Wilderness Coalition to permanently protect wild lands and rivers. In addition, Snowlands Network and the Winter Wildlands Alliance are FPW partners to collaborate with the U.S. Forest Service on a balance of motorized and "non-motorized, human-powered" winter recreation opportunities.
One grant — from outdoor gear and clothing company Patagonia for $20,000 — is funding the production of a film about the Feather River.
Feather River film
Emmy-winning Chico film director Matt Ritenour met Jury in Genesee while he was creating a piece for the Maidu Summit Consortium. They quickly formed a plan to develop a film about the Feather River.
"What interests me about this project is exploring the different ways people interact with the outdoors and how that relationship can influence who we become," Ritenour said recently. "This project is giving us the opportunity to tell a more all-encompassing story about the wide array of characters and locations along the Middle Fork than I believe has been done, and creatively, I think it's a chance to create a blend of adventure film and environmental documentary. I'm really excited to take on that challenge."
Jury said FPW hopes to have the movie accepted for the Wild and Scenic Film Festival in January 2019. The festival is the largest of its kind and is organized and produced by the South Yuba River Citizens League.
The film's working title is "Wild & Scenic Dreams." Updates about the project will be posted on FPW's website for the community to follow.
Ritenour said he was drawn to this film because it offers an opportunity to "tell a story that would reflect the uniqueness of this place as well as work toward conserving it for future generations."
He added, "As a filmmaker, these are the kinds of initiatives that I try to support, ones where film can be used as a tool toward positive changes. I hope that at the end of the day, the public better appreciates the Middle Fork and its surrounding communities for the role the region plays in supplying water to the rest of the state and supporting wildlife populations, as well as the sheer beauty and adventure that encompass it."
A history of commitment
Putting together a multi-faceted outreach campaign of this scope — with events, grant proposals, coalitions of partners, a film and more — takes a lot of planning and many volunteers.
Support comes from about 350 "friends" affiliated with FPW, a dozen steady volunteers, and the board of directors that includes Jury, his wife Darla DeRuiter as secretary, Ryan and Rachel Bauer, Lucinda Berdon as treasurer, Carroll Clark, Dana Flett, Will Lombardi, Rob Russell, Scott Stirling and Rick Stock.
The FPW president seems unfazed by the amount of work involved in their projects.
Born in Ethiopia when his father was in the U.S. Navy, Jury was later raised in Red Bluff with access to many outdoor adventures.
Growing up with Northern California at his doorstep, he has been a lifelong advocate for managing land that has value in its wild state. He currently consults on forest health issues and works with the Maidu Summit.
Jury's career emphasis has been on tourism and recreation and he has taught environmental studies at Feather River College and in Colorado, where he met his wife, fellow instructor DeRuiter. The couple has made their home in Meadow Valley since 2004.
River protection goals
Jury summed up FPW's efforts this way, saying the nonprofit would like to see tributaries to the Middle Fork and other streams on the Plumas and Lassen National Forests (that meet the definition of Wild and Scenic Rivers) protected.
"Our organization is focused on the natural spectrum of our public lands," he said. "Nature and society are complex. We're not looking at all areas to be protected, but some are worthy."
  Friends of Plumas Wilderness, he explained, aspires to have the Middle Fork of the Feather River designated as wilderness — as it meets the Wilderness Act definition — meaning that it "generally appears to have been affected primarily by the forces of nature, with the imprint of man's work substantially unnoticeable" and "has outstanding opportunities for solitude or a primitive and unconfined type of recreation."
The FPW leader added that the Plumas National Forest Service has 3,600 miles of roads to manage.
"They manage more roads than most countries!" Jury chuckled. "The PNF has a higher proportion of linear miles of roads per square mile than any National Forest, yet we still have roadless areas that meet the criteria to be considered as wilderness."
Advertisement
According to Jury, the High Sierra "is made up of a bunch of wilderness areas — with California being second only to Alaska" in the amount of protected wilderness.
"We are working to get public support to be part of the Forest Service process," he said. "There is a value in roadless areas. The focus will be on a better balance of recreational opportunities."
Sharing the U.S. Forest Service's perspective, Lee Anne Schramel said, "It's all about people. The Forest Service is charged with managing public land on behalf of the people of the United States. Balancing people's different perspectives as to what management looks like on the ground is an ongoing task."
Schramel is the local Public Affairs Officer with the Plumas National Forest Supervisor's Office. She has a long history of dedication to forest issues, having begun her career as a wild land firefighter.
"Learning about nature is one piece of the equation," she said. "The other piece is learning about people and their perspectives. The more we know about each other and the natural world, it helps create better programs. I think we all want a healthy environment for our children in the long term."
With an empty cocoa cup before him and a bright Sierra afternoon beckoning, Jury concluded, "We've had great success in getting partners for our Wild Rivers campaign. We still need more support. We need to let people know these lands are valuable to ALL of us."
For more information
Friends of Plumas Wilderness is a 501(c)3 organization and all donations are tax deductible. For more information, visit plumaswilderness.org.
"Wild Words" presentation on "The Feather River: Yesterday, Today and Tomorrow."
Monday, Feb. 12, 7 p.m.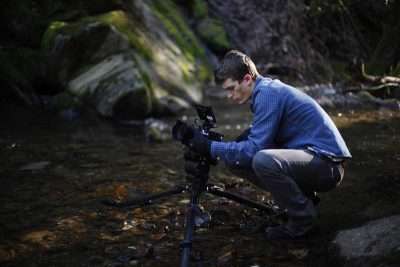 West End Theatre
541 Main St., Quincy
283-1956
Free admission, open to the public.
Featured speakers: Dick Laursen and Will Lombardi, Ph.D.
Laursen was raised on the Middle Fork during the Depression.From the ages of 8 to 12, he lived in the vicinity of Milsap Bar (1937-1941). Those formative years influenced his life and he went on to study wildlife biology at CSU Humboldt, then worked as a game warden and recreation planner for the State of California. 
In 1967, Laursen and a colleague hiked and swam from Sloat to the Oroville Dam construction site. He took photographs and made journal entries to show that the Middle Fork was worthy of Wild and Scenic River designation. Laursen will share his photos, journals and stories.
Lombardi is an English professor at Feather River College who did his dissertation on John Muir's travels in the Middle Fork. Dr. Lombardi will share entries and sketches from Muir's journals.