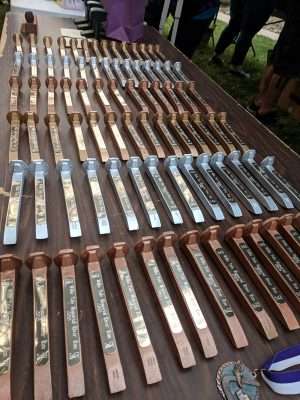 The 2018 Willie A. Tate Memorial River Run/Walk 5k/10k went off with a bang on the chilly, smoky morning in Portola on Aug. 26, with a final headcount of 65 on the starting line at 8 a.m.; 10 of those 65 runners, walkers and joggers were participating in the 10k.
One organizer, Pat Bridge, shrugged into her purple and black plaid jacket, joking about the cold, as she and others met runners with warm smiles and bib numbers for the run/walk. "We keep doing this just to keep the memory of Willie Tate alive," Bridge smiled. "We so appreciate all that continue to participate each year."
The event commemorates Willie A. Tate, a teacher, coach and mentor to many students at Portola Junior/Senior High School up until his death in 2000. The River Run was created to raise funds for the Willie A. Tate Heart and Soul Award and Scholarship.