Getting ready to hit the trail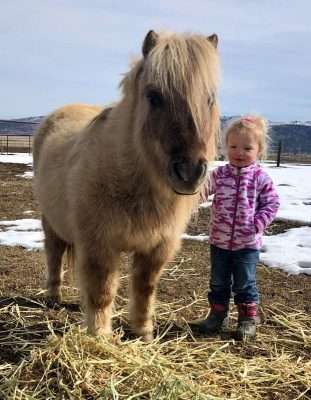 The art and agriculture communities of Plumas and Sierra counties are inviting the public to spend an eventful autumn day enjoying the history, culture and bounty of one of their treasures: Sierra Valley.
Visitors will travel the annual Sierra Valley Art & Ag Trail on Saturday, Sept. 28, at their own pace, enjoying Sierra Valley Barn Quilts and opportunities to visit market farms, working ranches, and other historic buildings, hosting local artists of every medium – wood, paint, glass, ceramic, metal, fiber and more.
Organizer Kristi Jamason noted that the event offers a window into the past, when Sierra Valley was home to a large number of family-run dairies that supplied milk, cream and butter to the Comstock Lode miners in Virginia City.
Guests will have a rare opportunity to visit privately owned 100-plus-year-old dairy barns, many built with hand-hewn timbers and wooden pegs, still serving today's working ranches.
Visitors will meet a wide variety of interesting animals along the way, according to Jamason, with Eddie the Mule waiting to prove to visitors that he truly is a golden retriever, Marshmallow the goat waiting to give free winks, and a miniature horse named Applejack.
Inside and around the barns, farms and other historic sites, talented local artists will be showing and selling their wares. Visitors will be offered opportunities to tour the sites and learn about the history and current uses and operations.
Travelers along the Art & Ag trail will be treated to a permanent art installation in Sierra Valley. Barn quilts honor the economic, cultural and historical contribution of ranching and farming to our rural communities, while celebrating one of America's historic art forms, the quilt block.
With the support of a grant from the California Arts Council, local artists, quilters and ranchers came together under the guidance of the Sierra County Arts Council to create the Sierra Valley Barn Quilt Trail.
The Barn Quilt patterns speak to the Valley's Swiss-Italian heritage, wildlife and agricultural foundation. They add a story and a splash of color to grand old structures around the valley.
The Sierra Valley Art & Ag Trail event also offers children's activities, artist demonstrations, education about the sources of our food and fiber, and a prize drawing, featuring a keepsake passport for collecting stamps of local cattle brand insignia, artist's marks and more along the Trail.
Visitors should plan on beginning the day at one of three different "Trailhead" information centers positioned at convenient entry points into Sierra Valley: The Sierra Valley Grange Hall in Vinton, Sierra Valley Farms in Beckwourth and the historic Sierraville School in Sierraville.
Trailheads will open at 9:30 a.m. on the day of the event, and each will host local artists and will provide opportunities to join in the passport fun, purchase a souvenir, pick up a paper map to all event sites and plan the rest of the day with a knowledgeable volunteer.
For a $20 donation, which helps pay for signage, port-a-potties and all the other expenses of putting on the event, attendees receive a limited edition Sierra Valley Art + Ag Trail Passport, featuring iconic photographs from Sierra Valley and spaces to collect stamps as attendees travel the Trail.
"A fundraiser for the event, the Passport is a great keepsake item, a fun activity and an entry into our amazing prize drawing," say event organizers. Passports and prize drawing tickets will be available online before the event and at Trailheads on the day of the event.
"Reservations for Passports and dinner are now open online," Jamason invites.
All tickets and reservations are will call. Attendees will be asked to specify at which Trailhead they will begin their journey, so organizers can be sure that passports and drawing tickets are waiting for attendees, along with a map to all the sites for the day.
Advertisement
Trail-weary pioneers are encouraged to stop by the Sierra Valley Grange Hall in Vinton, from 4 to 6 p.m., for the end-of-day activities. Following the 4:30 p.m. prize drawing, organizers say "You won't want to miss the Plumas-Sierra Cattlemen's Association & the Plumas-Sierra Cattlewomen's delicious tri-tip dinner. These folks know their way around a grill and a cut of beef, so this is not a stop to be missed!" A vegetarian option is also available.
This will be an opportunity to catch up with friends, compare passport stamps, swap stories and refuel for the drive home. According to event organizers, dinner will be followed by an entertaining live auction that will send attendees home with a smile on their face and maybe something special for their home.
The Sierra Valley Art + Ag Trail is blessed with a generous community, including local artists and exhibitors, many of whom donate some of their beautiful artwork for a prize drawing that serves as a fundraiser to keep the event going. "This is not your typical prize drawing!" Jamason promises with a smile.
Event passports come with two prize drawing tickets as well, and additional tickets can be purchased for $5 each.
The Sierra Valley Art & Ag Trail is supported by the Sierra County Arts Council, with major funding from the Sierra Nevada Conservancy.
The event was developed through the cooperative efforts of residents, local organizations, sponsors, funders, and many individual artists and family-owned farms and ranches.
For more information or to reserve passports and dinner tickets, visit sierravalleyartagtrail.org.
Lost Marbles Ranch presents Sourdough Slim
For those who want to expand the trail experience, Jamason encourages all to join in at The Lost Marbles Ranch for dinner and a concert that will benefit the Sierra Valley Art & Ag Tour on Friday, Sept. 27, at 5:30 p.m.
The evening will start with dinner served at 5:30 p.m. with two options to choose from, tri-tip or rotisserie chicken, with sides of ranch style beans, salad and a roll, catered by When Pigs Fly.
The evening also boasts the live musical offerings of Sourdough Slim and Robert Armstrong. The Sierra Plumas Cattlewomen will be offering a no-host cash bar.
Sourdough Slim will kick of an authentic vaudeville style cowboy show in the Will Rogers tradition beginning at 7 p.m.
Sourdough Slim is a veritable "one-man Western extravaganza," crooning Western classics, playing the accordion, guitar and harmonica, dancing a jig, dishing out hilarious comedic sketches and letting loose with award-winning "yippie-ti-yi-yodeling."
For more information about the dinner and show, call 308-9045, email [email protected] or visit thelostmarblesranch.com.
Trailhead addresses
Sierraville School, 305 Lincoln St., Sierraville
Sierra Valley Farms, 1329 County Road A-23, Beckwourth
Sierra Valley Grange Hall, 92202 Highway 70, Vinton
When:
Saturday, Sept. 28
Sites open: 10 a.m. – 4 p.m.
Prize drawing, dinner and auction: 4 – 6 p.m. at Sierra Valley Grange Hall in Vinton.