Grateful for the helicopters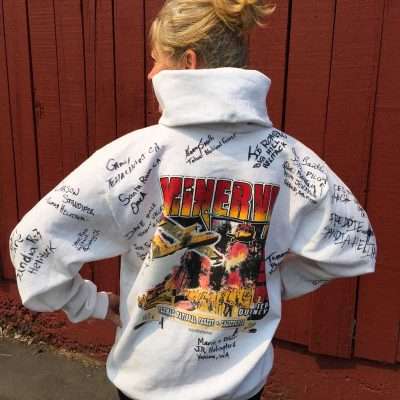 Quincy resident Bette Maddon took her thanks directly to the fire crews and helicopter teams in appreciation of their valiant service on the 4,300-acre Minerva Fire.
Her souvenir sweatshirt was circulated during the down times and she has received signatures and messages that she will enjoy long after the smoke clears.
"This fire has affected a lot of us in a personal way," Maddon said. "I've had a chance to meet some of the crews. I just wanted those men and women to know how very much we thank all of them and we will never forget what they've done for us."
In addition to the autographs, Maddon received a card from one of the pilots who flies the big red Helitack 512 helicopter with the long water hose attached to it, Lisa Bartley of New Mexico. Bartley is an accomplished artist whose work often depicts the heroism of the wildland firefighting experience. With her family, Bartley Enterprises Crews, she fights fires all over the west. Her daughter, Jen Bartley, has flown the blue Helitack helicopter during the Minerva Fire.
The card read, "To the wonderful folks of Quincy: Thank you for your gracious, generous donations of food and refreshments! Your community has displayed a wonderful spirit of down-home hospitality to every firefighter that has come to aid you on the Minerva Fire. God bless you all!"—Lisa Bartley, New Mexico