Greenhorn Ranch passes hands, and new owners bring new possibilities
It is the end of an era at Greenhorn Ranch near Spring Garden. The former dude ranch owners, Trish and Ralph Wilburn, are passing the branding iron to a new group of owners who purchased the ranch in March of this year.
The iconic dude ranch has been the gathering place for locals and visitors alike since 1962. The serene ranch holds a special place in the heart of the community, and it was not hard for the five members of the Greenhorn Partners to see the appeal of the 600-acre ranch.
Feather Publishing sat down with two of the Greenhorn Partners, David James and Peter Derbonne, who initiated the purchase process for the ranch.
"Quincy was a really special place for me," said James, a Southern California resident and FRC alumni. "I grew up in Southern California. At 18 years old, I kind of felt like my life was a little on the aimless side and I was looking for a change … Without any real knowledge of this area I looked up Feather River College … This place exceeded my expectations by a wide margin."
James said he visited the area frequently over the years and spent time hiking, fishing and gold panning.
"I have always had a soft spot for Quincy," he said. "When the asset came up for sale, I called Peter, who initially wasn't interested."
"Well let's just be real clear," chimed Derbonne, "I was even less than interested."
Even so, James convinced Derbonne to visit the facility.
"In five minutes, everything changed," said Derbonne.
Derbonne said the ranch offered the possibility of having a place to reconnect with families and enjoy just being together in a unique way that is rare in California.
"There is not enough places for families to go and reconnect," he continued. "This is the best kept secret."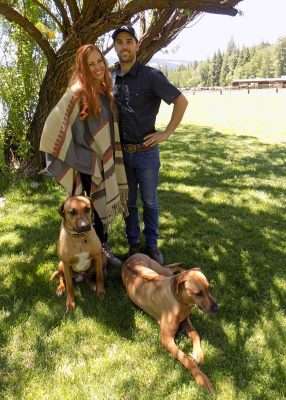 Though they have initiated extensive renovations and new marketing strategies, The Greenhorn Partners plan to keep the ranch a working dude ranch.
"As long as we own it, this will be a dude ranch and nothing else," said Derbonne.
"It is all about celebrating the family," said James, a father of three. "It has to be more than about making money. This has to be about doing something that is meaningful."
Many aspects of the ranch will be the same, but there will also be a variety of new activities for families to enjoy including mountain biking, fly fishing and gold panning.
A new set of faces will also be on the ranch. Lacey and Josh Dibble are the new general managers and will be overseeing the facility with the help of their two Rhodesian Ridgeback dogs, Sierra and Salvador.
Lacey Dibble grew up with horses and was a rodeo queen. She worked with some of the Greenhorn partners for years. When Derbonne contacted her about working at Greenhorn, she had a sense of familiarity about the ranch. After leafing through childhood pictures, she saw some of herself at Greenhorn. She said her family came to Greenhorn when she was young and her parents even tried to purchase the ranch in the early 90s.
"It was always my mom's dream and she actually died of cancer when I was 18," Lacey said. "I felt like there was some irony and destiny in coming here. That was a big motivator for me in being here."
Lacey and Josh will oversee all aspects of the ranch including guest relations, marketing, facilities and care of the horses. She also said a top priority of the ranch will be to connect with the community.
"We want to spend some time getting to know the community," Lacey said.
The ranch will continue to offer Friday night barbeques and horseback rides. The group also plans on putting on a firefighter appreciation fundraiser during the summer.
"It really is a full western style resort with all the amenities you could possibly want," said Josh. "If you're bored that is on you. It is just a really cool place."
In the meantime, the Wilburns will be enjoying a well-deserved retirement. Ralph, who is turning 80 this year, plans to attack the lakes and rivers with his fishing pole. Guests might even find them singing around the campfire at night.
"We are going to be right here living out our life at Greenhorn," said Trish. "We will be here to consult and help as needed."
"We have been tied down and working our whole career here," said Ralph, who came to Greenhorn in 1962. "It is time to see some more of Plumas County. There are 100 lakes here and I have only fished five or six of them."
"It has been a great career," said Trish.
"Plumas County has been very good to us. We love the county and we love the people here," said Ralph.