Greenville man to join Lassen Fire Safe Council team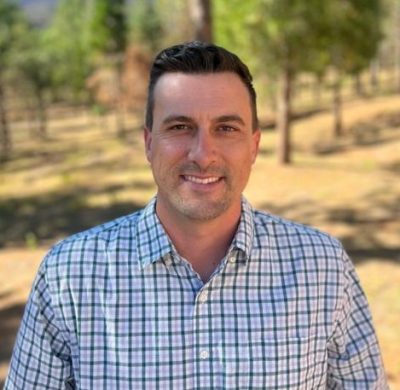 A Greenville native will join the leadership team of the Lassen Fire Safe Council in late August. Cade Mohler will be the new managing director of LFSC. Mohler, a registered professional forester, has 15 years of experience in the public and private forestry sector, including on LFSC projects, and early career experience working in the Lassen National Forest. Mohler earned his Bachelor of Science degree in Forestry in 2009 from Humboldt State University (now Cal Poly Humboldt).
He comes to the council from Sierra Pacific Industries, where he held positions since 2013 as a district or senior district forester in Northeastern California. For the last two years, Mohler helped guide reforestation efforts required after local area fires such as the Hogg, Claremont, Bear and Dixie fires. In August 2021, Mohler's Greenville residence and community were consumed in the Dixie Fire, an experience that changed his career direction.
"I decided I would shift my focus from private forestry in order to help rural communities prepare for and recover from wildfires," Mohler said.
"The council's board and I are of like mind on a strategy that continues the successful relationship with industry partners on larger fuels-reduction projects while also building an organization that can take on community-based wildfire protection. The LFSC team will be available to leaders and landowners throughout the responsibility area who would like to collaborate," Mohler added.
Mohler will be joined by new Projects Coordinator Kyle Herron, who will bring his skills and training as an ISA certified arborist, master gardener and utility forester to the agency. Herron has held positions across Central and Northern California where he focused on tree and forest health and reforestation and most recently worked for Sierra Pacific Industries, where he was a Reforestation Specialist. Herron holds a Bachelor of Science degree in Environmental Management and Protection from Humboldt State University.
Chastity Arnett, the new Projects Support Specialist, will take over select administrative functions including landowner signups, grants administration, community outreach and accounting duties. Arnett spent the bulk of her career performing administrative support with the Pershing County (Nevada) Road Department and Courts and most recently tracked environmental health and safety reports in the state's mining industry.
Since its founding in 2002, the LFSC has strategically protected Northern California communities through fuel reduction and forest restoration projects on more than 90,000 acres of private, federally managed and tribal land. Community-led initiatives have resulted in projects that reduced wildfire threats to forests and communities, improved forest health, protected watersheds and educated homeowners about hardening their homes. Ongoing and future projects will help support California's immediate and long-term environmental and economic goals.
"The LFSC board is taking a two-pronged approach to our mission, trying to meet the needs of multiple stakeholders," said Ruth Morentz, LFSC Board Chair.
"We are committed to doing more projects and engaging with the local community to help the individual landowner and small organizations. In support of this process, LFSC is committed to resuming monthly our general meetings where the public can engage with the organization and our partner agencies and learn more about our grants and community projects," Moretz said. "We also will continue with large-scale projects, such as those on national forest lands."
The new team arrives after the departure of Tom Esgate, the longtime LFSC Managing Director who guided the agency for nearly 20 years through expansive growth and made LFSC a leading example of proactive wildfire preparation.
"We recognize the huge loss of institutional knowledge and talent that is Tom Esgate," Morentz said. "We are now trying to build for the future."
For more information, contact Ruth Morentz at the Lassen Fire Safe Council at [email protected]