Harvest fest features local breweries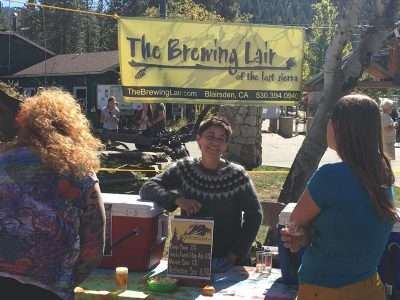 The 15th annual Mountain Harvest Festival coming Saturday, Oct. 13, to the Plumas-Sierra County Fairgrounds boasts one of the best assemblages of craft, micro and nano breweries in the area. The event offers brews to taste from upward of 20 breweries from around the Western US.
Along with being one of the most anticipated events of the fall season, the Mountain Harvest Beer Festival is one of the most important fundraisers for Plumas Arts.
"This year we are very pleased to have three local breweries back again to the event," says Kara Rockett-Arsenault and Dale Ready, event organizers. They are the Brewing Lair from Blairsden,  Lassen Ale Works from Susanville, and Quintopia Brewing Company from Quincy.
The Brewing Lair
Advertisement
The Brewing Lair, a 15-barrel brewery, is dedicated to the production of high profile ales and opened in Blairsden in 2011. Founders Susan Duniphin and Rich DeLano are the thirsty, great-craft-beer-seeking couple that founded The Brewing Lair. 
Rich DeLano was a carpenter who needed a new hobby; Susan, a brewer and formerrestaurateur, who needed a new project.Susan taught Rich how to brew beer and Rich took it to a whole new, professional level.Now Rich brews (real tasty) beer and Susan sells it. 
The Brewing Lair is a wonderful place to relax and enjoy a beer. They feature music all summer long on their meadow stage, as well a disc golf course, and other fun activities on the property. Check out their Facebook page for all the details, facebook.com/TheBrewingLair/.
Lassen Ale Works
Lassen Ale Works is located in uptown Susanville at the 150-year-old Pioneer Saloon. Their on-site brewery, run by Brewmaster Erik Jefferts, produces eight house ales that run the gamut from light and refreshing Bizz Johnson Blonde to their hopped up Volcanic Double IPA to the rip-snortin' barrel-aged Devil's Corral Imperial Stout. They also brew seasonal specialties like HefWit, Oktoberfest and Tripel XXX Belgian.
Lassen Ale Works beers are available in bottles in local stores and on draft. At the pub, ales are served cold, on draft, at the longest bar in northeast California along with a good selection of wine, craft cocktails, single malt scotch, premium liquors and upscale pub fare prepared in-house from scratch.
Quintopia Brewing Company
Quintopia Brewing Company recently opened a taproom in Quincy at the West End Theatre, which offers family-friendly patio seating. Kitchen renovations are currently underway.
Quintopia's production facility across the street is open on Monday evenings for people to enjoy a pint, check out the beer production process and enjoy a quick bite. The name reflects the good way of life and the vibrant community to be found in and around our area — the "Quincy Utopia." Their specialty is easy-drinking beer styles that appeal to a range of tastes. "Craft beer should be accessible to anyone wanting to give it a go — not too over the top," said Quintopia's founder and Head Brewer Tom Hepner.
Tasting pass tickets are on sale now: $35 for non-members or $30 for Plumas Arts members, and are available at the Plumas Arts Gallery, Quincy Natural Foods and online in the Plumas Arts Shop on plumasarts.org where you can also find more information about the event.
Tasting passes are $40 at the gate. Non-tasting general admission is $5.
The event takes place from 1 to 5 p.m., at the Plumas-Sierra County Fairgrounds and offers food, music and beer. For more information, call Plumas Arts, 283-3402.