Holiday tours begin at the fairgrounds Friday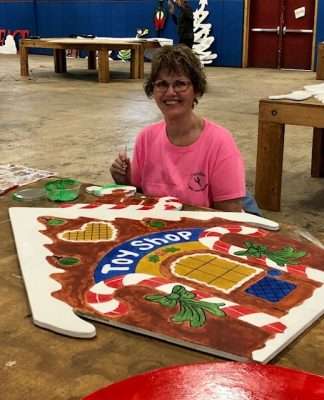 "It's the MOST wonderful time of the year!," said Fairgrounds Manager John Steffanic. "The long time mascot of the Plumas Sierra County Fair; Chipper, certainly thinks so!"
For this holiday season, he (or she, we don't really know) has partnered with the non-profit foundation of the Fair to produce "Chipper's Christmas Wonderland." The PSCF Foundation, along with this loveable rodent, enlisted dozens of volunteers to hand paint a variety of Christmas scenes that will be displayed along a drive-thru tour of the fairgrounds. Over 5,000 lights will cover buildings and fill trees for this first annual event.
For weeks, volunteers have filtered in and out of Serpilio Hall to cut figures from plywood and paint them to create scenes like a Gingerbread Village, busy elves and even Santas that wave! Penguins, reindeer and snowmen will fill nooks and crannies, waiting to delight kids of all ages.
The event was originally planned as a combination drive-thru and walking tour but for COVID considerations, at least for this year, the tour will be exclusively a drive-thru experience.
The attraction will open Friday, Dec. 4, at 6 p.m. and operate until 8 p.m. The attraction will again open Saturday night, Dec. 5, and continue every Friday and Saturday night through Dec. 19 with the same hours. Visitors may come to the front gate where they will be greeted and admitted to provide adequate spacing between cars.
"As a special treat, the fabulous performers of Quircus will be fire dancing amongst the trees," said Steffanic. "The path will wind along the promenades, past brightly lit buildings, around the family gardens and finally by Santa's Cabin." Santa will be there, on his front porch, waving and talking to families as they stay in their car. A helpful elf will be there with a basket on a stick to transfer wrapped candy canes from Santa to the kids, and even receive letters to Santa in return. All that is asked is that visitors remain in their cars the entire time. "There will be no bathrooms available and no other services that would require leaving the vehicle," said Steffanic. "Maybe next year!"
The PSCF Foundation is dedicated to anything that promotes the Plumas Sierra County Fairgrounds and makes it thrive. A major portion of that mission comes from fostering the communities of Plumas and Sierra Counties. The Chipper Christmas Wonderland is a free event.
"There will be a donation barrel available as visitors leave and contributions will be used to make next year even bigger and better!," said Steffanic. "Hopefully, visitors will have the opportunity to come visit Chipper's Christmas Wonderland several times throughout December."