International Women's Day celebrated on Dame Shirley Plaza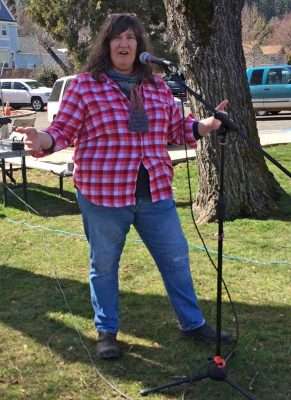 On the first sunny day in quite awhile, 65 residents, some with babes in arms, came out at noon, Wednesday, March 8, to celebrate International Women's Day — Plumas County style.
Amber Hughes, Plumas Action Network coordinator, was responsible for putting on the event to mark solidarity with other Women's Day events occurring around the world.
Hughes began at noon by thanking those who came out for the day. She reminded people of upcoming political actions to take — like getting LaMalfa to visit Plumas County for a town hall, for instance. Others came up with petitions for signatures for upcoming possible California ballot initiatives.
A poem talking about the significance of International Women's Day and the wearing of red was read. Red is the official color of the worldwide women's rights movement.
Advertisement
American historical facts regarding women's place before the law in its 241 years were read aloud by Michelle Beaman and Saraha Michelle Black. They also read an excerpt from "I Know Why the Caged Bird Sings," by Maya Angelou.
Amber Hughes played a clip from Ellen DeGeneres' show that spotlighted not giving up and a "prove them wrong" attitude.
Some of the readings, for example, told how women had to surrender all property upon marriage, could not sit on juries, could be incarcerated by family members in asylums for being "outspoken." The lenient sentences given to young rapists with promising futures was also mentioned.
Sign holders voiced such sentiments as the now iconic words of senate leader Mitch McConnell, "Nevertheless, She Persisted." Another held up a sign that stated, "We aren't sorry for who we are and we won't be quiet about what we want."
The second half of the rally featured the audience. Those assembled were offered the mic to voice their take on positive change in the world around them in regards to the treatment of women.
Two visitors from Wisconsin to Plumas County got up to say they were traveling through, but had  met each other in 1965 at a civil rights event.
A woman from Abilene, Texas, described her journey to get to California where she felt the education for autistic children has better options.
Keri O'Reilly spoke of feeling blessed to have the life she has, but said she recognized the privileges she has.
Jennifer Ready said the Girls Rite program she coordinates gives her hope for the future.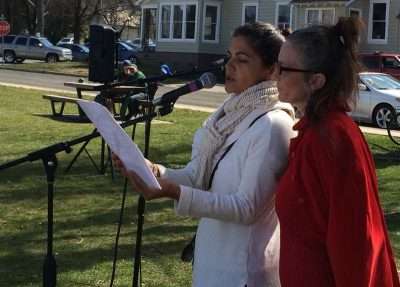 A breast cancer survivor who did not have reconstructive surgery came up to the mic to say she hadn't let breasts define her.
One newer resident to Quincy voiced that she hadn't seen this much activism since the Vietnam War era and people welcomed her to the community.
A long-time resident said she'd been fighting for civil rights all her life and was happy to see younger people taking up the cause.
Karen Kleven spoke of hope for the future and got choked up when mentioning how proud she was of her own daughter and her outlook on life and diversity.
Bill Martin spoke of his appreciation for women and how reproductive rights should not be judged with qualifiers for "rape and incest."
A Quincy resident described a sexist scene she'd witnessed as a child — a friend's dad disparaging a woman for "taking a man's job." Her dad defended women's rights to the friend's dad and made her proud of him.
Saraha Michelle Black  and Michelle Beaman came back to the mic and led the crowd in a final few words and dance to close the hour's festivities. "We are all connected. We are here. We are here together," Black said.