It's time for a Cowboy Poetry show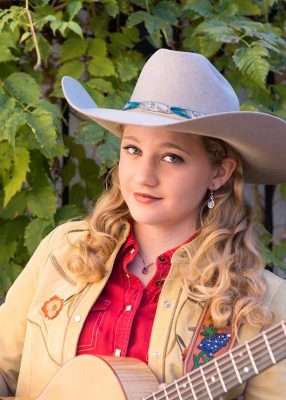 The Sierra Valley Grange is excited to bring the annual Cowboy Poetry Show back to the Vinton Grange Hall on Friday, March 20, and Saturday, March 21.
The show kicks off at 7:30 p.m. on Friday, followed on Saturday by a matinee at 2 p.m., and a final evening show at 7:30 p.m. Matinee tickets are almost sold out, so event organizers recommend reserving tickets early.
Dinner offerings will be available for hungry attendees leading up to each evening show, with home-made corned beef and cabbage served between 5 and 7 p.m. on Friday evening and roast beef on the menu between 4:30 and 7 p.m. on Saturday.
Show tickets cost $25 per adult and $8 each for kids, and dinners are $12 per person. For tickets and information, call (831) 345-9840 or [email protected]
Advertisement
Performances
Kristyn Harris, a Texas-bred musical powerhouse, is currently the reigning four-time International Western Music Association Entertainer of the Year (2016-2019) in addition to being the youngest person to ever receive the honor.
Her powerful voice brought her all the way on the 2018 season of ABC's American Idol, where Harris performed and yodeled for the judges. This voice is complimented on stage with Harris' swing guitar playing, song writing and energetic stage presence.
Now 25, Harris tours across the United States and internationally, and when she isn't playing music, she is following her passions of trick riding, training horses and raising cattle. Her music is inspired by her passions and influenced by classic western and western swing music.
Harris brings joy and passion to her music and was awarded the 2017 Ameripolitan Music Awards Western Swing Female Artist of the Year and named the IWMA Female Performer of the Year in 2014, 2015 and 2018.
As one venue stated, "This bundle of energy and talent is the rage on stage from the east coast to the west, and if you can stay seated when she finishes her performance, you're probably 'bout ready for the grave!"
Gary Allegretto is the 2019 International Western Music Association Male Performer of the Year, and magazines such as the Western Horseman Magazine are raving, saying, "Gary's music transcends genres, generations, and cultural barriers, yet is so professional, engaging and core to the cowboy that listeners can't help but want to ride along a while longer and discover something new in a song."
Allegretto is renowned for his skill on the harmonica, as well as being an acclaimed singer, songwriter and guitarist, all of which adds up to what some call "a masterful entertainer."
Allegretto's talents have earned an AWA Will Rogers Award, a Best of the West Award and the number one spot on the Western Music radio charts, along with having his music featured on major motion picture soundtracks.
Gary's engaging and often laugh-out-loud songs tell stories drawn from his rich and diverse life experience in the West, in roles such as ranch hand, forest firefighter as a USFS Hotshot, and bouncer in a couple of rough honky-tonks.
Richard Elloyan is the 2018 International Western Music Association Songwriter of the Year, also twice nominated for song of the year by the IWMA.
Elloyan's music has been recorded by several award- winning Western Music artists and appears most recently on the soundtrack of the French documentary "We Blew It."
A regular on the western music circuit, Elloyan has appeared at the National Cowboy Poetry and Music Festival in Elko, the Colorado Cowboy Poetry and Music Festival in Golden, Colorado, Vinton, California, and more.
Elloyan has been writing poetry and short stories for as far back as he can remember and is honored to be the Featured Poet at the 35th  annual Vinton Cowboy Poetry and Music Show.
Growing up in the historic mining town of Virginia City, he has used his love of the state, its rich history and its magnificent vistas as a constant source of inspiration. Elloyan and his playing partner Steve Wade are currently in the studio recording a new CD, "Once Upon a Desert Night," which will be released in 2020.
The Sierra Valley Grange is a nonprofit fraternal organization that encourages families to band together to promote the economic and political well-being of their community and local agriculture. Proceeds from this event will benefit the Building Maintenance Fund and community projects.