Jury finds man who murdered two children, tortured one, guilty
It's over but for sentencing
Editor's note: The following evidence and testimony is graphic in detail and may not be appropriate to all readers.
Clarification: Some sources refer to Tami Huntsman as the three Tara children's aunt, some their cousin. The Monterey County District Attorney refers to her as a cousin.
Nothing will bring back her little half-brother and sister who were beaten to death by their father's cousin and her teenage boyfriend in late November 2015.
Nothing but time and love will help heal the emotional and physical scars "Jane Doe" will always carry from their proven cruelty.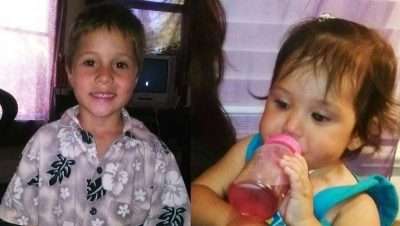 But that little girl — found on the floor of a locked Toyota 4-Runner on a cold December day in 2015 by Plumas County Sheriff's Deputy Tyler Hermann — might someday appreciate that the two people who starved and tortured her and murdered part of her family, will never again experience life beyond prison.
The cousin, Tami Joy Huntsman, 42, will be sentenced May 18, according to the Monterey District Attorney's office.
In late February, she waived her rights to a trial, exchanging a guilty verdict carrying the death penalty, for life in prison without the possibility of parole or appeal.
Huntsman pleaded guilty to two charges of first-degree murder, felony child abuse, three counts of felony torture and two counts of felony conspiracy.
It took a Salinas jury just one hour, 20 minutes April 23 to find Huntsman's boyfriend, now 20, guilty on two counts of first-degree murder of Shaun Tara, Jr., 7, and Delylah Tara, 3, and two counts of torture.
"The jury found true special circumstances that the murders were committed by torture and that Curiel committed multiple murders," according to Monterey County District Attorney Dean D. Flippo following the verdict.
Curiel was also convicted of one count of torture and one count of child abuse to the child the court named Jane Doe for privacy reasons, "causing great bodily injury … he inflicted on the children's half-sister," Flippo added.
A sentencing date for Curiel is expected sometime this month. Although he is facing life in prison without the possibility of parole, there is a mandatory hearing after 25 years, according to The Californian.
This is the worst case he has ever tried, Monterey County Prosecutor Steve Somers told the courtroom, according to The Californian. He also said he had no explanation why Huntsman and Curiel starved and tortured the children, according to KSBW.
The trial
In just two weeks from the trial's start date April 2, with the evidence portion beginning April 9, the Monterey County prosecution and a defense attorney covered 7,000 pages of police reports, audio and videotapes, and testimony in the case of the People vs. Gonzalo Curiel Jr. According to some estimates, the trial was to take five weeks to complete, with dozens of witnesses scheduled to testify.
A plywood model of the 2-foot, 9-inch by 5-foot, 3-inch bathroom with a toilet and a place marked for the shower dominated one side of the courtroom, according to reporter Mary Duan with the Voices of Monterey Bay.
This was a room that was added almost as an afterthought to the apartment where two adults and up to six children lived. It was not insulated and "so poorly constructed that plant life grew through a gap at the ceiling," Duan described in her story covering the trial. "The shower walls were slapped on stucco, at some point covered with graffiti, and with PVC piping dangling beneath a showerhead."
This was the only bathroom in the apartment. If someone needed to use it, the children were removed to another room and then returned. "It's where they were beaten, where they were sprayed with cold water if they cried and where they would get into even more trouble if they huddled their naked bodies together for warmth," Duan explained.
This was the room that became all too familiar for the three children. It was the room where the two youngest children spent the final moments of their lives.
"The bathroom becomes very important in this case," Somers said. "They would be punished for talking, for being noisy, for incontinence. As they got hungrier, they would lose control of their bowels."
According to sources, the small apartment had two bedrooms, but one of those bedrooms was crudely divided into a third bedroom.
Voice of the survivor
Probably one of the most compelling testimonies came from the surviving victim —Jane Doe. Testifying via closed-circuit TV because of her age, the 12-year-old told her story of her life with her cousin Tami Joy Huntsman and how it changed when Curiel moved into their home.
Before, life was fun. They went to Great America, and they did things together. They were provided food.
"Curiel and Huntsman both began to physically abuse and starve them following Huntsman's son's arrest," Jane Doe said, according to the DA's statement.
The DA went on to state that Jane Doe testified that "she and her siblings were punched, kicked, hit with belts and other objects, refused food, zip tied to their beds or chairs, and locked in a dark, cold, cement bathroom, often without their clothes for hours, even days."
They didn't understand their punishment, Flippo stated in his release. "When the children were locked in the bathroom, they were forced to sit still in a corner that Curiel selected for them, and were prohibited from moving, crying or huddling together for warmth."
Sometimes one or both of their viscous keepers beat them if they got caught disobeying. They would also get sprayed with cold water.
Jan Doe said that she tried to runaway twice. Once when Curiel caught her trying to crawl out of the bathroom's only window, he moved her to the bedroom and beat her with a belt. Huntsman held her down, she said.
After that, Curiel moved the bathroom lock from the inside to the outside of the door, Somers told the jury.
During that beating her forearm and shoulder were broken, the DA explained. They healed improperly because Curiel and Huntsman refused to take her for medical care.
Somers said the only treatment Jane Doe received was having her broken shoulder soaked in ice water.
"A doctor testified that Jane Doe's broken shoulder bone was almost about to pierce through her skin at the time she was rescued" in Quincy, according to the DA.
The pair also broke Jane Doe's jaw and several of her fingers that also healed improperly.
She saw and spoke of the treatment her siblings received at the hands of Curiel and Huntsman. She said they had bruises and cuts all over their malnourished bodies.
Jan Doe said that the pair fed them less and less over time and finally stopped feeding her altogether. "But she never knew why," according to the DA.
In describing the treatment her little brother and sister received she said that they were often beaten for urinating on themselves. They did this because they were afraid to ask their keepers' permission to use the bathroom. Even when they were locked in the bathroom they weren't allowed to move from the spot where they were placed to use the toilet.
It was Thanksgiving 2015. A photograph in Voices of Monterey shows Curiel holding a grocery box of food with Huntsman standing close by with a small turkey. The gift came from the Monterey County Probation Department, Somers said. There was apparently plenty of food for a festive meal, but for some reason giving anything to Jane Doe and her siblings was out of the question.
Starving, Jane Doe said she stole a bagel that came in with the food gifts. The theft led to one of the worst and final beatings they would receive. Jane Doe testified that they were once again locked inside the tiny concrete bathroom.
She said she watched as her younger siblings became too weak to stand and finally closed their eyes, according to a report from The Californian on April 23. Eventually, they stopped moving altogether.
Jane Doe said she was finally released from her prison and told to go to her room. She said she never saw Shaun or Delylah again.
Pathologist's testimony
Dr. Mark Super, a forensic pathologist who conducted the autopsies on the two younger children, testified they died of blunt force trauma worsened by malnutrition, according to a reporter with The Californian.
"Shaun's weight upon death was about half the normal weight for a boy his age," Super said in court. "He found bruises on his head, legs, back, genitals and one that covered the back of his thigh."
Delylah was hit on the head that caused internal bleeding. She was malnourished and badly bruised, including a bruise that wrapped around her thigh, Super testified.
Quincy resident testifies
April Lorenzo of Quincy said she was immediately concerned about Jane Doe's appearance. Huntsman had called her around Thanksgiving and asked if she could come for a visit.
Lorenzo said she'd once stayed with Huntsman in Salinas and considered her a friend.
But when Huntsman, Curiel and the twins arrived with Jane Doe, Lorenzo was concerned.
Lorenzo said that Huntsman told her the little girl was mentally disabled and made her stay in a corner, according to writer Jim Johnson from the Monterey Herald.
She told the court she never saw the girl eat anything during the few days they stayed at Lorenzo's.
"Finally, during a hiking trip when Jane Doe was forced to walk on a steep, rocky trail without shoes, Lorenzo said she figured out the girl was being mistreated. She sought help from a friend to call Child Protective Services," according to the Monterey Herald's report.
Lorenzo told the court that she never got a good look at Jane Doe until they went on the hike to Indian Falls. "The girl struggled on the hike, and seemed to lack energy," the Monterey Herald attributed to Lorenzo's testimony.
Lorenzo said that Jane Doe gave her a look that said she needed help. And she "realized then what was going on."
"Saying she began fearing for her own life, Lorenzo waited until Huntsman and Curiel left her house the next day to check out an apartment in town before talking to the girl, noticing bruises, an injured arm and a thin, deprived frame," Lorenzo said. "While wolfing down food, Jane Doe told Lorenzo things got bad at Huntsman's house in Salinas when a new person, apparently Curiel, joined the household," according to Lorenzo's testimony.
In fact, Curiel showed up back at Lorenzo's home and got upset when he saw Jane Doe eating. Later, she said she tried to give her a book, but Jane Doe refused. She said she'd been beaten for eating the food Lorenzo gave her.
"Lorenzo said she decided not to call the sheriff because she was afraid Huntsman would flee, or her parents because she was worried for their safety," according her testimony as reported by the Monterey Herald. "She had previously tried to get Child Protective Services involved in another case, but was rebuffed. She said a friend told her that she was making a "huge" allegation and she tended to overreact.
She talked to her friend Kimberly Browning, asking for advice, she said. The friend said she would visit when Huntsman and Curiel were away to look at Jane Doe.
When Browning saw the condition of Jane Doe, Lorenzo said she got so upset that when the pair returned she confronted them.
Lorenzo said Huntsman became angry and moved out. She said Huntsman yelled at Browning as she began gathering their few possessions and blamed her for feeding the child.
After Huntsman and the others departed, she and Browning drove to another friend's house and called CPS. Lorenzo admitted in court that she lied to them about Huntsman's reported methamphetamine use because she wanted to get a quicker response, the Monterey Herald reported.
Lorenzo's parents also said that they'd been present at dinner when Huntsman and her family were present. They didn't see Jane Doe because she was made to stay in the car although temperatures were below freezing.
Deputy testifies
The testimony of Plumas County Sheriff's Deputy Tyler Hermann seemed to draw attention in the courtroom as he described his Dec. 11, 2015 visit to Huntsman and Curiel's recently rented apartment in East Quincy.
According to the Plumas County District Attorney's Office, when Hermann knocked on the door, everyone "appeared well care for and healthy. Rather than leave, Hermann inquired if there was another child present. After some prodding, Huntsman led Hermann to a car and indicated there was a child inside who was fine and did not like to be around other people."
Through Hermann's persistent questioning, he gained access to the Toyota and the little girl inside. She was huddled down on the floorboards in the backseat under a pile of clothing in an effort to get warm. Temperatures in December 2015 hovered around freezing, according to weather statistics at the time.
The child was not only underdressed and dirty, he could see that her collarbone was broken, she had black eyes and she was covered in bruises, Hermann told the jury.
He said that Huntsman said that Jane Doe would harm herself. She would throw herself on the ground to get attention and that she had learning disabilities.
She told Hermann that her most recent injuries occurred on a hiking trip. She said she had taken Jane Doe to a doctor, but he was unable to reset her bones.
District Attorney Flippo described what Hermann saw. "She was bruised from head to toe, and her arm, shoulder, jaw and fingers were broken. Jane Doe also had pressure sores on her back and legs that a pediatric specialist testified she never sees in children who are able to walk."
Hermann arrested Huntsman and Curiel on suspicion of child abuse. While they were taken into custody, child protective services caseworkers who were with Hermann on his visit took Jane Doe to the emergency room at Plumas District Hospital. Detective Chris Hendrickson would record all meetings with Jane Doe and the couple being held.
"I have a 100 percent different story, given the injuries," Hermann said to Huntsman in an audio taped session. "She's black and blue. Her bone is sticking out. I don't think you went to the doctor. I want the truth here. She told me something entirely different."
Hermann eventually separated the pair as his questioning continued. He then asked Curiel what he did to the little girl. "I just punched her in the arm," Curiel said. "That's it. I punched her a couple of times."
Jane Doe would later tell CPS caseworkers when they had taken custody of her that she had to eat slowly because her jaw hurt so much.
It was Huntsman's mother, Joy Tara, who raised further suspicion with Plumas County law enforcement. Learning that her daughter and Curiel had been arrested, she called the sheriff's office. She left a message and when someone returned her call she asked where Shaun and Delylah were.
This set in motion a process to find the two children who were not accounted for when CPS took Huntsman's twins into custody.
According to one source, deputies had located inside the Toyota a receipt for a storage unit in Redding, but that wasn't enough to go on initially.
It was when Curiel was being questioned at a juvenile probation facility in Butte County that he finally told officers where they could find the bodies.
Teachers' concerns
"I felt like they were dying in front of me," Shaun Tara's kindergarten teacher Gabriela Downer testified during Curiel's trial. Shaun and Jane Doe attended Roosevelt Elementary School.
When they attended school beginning in March 2014 they appeared well cared for, teachers and a school nurse told Monterey County Superior Court.
At first, Jane Doe "always had a smile," said her first/second-grade teacher Joyce Roach. Her grades were good and she had no behavior problems.
Shaun was quieter and seemed wise for his age, Roach explained.
He was also well behaved, Downer said. "He wanted hugs, to be touched," she said.
"My gut told me something was wrong," Downer said, visibly angry on the witness stand, according to the Monterey County Weekly. "He was getting so gaunt and seemed so malnourished and uncared for. I had a lot of experience working with parents who were impoverished and who were still making their best effort, and that wasn't happening with him."
But things changed by spring 2015, the teachers said. They came to school dirty and in the same clothes.
Instead of playing at recess with the other children, Shaun would sleep under a tree on the playground.
They always seemed to be hungry. One teacher said she gave them graham crackers from her stash. Another said she would sometimes buy one or the other lunch at the salad bar in the cafeteria. While most of the children ignored the veggies in favor of fruit, they ate everything.
Despite this, they continued to lose weight, Downer said.
One of the teachers bought them clothing, but they never appeared at school in them, she said.
Lice were always a problem for the two children. Danielle Capuyan, the school nurse, said they came to her 20 times because of them. She sent home a treatment for lice, but it appeared that no one helped them use it.
In August 2015, Huntsman told the school that the two children wouldn't be returning to school. She was home schooling them, Roach said.
Twins' testify
On the second day of the trial, Huntsman's twins gave testimony. Known as "Girl Twin" and "Boy Twin," one of them admitted to seeing Delylah tied with zip ties to a bed, according to The Californian.
Boy Twin told the jury that Curiel didn't hit him but once he choked him for missing school. He said Huntsman, his mother was present, but twin boy didn't say his mother stopped Curiel.
Twin boy also said he saw Curiel hit all three children with his hands. "He would hit them a lot," he said according to The Californian's reporter.
He also tried to stay away from the house, returning home at 8:30 or 9 p.m., when he was 10 and 11-years-old. He would also spend the night with friends or with his grandmother whenever possible.
Girl Twin said she heard the beatings and screams coming from the children even if she didn't witness them.
Even though the family received a box of food with milk, potatoes, bread and other things, twin boy said he spent Thanksgiving with his grandmother.
When he returned, his mother told both him and his sister that they'd put the twins up for adoption.
Within days they were leaving the tiny apartment and Salinas behind. He told the court that he complained that the car smelled bad. He said his mother told him it was from fish that she and Curiel had caught while on a fishing trip just the two of them took.
In Redding, the pair stopped at a storage unit. When they removed a large storage container from the back of the Toyota, he said it started to smell better. The bodies of the two youngest children were inside.
Redding policeman's testimony
Veteran officer Jeffrey Schmidt of the Redding Police Department was the one who opened the door to the storage shed. To help combat the smell, Huntsman and Curiel had spread air fresheners throughout the small space.
Schmidt sensed what he would find inside that bin that was placed toward the back of the unit. "As I pulled the blankets away, I first noticed a red set of pajamas and brown hair. As I pulled some more blankets away, I could see the jaw line of a child and a hand," he told the courtroom.
"It was obvious they were deceased," he said in court, according to KSBW. "There was nothing we could do."
The bin, described by the Monterey County DA, was sealed with duct tape. On that tape investigators would find a print belonging to Curiel.
Background
In April 2014, the children's father gave the three children to his cousin, Tami Huntsman. "The children's mother was killed in a car accident," according to the Monterey County DA, "in December 2013 and their father was subsequently incarcerated, leaving him unable to care for them."
At that time, Huntsman lived with her husband, Cris Criswell and their three biological children — a set of twins and an older son — in a small two-bedroom apartment in Salinas.
This was in April 2013, according to the Monterey County DA.
By accounts, Curiel was a friend of Huntsman's son, Daniel, now 18. Curiel's father worked 12-hour days in construction. His mother had left him with a babysitter, and never returned, according to Curiel's father in court.
But when Huntsman met Curiel, then 16, and her husband discovered they "began a sexual affair," according to Flippo, he moved out. That was in January 2015.
However, Criswell left his teenage son and 11-year-old twins behind at the tiny apartment. That still left two adults and six children in the tiny apartment. If circumstances had been different they would have had seven children. Huntsman gave birth to Curiel's daughter in prison. The state took custody of that baby, placing her in foster care against the wishes of her parents and their relatives.
By April of that same year, Daniel was arrested and sent to juvenile hall. Testimony would show that life for the three younger children would get far worse after Daniel was gone.
The investigator said Shaun weighed only 29 pounds when he died. Delylah was just 18 pounds, according to KSBW's coverage.
Initially, Huntsman and Curiel were to be tried together. With children involved in giving testimony it was decided to have them only testify once.
But just days before that trial was set to begin, Huntsman's defense alerted the district attorney's office and the court that she wanted to make a deal. The deal was that she would admit to the murders and torture of the three children in exchange for life in prison without an opportunity of parole or appeal. Her deal was accepted.
"She's going to die in prison, there will be no further appeals, no further litigation," said Berkley Brannon, Monterey County's chief assistant district attorney. "And we were able to save the children in this case from having to testify in two separate proceedings. So justice was done."
Because Curiel was just 17 and a minor at the time he committed the murders and torture, he was not eligible for the death penalty. He would be tried as an adult.
In jail back in Monterey County, it has been reported that Curiel was physically assaulted. He is now being held in solitary confinement.
Local reaction
The successful prosecution of Curiel and Huntsman would not have been possible without the cooperation of Shasta County District Attorney's Office, Plumas County District Attorney's Office, Salinas Police Department, Plumas County Sheriff's Office, Redding Police Department, Shasta County Sheriff's Office, Butte County Probation Department and Yuba City Police Department, Flippo wrote in his statement.
The lead investigators on the case were Christina Gunter of the Monterey County District Attorney's Office and Gabriel Gonzalez of the Salinas Police Department.
The prosecutors would also recognize Detective Sergeant Steven Peay, Detective Christopher Hendrickson and Deputy Tyler Hermann of the Plumas County Sheriff's Office for their extraordinary efforts to save Jane Doe and locate her siblings, Flippo wrote.
"That was an incredibly tragic and vicious case. I am pleased we were able to assist Monterey County in achieving justice and am grateful for the outstanding efforts of trial attorney Steve Somers and District Attorney Dean Flippo and his office," Plumas County District Attorney David Hollister said following the verdict.
"It was a tremendous effort by the agencies in all three counties," said Plumas County Sheriff Greg Hagwood. "These two will never harm a child again."
Late Monday, April 23, the jury that heard the Gonzalo Curiel murder trial in Monterey County returned to the courtroom after less than an hour of deliberation. The jury found Curiel guilty on all counts that had been charged by the Monterey County DA, Elliott Smart, director of Plumas County Social Services said following the verdict.
Smart issued a statement that involved the sheriff and district attorney, "The Plumas County District Attorney and the Plumas County Department of Social Services wish to extend our sincere thanks to the Monterey County District Attorney's Office for their successful prosecution of this terrible crime. The verdicts reached by the jurors have put an end to a horrific episode that led to the tragic murder of two young children. 
"This event could have been far more horrendous had it not been for the good work done by the Plumas County Sheriff, District Attorney and Child Protective Services in further investigating the circumstances surrounding one of the surviving children and how she acquired suspicious injuries.We want to acknowledge the bravery of this young victim in testifying against her abuser during the trial. Her testimony was compelling and convincing in establishing Mr. Curiel's guilt.
"While there is nothing that can erase thetragedy of the child deaths (which took place before Plumas County's involvement) we can take some level of solace in knowing that justice took its proper course and was well served in this matter.Once again, we extend our thanks to all of those who worked to bring this terrible case to closure."
Monterey County Department of Social Services investigated
Monterey County had an open case on Shaun and Delylah Tara at the time they were killed. The California Department of Social Services stepped in and conducted a three-day investigation into what went wrong.
Following mandatory reports concerning teachers' concerns about two of their students — Shaun Tara and his half-sister known now as Jane Doe — caseworkers were sent to the Huntsman apartment. According to the Monterey County CPS program, caseworkers or agents as they call them, were at the East Salinas apartment several times.
Those caseworkers reported that they just didn't have enough information to go on.
According to reports from neighbors and others who had seen the children, they were outraged over the lack of action on the part of CPS.
Following the deaths of the two Tara children and the abuse of Jane Doe, the state stepped in.
"In the event of a child fatality, referred to as a 'critical incident,' CDSS may conduct a specialized review to identify systemic issues, and areas of statewide policy and local practice that, if changed, may reduce or prevent the occurrence of future critical incidents," CDSS Deputy Director Gregory Rose wrote in the report.
What the state found was the intake and assessment practices of Monterey County's CPS were inadequate. "CDSS staff observed a number of practices related to the intake screening process that do not conform to California state regulations.
The intake screening process is a critical step in assessing a child's risk of abuse and or neglect," the state wrote.
Monterey County CPS was called a final time about the Tara siblings on Dec. 13, 2015. The caller was concerned that the children were missing. By that time, the children had already been murdered, and Huntsman and Curiel had already been arrested in Plumas County. Their arrests were the result of deputies finding a 9-year-old girl who had been nearly beaten to death and locked inside a vehicle.
Monterey County CPS case files detail what witnesses told agents while trying to alert them that children may be in danger. On Aug. 14, 2015, a caller reported that the home was infested with cockroaches and that the 3-year-old girl had been zip-tied to a bed as punishment, according to a report from KSBW.
Monterey County CPS social worker Lauren McFarlin said she was not able to complete a "risk and safety assessment" of the children's well being because "the family became evasive," KSBW reported.
"It is unknown if there are imminent safety threats as this (agent) was unable to complete the child welfare assessment," McFarlin wrote. McFarlin recommended that her agency take no action. "Final recommendation is to close this referral with no further action at this time. Should this family come to the attention of the department again, it is highly recommended the children be interviewed privately," McFarlin wrote.
McFarlin came to the same conclusion when she went to the Fremont Street apartment May 8, 2015.
"The allegations of general neglect should be determined inconclusive. Final recommendation is to close this referral with no further action," McFarlin wrote in her May case report.
According to the report, Huntsman never attained legal custody of the three children.
It was reported that a Monterey County CPS agent did ask Jane Doe why she and her brother and sister were staying with Huntsman. "Nobody else wanted to take us," she replied, according to that case file.
Apparently that included a grandmother and an aunt who said they had concerns about the children placed in Huntsman's care.
Monterey County Department of Social Services Director Elliot Robinson said his agents must follow a legal process and have enough evidence to make a case strong in court for taking children away, according to KSBW's news report.
"One of the unfortunate things is that there are people who will hide the evidence, people who will evade the evidence, and there are people who will torture and kill children. That is shocking, it's unacceptable, and it's something that as a department we are doing everything we can to make sure it does not occur again," Robinson said.
Robinson said his agency is working quickly to implement recommendations made by the state from its investigation into Monterey County.