The traditional wedding dessert has been evolving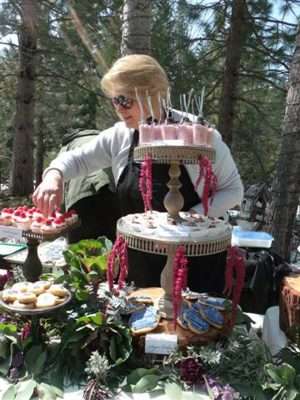 If seeing the bride walk down the aisle in her wedding dress is the most anticipated moment in a marriage ceremony, the unveiling of the cake is a close second.
But the quintessential white-tiered cake with a miniature bride and groom on top has evolved, and now guests might be greeted instead with a donut wall, a table of pies, trays of cupcakes, or even a station to make s'mores.
We asked three local bakers what trends they are seeing this wedding season.
Connie Garrish
Quincy Cooking Cottage
Connie Garrish made the desserts for 42 weddings last year in a season that spanned April to November.
Garrish has been baking cakes in the area since 1973 when she moved to Cromberg and opened a catering business.
"I love it," she says of doing weddings.
She has noticed that preferences reflect the age of the bridal party. "If it's an older group of people they want cake; if it's a younger group they're more into cheesecake, chocolate-dipped strawberries, and dessert shooters," she said. The latter is when a shot-size glass is filled with a dessert such as a chocolate mousse or strawberry shortcake and eaten with a tiny spoon.
"Most people get a cutting cake and two small desserts," she said.
She has done a lot of cheesecake bars with toppings and all-pie weddings.
One of her most unique ventures is the s'more bar that features Sterno pots to melt the marshmallows and a variety of chocolates to add to the confections. Her husband built her a special bar to display the ingredients. She said this has become popular as a treat later in the reception.
But when it comes to the cake itself, her custom cake flavor is pink champagne with a raspberry filling, topped with whip cream and marshmallow frosting.
The Quincy Cooking Cottage is a catering business with its operation headquartered on Main Street in Quincy.
Kim Brandon
Grandma Jane's Place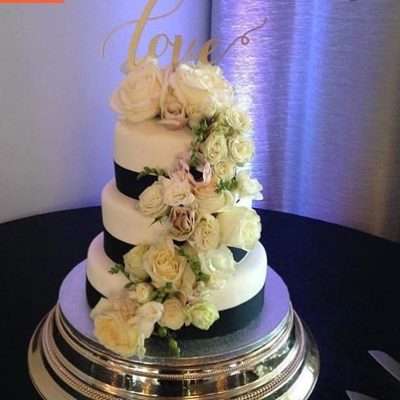 "Simple, rustic and elegant," is how Kim Brandon of Grandma Jane's described the most common theme for Plumas weddings.
Brandon, who will soon be 47, has been making wedding cakes since she was 18 and has seen the trends evolve.
"Way back it was a traditional, tiered cake," she said, "but for the past few years it's been trending toward a smaller cake with a dessert bar."
Last year she catered a 300-person wedding that required 1,000 individual desserts. Not only does she recommend two to three treats per guest; she often supplies the desserts for the rehearsal dinner as well as the pastries for the morning after.
As for the individual desserts, she said that mini pies, cupcakes and shooters are popular. For an early April wedding this year, she will be making pineapple upside down cakes and brownies, as well as a two-tier cake with festive frosting.
When it comes to flavors, she said that almond cake with a Bavarian cream or chocolate with a chocolate mousse have been popular.
Brandon averages at least one wedding cake a week from early spring through the fall. And she noted that weddings aren't limited to Saturdays; that many brides opt to wed on other days to cut costs or to accommodate travel schedules. Plumas County is increasingly becoming a wedding destination, with festivities stretching out over several days.
Before arriving in Plumas County, Brandon would make as many as eight wedding cakes in a weekend in the South Bay.
Making wedding cakes and desserts is what Brandon likes to do best.
Grandma Jane's Place is a bakery with a storefront on Main Street in Quincy.
Angela Sandlin
Angela's Bakery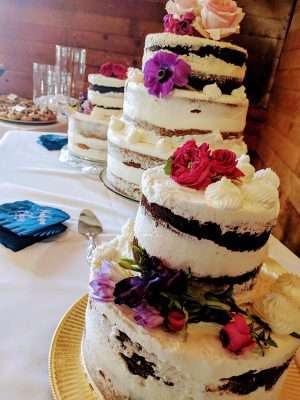 Angela Sandlin is the newcomer of the trio and has been making wedding cakes for five years and averages six to 10 weddings per year.
When it comes to cakes, Sandlin said that brides will often choose vanilla because "they want something that everyone will like," but her most popular is chocolate with raspberry filling. She makes a lot of cupcakes with small cutting cakes.
Increasingly, she is creating donut walls for the wedding reception.
As with the other two bakers, she also does dessert tables, but because she runs a cottage business out of her home, she can't provide anything that is cream filled or with cheese, such as cheesecakes. When a bride wants those types of desserts, she refers them to her mentor, Connie Garrish.
Sandlin listens to her brides' preferences, but also offers advice when she thinks it's needed.
"A bride wanted maroon buttercream icing, but it would stain everyone's teeth," she said. She suggested instead a maroon fondant topper or to place the cupcakes in a maroon wrapper.
"My goal is to help them have the wedding they dreamed of," Sandlin said.
To fondant or not?
While fondant provides a clean, smooth look to a cake, the bakers are divided over its use.
Garrish prefers to avoid it unless a bride is insistent, while Brandon said she will do it to create the look that a bride wants, but keeps it as thin as possible so it is easy to cut and edible.
A growing trend is to not only eliminate fondant, but most of the frosting, in what is called a "naked cake." This goes well with the area's rustic theme, and cuts down on sugar for health-minded couples.
Cake toppers
Tiny brides and grooms still top some cakes, but they are rarely generic. They are often made to look like the couple or reflect their interests such as wearing sports gear representing a favorite team.
Becoming increasingly popular are word toppers that say "Forever" or "Love Always" or "Mr. and Mrs."
"People are really branching out and making it about them and their relationship," said Sandlin.
Fresh flowers remain an oft-requested decoration, usually reflecting those used in the décor. When Gray's Flower Garden is doing the wedding flowers, Brandon said the nursery is very accommodates and invites her to pick from the flowers that they are going to use in the wedding.
Top layer tradition
The tradition of saving the top layer to be eaten on the couple's first anniversary is waning in popularity. The bakers interviewed said they advise the bride that they will make a fresh 6-inch cake for the couple to mark the occasion.
"I tell the bride, 'It's my gift to you; I'll make it for you,'" Brandon said.
Groom's cakes
One of the most interesting groom's cakes that Brandon can recall making is a pizza cake (one of the groom's favorite foods) and displaying it in a pizza box.
Sandlin said that she does groom's cakes on occasion and likes to make a hard apple cider spice cake with a whiskey caramel syrup. "We also do tipsy cupcakes," she said.
A long held tradition
Wedding cakes have been around since antiquity. During ancient Roman times, a cake of wheat or barley was broken over the bride's head for good fortune and fertility. Then the bride and groom ate a few crumbs in a custom known as confarreatio — eating together. Guests collected the remaining crumbs, which were believed to bring good luck.
In medieval England, small spiced buns were stacked in a tall pile. If the bride and groom were able to kiss over the stack, it signified a life of prosperity.
According to  Gastronomica: The Journal of Critical Food Studies, "The first known official wedding confection comes from a 1685 recipe for Bride's Pye: pastry crust filled with an assortment of oysters, lamb testicles, throat, rooster comb, and pine kernels."
Later, wedding cakes replaced bridal pies. Since at that time most homes didn't have an oven, bakers would bake two pastry crusts on a hearth, then put currants between them and form something like a sandwich and sprinkle sugar on top.
When refined sugar became more common in England, a bright white icing became the topping of choice at weddings — it symbolized a bride's virginity, as well as wealth.