Life Tributes for the week of 11/6/19
Rod Layne Burkholder
Rod Layne Burkholder, 67, died Saturday, Oct. 26, 2019, at his home in Greenville after a lengthy illness.
He leaves his daughter, Keleigh (Burkholder) Allen and her husband, David Allen, of Tacoma, Washington and son, Keegan Burkholder and his girlfriend, Carla. Rod had one brother, Britt Burkholder, of Indian Falls; sister, Gay (Burkholder) Bentz and her husband, Brad Bentz, of Indian Valley; and sister, Corky (Burkholder) Lazzarino, of Quincy.
Rod treasured his two grandchildren, Anna Allen and Benjamin Allen. He enjoyed his nephews, Kaley Bentz, of Greenville; Jesse Lazzarino, of Quincy; Ehren Bentz, of Adair Village, Oregon; and Trevor Bentz, of McKinleyville.
Rod leaves numerous aunts, uncles, cousins and many close friends. If he considered you his friend, he also considered you as family. And if you needed a memory, he could come up with details and dates of past events with his amazing recollection.
Born to parents Riley and Joy Burkholder in Georgia on Jan. 7, 1952, while his father was in the army, he grew up in La Crescenta and later moved with his young family to Sumner, Washington. He relocated to Greenville in 1999 where he worked in the business his father created, Riley's Jerky. Upon his retirement, he became a full-time caretaker for his ailing mother, Joy.
Rod was a skilled automotive mechanic and machinist. He loved collecting vintage boats, playing guitar, reading science fiction, fishing and enjoying the outdoors. He could always be found at local sports events taking photos and giving them to the players and families. He enjoyed providing shade tents for the Gold Digger's softball tournaments. But his real passion was taking care of and providing strength for family and friends in his calm, gentle way.
Richard H. Duval Jr.
Richard H. Duval Jr. passed into the presence of our Lord on Oct. 15, 2019, at the age of 89 years. He was husband to Bernice Duval and the father of seven children, 34 grandchildren, 30 great-grandchildren and one great-great grandchild.
He served his life as an Anglican priest, most recently he was the assisting priest at St. Andrews Anglican Church in Chester. He began his career in Altadena, before accepting pastoral roles in Lancaster, Brawley, Holtville and El Segundo. He retired to the Lake Almanor area and from there he continued to participate with the Anglican churches in Chester and Redding. His influence will continue through the lives he touched during his lifetime of ministry.
Service at St. Andrews, Saturday, Nov. 2, 10:30 a.m., graveside and reception at Chester Memorial Hall.
Marian Delores Gonzalez
Marian Delores Gonzalez was born on March 10, 1942, in Oakland to William Nelson and Thelma Evelyn (Allen) Cannon. Marian passed away at home with her children by her side on Tuesday, Aug. 20, 2019, in Hanford.
Marian's first marriage was to Willie Paul Bruner Jr. on June 24, 1961, in Las Vegas, Nevada.
Marian's second marriage was to Tom Louis Gonzales Jr. on Oct. 18, 1975, in Las Vegas. They made a life together with her children in Oxnard and later moved to Portola.
She worked in accounting and retired as Chief Financial Officer for Plumas District Hospital in Quincy.
Marian is survived by her children, James Bruner, Paul (Carol) Bruner, Teresa (Michael) Brock, Barbara Bruner (Dusty Miller); grandchildren, Jozette, Willie, Paul (Brittany), Cody, Spencer (Lisa), Justin, Michael (Amanda), Danielle, Nathan, Manuel, Angela, Audree and Anthony; great-grandchildren, Malcom, Joshua, Jackson, Chanc, Reign, Michael III, Aubree, Evan, Melody, Mason, Bentlee, Andrea, Leah, Janora, Rilee and Donovan; her brothers, Gary Cannon, Michael (Beth) Cannon, Timothy (Krista) Cannon; sisters, Becky (Sonny) Reynolds, Beverly (Robert) Green; sisters by choice, Cindy, Donna Stepp and Henry; nieces and nephews, Richard Olson, Clifford (Roxanne) Olson, Rhonda (Lonnie Dancer), Salin, Joshua Lawrence, Wesley (Jamie) Cannon, Bryan Cannon, Shannon James, Burt Reynolds, Mary Lawrence, Willie Reynolds, Henry Joseph (Erica) Freimuth, Cassandra (Sang) Bae, Anthony Owensby, Christopher (Camille) Cannon, Karen (Mitchell) Bertrand; and many great- and great-great nieces and nephews and additional family and friends.
She was preceded in death by her father, William Cannon; her mother, Thelma Cannon; her first husband, Willie Paul Bruner Jr,; her second husband, Tom Gonzalez; her son, Ronald Dale Bruner; her sisters, Donna Sue Hook, Katheryn Janelle Wilson, Doris Jo Freimuth; and nieces, Tonya Williams, Evelyn Cannon and Mariah Kristine Kennedy.
Marian's Celebration of life will be at the United Methodist Church at 282 Jackson St Quincy, on Nov. 9 at 1 p.m.
Lucille Audrey Green
Lucille Audrey Green, 80, of Quincy, passed away on Oct. 22, 2019, peacefully surrounded by her family.
Lucille was born and raised in Auburn, the daughter of Fabian Laurence Weideman and Ida Mae Weideman (Sorenson) on April 29, 1939.
Lucille worked as a surgical nurse for 42 years after graduation from Yuba College, a profession she decided on as a young girl.
She retired to Quincy with her husband where they took on a project of remodeling a 100-year home on Jackson Street back to its original craftsman style, in which they made their residence.
Lucille was a gentle fun-loving person that loved being with her family and friends. She enjoyed riding her Harley Davidson, traveling the states visiting national parks, monuments, historical sites and RV camping with her family. Her most relaxing hobby was cross-stitching in which she received several first-place awards.
She leaves behind her husband, Ronald Dean Green and her little companion, Tosha, her Maltese.
She is survived by her children, Carl J. Engvall, Charlie A. Engvall, Tina L. Fancher (Green) and Ronald D. Green Jr., 12 grandchildren and 10 great-grandchildren.
A private memorial service will be held on Friday, Nov. 8, at the Auburn Public Cemetery District in Auburn.
Valerie Sampo
In loving memory of myself, Valerie Sampo. I decided to write my own obituary. Why you ask? Well I did not want false or pretentious facts as to who I am or was.
I have lived a very colorful life, one with no regrets. I was not the easiest person to get close to but if you got close enough, I loved you with all my being. I was brutally honest, some would say they liked that about me but in the end they were really not fond once they heard their truth.
I was always a giver, I loved to make people smile and know I made a difference no matter how small.
I worked on many projects to help the homeless and less fortunate without judgment, this was actually a passion.
I want to thank and forgive those I thought were my friends for abandoning me when this hard journey began. You allowed me to see all people do not have the same heart and realize this would make me stronger and appreciate my journey as my own. So if you were not involved in my life, please do not grieve my death and thank you for the few that honestly loved me and had part in my journey.
I am sad to leave behind my best friend, life partner and husband, Scott Sampo, to this cruel and awful world with fake family and fake friends; my four children, David, Michael, Sydnie McNally and Joseph Sampo. I love you with every ounce of my being, wouldn't have made mother of the year but was a good and loving mom; and also many beautiful grandchildren.
I want to personally and genuinely put a heartfelt thank you out to the entire staff at the Tahoe Forest Cancer Center, you are the true heroes every single day.
I am preceded in death by both parents, Frederick and Jean Messinger and two siblings, Brenda and David Messinger.
I am survived by one living sibling, Donna Waller, who also abandoned me during my hard journey, so please don't feel bad for her; I died a long time ago to her.
If you have an opportunity to help the homeless and less fortunate, please do it may make your heart happy. Even if it is just one person, every little bit helps.
Now comes an end and it is my time to walk on.
Dana Seandel
It is with great sadness that the family of Dana M. Seandel announces her passing on Oct. 23, 2019, at the age of 88.
Dana was born on Oct. 19, 1931, in Ray, Arizona. After attending elementary and junior high schools, she graduated from Tempe High School in 1949. She then enrolled and graduated from Arizona State University in 1953 with a degree in physical education, followed by her first two years of teaching in Chandler, Arizona. In the summer of 1956, she enrolled at Stanford University to pursue a master's degree.
While at Stanford she met and married Aaron Seandel in December 1956. She joked that while she did not earn a masters degree, she did earn her MRS. They settled in San Jose and for 32 years, she was active, coaching tennis and softball at the middle and high school levels in the Almaden Valley of San Jose. She loved participating in tennis and golf matches and was a very tenacious competitor.
The family began traveling to Almanor in 1972 during summer vacation times. In 1988, the current home was purchased and in 1992, Dana and Aaron moved to Almanor to live full time. While here, she was very active in the community. She served on the LACC Board for six years, and was president for one year, was a member of the Seneca Hospital Board for five years, and was president for four years. She also was a member of the Recreation District for one year and P.E.O. until her death.
Dana was loved by her husband Aaron; her four children — Steve, Kim (deceased in 2011), Doug and Jan; seven grandchildren; and many friends.
Donations in her memory can be sent to the Seneca Hospital Auxiliary Foundation. Service will be held at the gravesite at Chester Cemetery on Saturday, Nov. 9, at 1 p.m.
Mary Lou Thompson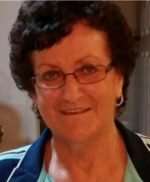 Mary Lou Thompson passed away Oct. 10, 2019, in Quincy. She was born Jan. 9, 1945, in Capefair, Missouri.
She was preceded in death by her parents, Frank and Dorothy Stallions and her husband of over 50 years, Robert D. Thompson.
She is  survived by her children, Cheryl Kelly, Rod and Tami Thompson, David and Kyle Thompson, Doug Howe and Kari and Rick Zamora, as well as sisters, JoAnn Downey and Dee Barbea, close companion, Tami and Jim Taylor, brothers, Donnie and Debbie Stallions and Gary and Debbie Stallions. She also leaves behind numerous grandchildren, great-grandchildren, nieces and nephews.
Mary worked for over 35 years at Sierra County as a social worker where she touched numerous lives with her generosity, kindness and selflessness.
Mary was a wonderful mother, sister and friend. She brought smiles to many people in her life. She was a softball player, camper and loved to work in her yard with the most beautiful roses and flowers in town. She enjoyed the love of her dogs Tazi and Scooby. She will be dearly missed.