Life Tributes for the week of 12/31/19
Warren Edward Kelley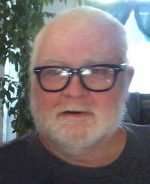 Warren Edward Kelley was born Sept. 12, 1956, in Portola. Warren left this world Dec. 20, 2019, doing what he loved best, working in his shop.
Warren grew up in Portola where he was a legend in high school, excelling in all sports, including wrestling and football. Warren worked for Union Pacific Railroad for 20 years, which took him to San Jose. In 1994, Warren retired from the railroad and moved back to Portola to help his mother on the ranch and has been extremely helpful to her ever since. Warren has always been a helping hand to his friends and has always stuck up for injustices he believed in.
Warren is survived by his two daughters, Amber Lyn Kelley and Elsie Marie Day; and by his mother, Marilyn Olson.
Warren will always be loved unconditionally and will be missed immensely by his family and friends.
Ron Porter
Ron Porter passed away Dec. 17, 2019. He was born in Petaluma, May 15, 1935, to George and Tina Porter.
He grew up in Foresthill, where his love for fishing, hunting and the outdoors grew.
He spent his early years at his father's garage helping repair equipment from the mines and timber operations.
After high school Ron enlisted in the Army and was stationed at Fort Carson, Colorado. He went into the Special Services for football where he played right guard and inside linebacker.
Ron was married to Peggy Porter in 1958. They had four children.
Ron was the first NAPA Auto Parts jobber north of Sacramento, and opened his first store in Susanville in 1966. Forty-plus years in the business led to numerous auto parts stores.
In the early 1980s Ron began farming in Vina and was a long time member of the Blue Diamond Grower's Association and Sunsweet Growers.
In 2008 Ron married Karen Bolen-Porter. Ron and Karen were an active part of the Chico Calvary Chapel family.
Throughout his life he was an avid fly fisherman.Ron's faith was important to him, and he was also a fisher of men.
Ron is survived by his wife, Karen; his children, Katie Kegg (Jack), Elizabeth Leininger (Tod), and Kyle Porter; eight grandchildren; and one great-grandchild; and his sister, Mabel Johnson.
He was proceeded in death by his son, Joel.
Services were held Saturday, Dec. 28 at Calvary Chapel Chico at 11 a.m.