Life Tributes for the week of 6/20/18
Elliott Johnson Smart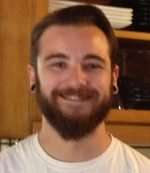 Elliott Johnson Smart passed away peacefully on June 9, 2018, of complications from open-heart surgery, at UC Davis Medical Center in Sacramento. He was surrounded by his loving family: his mother, Jody Johnson, his father, Elliott Smart, his sister, Cailin, his Aunt Sally and Uncle Casey Kester, and his grandmother, Joan Johnson.
In addition, Elliott leaves behind his uncles John Smart, Randy Smart, David Smart, Terry Skevington and Curtis Johnson; his aunts Lori Skevington, Kathleen Dumphy, Maria Truco and Diane Bartels; and his cousins, Kenny, Kylie, Katie and Landon, Scott, Grace, Aina, Julia, Jeff, Shelly, Sam, Jessilyn and Travis.
Elliott was born on Christmas Eve, Dec. 24, 1990, in San Andreas. He was a Christmas gift to his parents, Jody and Elliott. They fondly recall that because his arrival in their family was a surprise, Elliott spent his first two nights with them in an antique wooden crate lined with baby blankets that the three-day old infant fit into perfectly. His parents knew there and then that he would be a person who had a singular oneness to him. During his short 27 years with us, Elliott was just that … unique — one who followed the beat of his own drum.
Elliott spent his first six years in Arcata. He began his early education at the Sunset Elementary School for the Arts. There, he enjoyed his first significant exposure to theater arts. His parents recall that he was delighted to entertain his "life" aunts and uncles, the SOPS, by balancing a feather on his nose while juggling, skills he learned at the arts-based grammar school.
In 1997 Elliott moved with his family to Quincy and to their new home on Spanish Creek. Spanish Creek sparked a keen interest in catch and release fishing, an interest he carried with him into adulthood.
He also continued his love of the stage and connected almost immediately with Edie O'Conner and Kim Carrol at Dramaworks. His parents soon learned that he had a gift for comedy, as those who came to know him learned too. Some of his classroom teachers would say they found his timing for comedy a little less than ideal.
Elliott spent his childhood summers on Cape Cod with his sister and his mother, who was the camp nurse. Here he developed lifelong friendships and an appreciation for conflict resolution and cooperative living. He picked up the guitar at camp, and we discovered that he had a gift for stringed instruments.
Elliott continued his education at Quincy High School where he played soccer and skied for the Quincy High School ski team. While he had a genuine commitment to ski competition, more often than we care to think about he could be found closing out practices in the terrain park, amusing himself and others by performing trick ski maneuvers. It was another form of entertainment he carried into his adult years. Elliott senior recalls a recreational ski trip where, while he was skiing down a steep incline, young Elliott flashed past him waving … and easily maneuvering down the hill … skiing backwards.
During his junior year, Elliott finished as an All State Skier at the statewide high school ski championships. We have a humorous memory of Elliott trying to calm the team's nerves prior to a ski race where he made a show of dressing in a woman's Super G racing suit from the Finnish National Ski Team. When he finished putting on the sleek racing suit, he looked over his shoulder and asked his teammates: "Does this make my butt look big?"
Elliott was a regular on the high school theater stage. There, with the guidance and direction of Terry Gallagher, he developed the courage to expand into new dramatic territory including for the first time, a role in the Shakespeare tragedy, Romeo and Juliet. He closed out his senior drama project with Chase Ramirez and Karl Steidel in acomedy performance of the Complete Works of Shakespeare, Abridged. It was hilarious and brought down the house.
Prior to high school graduation, Elliott and his best friend, Ryan McFarland (who Elliott always referred to as his "brother"), co-wrote a musical ditty.They called it the "Dirty 530," a colorful song about growing up in rural Quincy (area code 530). They recorded the song as a senior project. A CD recording of "Dirty 530" went viral among the senior class of 2009. Elliott and Ryan performed the "Dirty 530" at graduation spontaneously accompanied by the entire senior class in a sing-a-long.
After graduation, Elliott moved to South Lake Tahoe where he attended South Lake Tahoe Community College. Once again theater called, and he proudly informed his parents that as a "green" freshman, he had landed the lead role in the Duke Theater production of Oscar Wilde's The Importance of Being Earnest.
Elliott went on to act in many, many productions over five years. We recall his outstanding performances in dramas such as The Laramie Project and The Last Days of Judas Iscariot, as well as comedies like Leading Ladies, and the musical Footloose.
During this time he developed the strongest of friendships with those he referred to as his "Theater Family." There are too many to name here. If we tried, we would certainly leave out someone important … so to you all in his "Theater Family," thanks for your love, friendship and support. We particularly want to acknowledge Susan Boulanger who recognized his talents and took him places on the stage we could never imagine. As Susan has said, "He started as my student, and he became my friend."
Elliott had great enthusiasm for cooking. It became his profession and a personal interest. Part of his worldwide travels included a trip to visit his sister who was living in Thailand. While there, he discovered spices and other unique ingredients that he used creatively in cooking to please his family and friends. He had recently started writing a cookbook.
Elliott had a genuine love for all animals. He missed his hiking partner Jackson, his dog, so very much while he was away and hospitalized. Elliott has shared that one of his most cherished experiences took place when he spent a day in Thailand hanging out at a sanctuary for rescued elephants, bathing them in the river and helping to feed and groom them.
In October of 2017, Elliott began to experience serious health challenges. Those challenges put him in the hospital, eventually in critical care. We are grateful to the staff of the California Pacific Medical Center in San Francisco for the outstanding medical attention they provided during this episode. It was their expert care that gave us an additional eight months with Elliott that we cherish.
Several additional episodes of hospitalization followed. Elliott was never able to fully recover his health. In March, his heart was attacked by a very rare fungal infection that eventually required open-heart surgery. Complications ensued, and while there were periodic signs of turning the corner toward recovery, the complications became too great, and they eventually took him from us.
We are forever grateful to the nurses, doctors and support staff at UC Davis Medical Center in Sacramento. They are professional, kind, compassionate and so skilled. We stand in awe of them. We thank those in his "Theater Family" who visited him when he was ill in San Francisco and who sent him countless messages of support, helping keep his spirits high. And we thank those in our small community who have supported Elliott and his family during this time of great challenge.
Elliott was a kind, peace-loving, polite and respectful man. During periods when he was critically ill, the medical staff would comment that he always remembered to thank them even when a medical procedure caused pain or discomfort. That is who this man was. We are so grateful for the time we had with him.
Elliott's family has asked that those who wish to honor his memory could do so by sending a contribution to Dramaworks at dramaworks.us, to support children's theatre. In the alternative a donation could be made to PAWS.
'Now cracks a noble heart. Good night, sweet prince. And flights of angels sing thee to thy rest." (Hamlet, 5.2).
We will miss you.
Sandra Lee Pearson
Sandra Lee Pearson passed away June 11, 2018, at the Loyalton Skilled Nursing Campus of Eastern Plumas District Hospital. She was 83 years old. Sandra was born in Portola at the Western Pacific Railroad Hospital on May 31, 1935.
Sandra is survived by her son, Steve (wife, Janet); grandchildren, Andrea Huggins (husband, Miles), Brett Pearson, Logan Pearson (wife, Dawn) and Gabrielle Pearson; and great-grandchildren, Deacon Huggins, Sandra Jean Pearson and Daniel Pearson.
Sandra was pre-deceased by her parents, Clarence and Rose Siemann, husband, Jim, brother, Charles Siemann, oldest son, James Lee and granddaughter, Lauren Rose Pearson.
Sandra attended grammar school in the one-room school at Graeagle.  She attended Portola High School through her sophomore year and graduated in Reno, Nevada, after her junior year.
Sandra married James Carroll Pearson in Portola on June 14, 1953. Sandra and Jim raised two sons, James Lee and Steven Carroll, in Susanville.
Sandra always wanted to be a teacher.  She attended University of Nevada, Reno for one year prior to marriage. She continued her schooling while raising her family and working as a substitute teacher.
Sandra worked as a teacher for 23 years and an administrator in Lassen County for 15 years, from 1955 to 1993. She taught every grade except Kindergarten. In addition to teaching full time in the early 1970s, she worked as a reading consultant for a textbook publisher and traveled through 11 western states giving workshops to teachers.
Sandra served as president and secretary for the Susanville chapter of Association of California School Administrators, President of the Lassen County Juvenile Justice and Delinquency Prevention Commission. She chaired the committee which planned, built and staffed the Lassen County Juvenile Hall Facility, served as president and treasurer of the Lassen-Plumas Chapter of California Retired Teachers Association, was a member of Delta Kappa Gamma and served as treasurer, secretary and president.
While working as principal/superintendent of Richmond School in Susanville, the funding for the multi-use building was accumulated. Sandra was honored when this building was named "The Sandra L. Pearson Auditorium."
In retirement, Sandra and Jim enjoyed traveling and investing their time and energy in their children and grandchildren.  During the last year of her life, Sandra was tenderly cared for by the staff at the Loyalton Skilled Nursing Facility.
Graveside services will be held at Whispering Pines Cemetery in Portola on June 30 at 10 a.m. Arrangements have been entrusted to Manni Funeral Home of Portola.