Life Tributes for the week of 6/6/18
Harry and Joyce Clarke
A graveside service for Harry and Joyce Clarke, formerly of Meadow Valley and Quincy, will be held on Tuesday, June 12 at 2 p.m. The service will be at the Meadow Valley Cemetery with a reception to follow at the Meadow Valley Community Church.
Linda Luella Hauso
Linda Luella Hauso, age 70, of Portola, born June 1, 1947, passed away on Monday, May 28, 2018, peacefully at her home. She had her loved ones by her side.
Linda married Michael Hauso Sr. in 1965 and they had two beautiful children, Angela and Michael.
Linda was always willing to help a friend in need. She will be greatly missed by her friends and family.
Linda was preceded in death by her father Bud Curlee, sister Glenda Curlee and her loving daughter Angela.
She is survived by her loving mother, Ruby Bertie; her brothers, Gene Curlee and Steven Curlee; her son, Michael; three grandchildren, Chelsey, Nicole and Uriah; four great-grandchildren, Emily, Bo, Jocelyn, and Bella; two nephews, Todd and Frankie, and her best friend, Tammy.
Linda loved her children Angela and Michael more than life itself. She enjoyed spending time with her friends and family. Linda also enjoyed working alongside her son Michael making asphalt.
Services will be held Sunday June 10, at 2 p.m. at Whispering Pines with a Celebration of Life immediately following at the city park. Feel free to bring your favorite dish for a potluck.
Marian Elaine Hilpert
Greenville native and lifelong resident Marian Elaine Hilpert passed from this life suddenly, Monday afternoon, May 28, 2018, at Enloe Medical Center following a sudden stroke. Those who mattered to her most were at her side.
Born April 16, 1962, to Firmstone and Eleanor (Smith) Hilpert, Marian was proud of her Native American heritage. She attended school in Greenville and Quincy graduating from Quincy High School as a member of the Class of 1980. Her caring personality led her to become a longtime caregiver in the community, first for Sally Angel and later for herself. She had a love of gardening and will be remembered as the owner of D & M's Garden for the past 20 years.
Marian was a proud member of the Indian Valley American Legion Post's Auxiliary and had just been elected to serve as their first vice president. Marian enjoyed spending time with her grandkids, relaxing with her dog, Shadow and tending to her birds, Fred and Sweetie.
In Marian's untimely passing, she leaves her daughter, Denise and husband Mike Savala, of Greenville; sons, Joe Mullen, of Tuscon, Arizona and Nicholas Mullen, of Susanville; her longtime companion and love of her life, Cliff Ginger, of Greenville; brothers, Gridley Hilpert, of Reno and Mervin Hilpert, of Quincy; sisters, Toni Hilpert and Diana Blevins, both of Greenville, Lynn Rolfson of Huntington Beach; and last but not least her precious 14 grandchildren.
A celebration of Marian's life will take place Sunday, June 10, at 11 a.m. in the Chico Jim Native American Cemetery outside of Greenville. A potluck reception will follow at the Indian Valley Post, of the American Legion.
William "Bill" Lake
William "Bill" Lake was born Nov. 8, 1934, and sadly passed from this life Friday, May 25, 2018.
Bill was a kind and gentle giant who loved life and everyone around him.
He enjoyed snowmobiling, water skiing, motorcycles, fishing, cutting wood and playing Santa Claus.
He was preceded in his passing by his mother, Ruth Fairchild Lake; father, James W. Lake; and sister, Patricia Lake.
He is survived by his wife of 34 years, Patricia "Dolly" Lake; children, Sallie Ann Lake, Cheryl Lake and Robert Lake; brother, Tom Lake and wife, Ruthie, of Cedarville; 14 grandchildren and four great-grandchildren. He also leaves behind numerous nieces, nephews and cousins.
A celebration of Bill's life is being planned for a later date for his family and friends. An opportunity to express condolences to his family along with signing the memorial guest register is available online at fehrmanmortuary.com.
Devin L. Miner
Devin L. Miner, age 47, born in Chester, Aug. 7, 1970, died in Chico May 28, 2018.
He was talented in art and woodworking. He loved his friends, family, camping and fishing.
Devin was preceded in death by his beloved grandparents, Bobbi and Ted Landrum of Greenville, and father Arthur "Rick" Miner of Chester.
He is survived by his son, Tyler Miner, of Chico, his brother Travis Miner, his mother Nikki Stoddard, of Littlefield, Arizona, and his stepmother, Sue Miner, of Virginia City, Nevada.
The funeral will be held at the Chester Cemetery, Friday, June 8, at 1 p.m., with a celebration of life to follow at the Chester Park.
In lieu of flowers, donations may be made to The Wellness Center, 13 Williamsburg Lane, Chico.
Mary Jane Reynolds
Mary Jane Reynolds passed peacefully at her home in Stockton on May 9, 2018. She was 87 years old. Born in Pittsburg, Pennsylvania, in 1930, Mary Jane moved to Portola, where she met and married Edward Felix Reynolds in 1950. They were married for 54 years. They moved to San Jose and finally to Stockton.
Mary Jane was preceded in death by her oldest daughter, Nancy and her husband.
Mary Jane was an avid gardener, quilter and knitter. Her needlework, however, was spectacular and gave her and her family great joy. She was a member of Saint Bernadette's Catholic Church of Stockton for 55 years.
She is survived by her children, Janet Carreno, Rita Reynolds, Debbie Johnston, Mary Sutherland-Moore, Timothy Reynolds (of Portola), Leslie Smith and Daniel Reynolds. She had 15 grandchildren and 11 great-grandchildren.
Mass will be held at Saint Bernadette's Church of Stockton, 2544 Plymouth Street, on June 8 at 11 a.m. Graveside services will be held at Vinton Cemetery, 93137 Highway 70, Vinton, on June 9 at 2 p.m. In lieu of flowers, please donate to any Catholic charities.
William Benjamin (Bill) Tiffany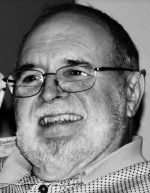 On Thursday, May 24, 2018, William Benjamin (Bill) Tiffany passed away.
Bill is survived by his three daughters, Sherryl Jackson, of San Marcos, Elise Tiffany, of Portola, and Nichole Tiffany, of Reno, Nevada; sister, Roberta Mantooth, of Port Angeles, Washington; and grandsons, Tate and Kennan Garrett, of Portola, and James Jackson, of San Marcos.
Born March 28, 1937, in Shawnee, Oklahoma, to William and Alberta Tiffany, Bill leaves a legacy of achievement and leadership. He was valedictorian of his senior high school class. At the University of Oklahoma he was awarded Top Freshman on Campus, was president of Sigma Phi Epsilon fraternity, received a Fulbright Grant to the University of Heidelberg, Germany, and was Phi Beta Kappa in Physics
Bill received his Ph.D. in Physics from Stanford University and worked most of his years as a leader in laser technology, including serving as president for the Laser Institute of America. It wasn't until his 60s that he switched his career and became a patent agent — preparing, filing and prosecuting over 150 patents in the area of technology.
Bill loved living in Portola next door to his daughter Elise and two grandsons. He appreciated the beauty of the Sierras and greatly enjoyed his civic involvement with the Rotary Club of Portola.Bill had a great passion for traveling, including living overseas in Germany and Switzerland, as well as his last trip, at age 75, around the world where he met with international Rotary Clubs to exchange flags.
Bill was known by his great smile, wonderful wit and his love of history and classical music. Bill Tiffany will be greatly missed by all who knew and loved him.