Life Tributes for the week of 8/1/18
Joseph Davis
Joseph Davis approached some time before Jan. 16, 1937, and passed April 14, 2018.
The first son and child of Grace "Delores" Riley and Jack Binns, Joe was born in San Francisco. His parents divorced in 1944. Delores would remarry a U.S. Forest Service man named Harry Davis. Harry adopted Joe and his brother and moved the family to Etna, where Joe would spend his formative years. Joe first came to know Plumas County when he visited his grandparents who owned and operated the general store in Blairsden.
Not wanting to wait another minute to start his own adventure, Joe entered the U.S. Navy right out of high school. He served as an electrician in the Pacific aboard the U.S.S. Everett S. Larson. When his enlistment ended and after getting some of his bucket list items squared away, he took on a job with the U.S. Forest Service at Kirkwood in El Dorado county as a ski ranger. He also met a girl working at Ham's Station who he was very fond of.
Joe and Kathy Walker were married in '74. They moved to Quincy in '77. After adopting two lucky babies out of Latin America, enjoying a solid career with the Forest Service in Plumas County and a good run at marriage, Joe and Kathy decided to take separate roads in 1996.
Joe was as stubborn as a mule and as blunt as a cinder block. But to those that knew him he had a caring nature and helpful soul. He loved to sail his boat, drive his buggy and hunt for firewood.
Joe is survived by his siblings, Gary, Dennis and Julie; his children, Michael and Elena; and his grandchildren, Joey, Gracie, and Milena.
He loved this area more than most and will be missed immensely.
A celebration of his life will be held at the Lake Shore Resort picnic area Aug. 4, at 11 a.m.
Chuck Rattan Lal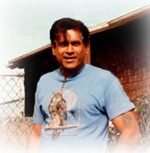 Chuck Rattan Lal passed away at his home in Greenville, on June 13, 2018. He was 77 years old.
Born in the Fiji Islands on Sept. 13, 1940, Chuck grew up with parents, Achar and Parvati Singh, in Suva, the capital of Fiji, and nearby Samabula. Before coming to the U.S., he was a British citizen, as Fiji was a British Crown Colony at the time of his birth and until 1970.
Some of his favorite memories included seeing Queen Elizabeth twice — when she toured the Crown Colonies, once in Suva, Fiji, and once while he was working in New Zealand. He waved at the Queen and she waved back. As a young man, he worked at a ranch in New Zealand for three summers. Chuck was a farmer and also worked in construction. He received his visa and arrived in the United States in 1963, arriving on a P and O Orient Line ship, the Oriana. He began working in the U.S. pruning and picking fruit trees. He then worked in the golf course construction industry and finally golf course maintenance.
It was during this time that he met and married his wife Brenda. They raised three boys and made sure their children received a higher education.
Leading by example, they taught their children values such as hard work, honesty, respect, integrity, loyalty and filial piety. He worked at Lake Almanor West County Club for 26 years, many of those spent as an assistant golf course superintendent.
Chuck was a loving husband and father who spent a lot of time with his boys as they were growing up. They worked side by side and together they built their home beginning in 1985. He taught them many valuable life skills and passed on a strong work ethic. His father-in-law often said that Chuck was the hardest working man he'd ever met. He was driven to work from sunup to sundown and do the best job possible in everything he did. One of his famous sayings was "Don't do a bum job!"
Chuck proudly received his U.S. Citizenship in 1970 and would often recite the questions and answers from his citizenship exam. He was an avid fisherman, deer hunter, woodworker and San Francisco 49er fan. He was very good at telling stories and saw the humor in most situations. Chuck spoke several languages and could read and write in Sanskrit. He was good with kids and loved babies.
Chuck is survived by his wife of 52 years, Brenda; son, Jason and daughter-in-law, Nicole Lal and their three sons, Henry, Jameson and Miles; son, Danny and daughter-in-law, Erin Lal, and grandchildren, Nicholas Lal, Zavannah Lal and Cayden Taddei; son, James Lal; sister, Kachi Didi Bir; sister, Bhagwati Muni Sen; brother, Latchman Frank Rai; sister, Shanti Prasad; brother, Paggu Patrick Singh; sister, Lashkar Kaur Bibi Gosal; brother, Sam Singh; longtime friends, Richard Hamilton, Rich Wells and Dave Singh; and many cousins, nieces and nephews.
Chuck was cremated and his ashes will be interred Aug. 4 at 11 a.m. at the Greenville Cemetery. He is, and will always be, greatly missed.
An opportunity to express condolences to the family along with signing the memorial guest register is available online at fehrmanmortuary.com.
Henry (Hank) Lyle Swing
Graeagle resident Henry "Hank" Lyle Swing passed from this life peacefully, at his home surrounded by his family, Saturday afternoon, July 28, 2018, following a courageous battle with pancreatic cancer.Born Aug. 5, 1963, to California natives William and Katherine (Sutliffe) Swing in Loyalton, Henry "Hank" was raised and educated in Portola graduating from Portola High School as a member of the Class of 1981.
Henry "Hank" joined the military following his graduation and served his country honorably as a helicopter mechanic in Germany with the U.S. Army. Upon his discharge he went on to further his education and receive his Airframe and Power Plant certification in Wyoming. With his new rating in hand, Henry went to work for Siller Brothers as one of their mechanics, a position he held until his passing.
On Oct. 24, 1992, Henry "Hank" married his loving wife Moira in a ceremony in Reno, Nevada.
First and foremost in his life was his family, he enjoyed the outdoors hunting and fishing as well as working on old trucks.
In his untimely passing Henry "Hank" leaves his wife of 26 years, Moira, of Graeagle; daughters, Heather Ohle and longtime companion Sam Siler, of Delleker; Elizabeth Swing, of Roseville; was the proud grandfather to Kristiana and Kathryn; as well as being survived by his father, William "Bill" Swing; and sister, Lisa Swing, both of Hyrum, Utah.
He joins his mother, Katherine, and brother, William, together in their eternal home.
The family asks that any remembrances in Henry "Hank's" memory be made to the Lustgarten Foundation for Pancreatic Cancer Research c/o Fehrman Mortuary and Crematory, P.O. Box 2215, Portola, CA 96122. An opportunity to express condolences to the family along with signing he memorial guest register is available online at fehrmanmortuary.com.
David R. Villalovos
David Richard Villalovos was born Nov. 29, 1959. He passed away on July 9, 2018, at Renown Hospital in Reno, Nevada, with his sisters by his side singing spiritual songs and quoting scripture.
David was a big man with a big heart. He enjoyed family gatherings, watching football and just hanging out with friends. David was a very special person who will be greatly missed.
David was preceded in death by his parents, Refugio and Isabel (Flores) Villalovos.
He is survived by his sisters, JoAnn Villalovos, of Westwood and Olivia Berg (Dennis), also of Westwood; brother, Vicente Villalovos (Janet), of Red Bluff; niece, Denee; and nephews, Clint and Ken; as well as numerous, aunts, uncles and cousins.
Services will be held at 11 a.m. Saturday, Aug. 4, at Westwood Assembly of God Church.
We appreciate all who called or sent cards of condolence.
Goodbye Dave … see you at the Resurrection.