Life Tributes for the week of 8/15/18
Sherry Lynn Archer (Hoffman)
Sherry Lynn Archer passed away peacefully on July 28, 2018. Sherry was born to George Hoffman and Inez Hoffman on Jan. 30, 1955, in West Virginia. She was the eighth of eleven children. Sherry loved her siblings and often talked of the fun she had swinging over the river on an old tree swing in her family yard. As a young teen, Sherry traveled with her family to Fremont where she resided until she met her love Roy Archer. They were married on Sept. 5, 1972. Roy and Sherry had many years together raising their family until they separated in 2014.
Roy and Sherry were gifted five daughters, Regina Dickinson (Tom), Sara Sattler, Sherry Archer, Rebecca Archer (Oscar) and Sadie Archer; and 10 grandchildren, Benjamin, Jesse, Taylur, Jeremiah, Jodie, David, Natallie, Madelynn, Roy and Christopher. Sherry was dedicated to her family and loved being a mother and grandmother.
Sherry had many occupations throughout her life and was a primary financial support of her family. However, the love of her life was being a licensed vocational nurse with Eastern Plumas Health Care for many years. She was loved by her patients and known for her quick wit and smile.
In 2016, after being diagnosed with early stage liver failure, Sherry moved to Stockton to the home of her daughter Rebecca, Oscar and their two children Taylur and Roy. Rebecca and family cared for Sherry and gave her the support and love that she needed. Sherry loved spending time with her grandchildren and often accompanied them to the park and on walks along the river.
For 36 years Sherry enjoyed the small mountain town living of Portola. She preferred her privacy, but loved a family gathering or birthday celebration. She was always up for a celebration and brought a huge dose of fun always instilling a sense of joy and laughter. Sherry loved the Fourth of July and always made her amazing fried chicken for the family to take on their gatherings.
Sherry loved watching "B" horror movies and laughing at the cheesy plots. She gave this love to her children and many nights were spent around the family television laughing at "scary monsters." She also loved dancing and singing to old Motown songs with her daughters. Wherever Sherry went, she brought with her that infamous smile. She will be greatly missed by family and friends.
A celebration of life and memorial gathering of family and friends were held on Aug. 11, at 6 p.m. at the city park in Portola, one of her favorite places.
Herbert "Herky" James Berg
Herbert "Herky" James Berg passed away on July 30, 2018, at the age of 89 years old.
Herky will be forever remembered by his wife of 66 years, Billy John James Berg; his three children Johna, Jim (Patricia) and Alice (Quentin); five grandchildren (Amity, Dylan, Bjorn, Dana and Sam); as well as his eight great-grandchildren; sister, Anita Ellsworth; and numerous extended family members.
Herky was larger than life and was nicknamed "Herky" short for Hercules due to his 6 foot 9 inch stature. Herky moved to Portola with his parents Herb and Annette Berg in 1936, graduated from Portola High School in 1947, attended BYU on a basketball scholarship and married Billy John in 1952. Herky and Billy John settled in Mohawk Valley near Clio in 1964 and raised their three kids there.
Herky worked on the railroad until 1979 and then bought a commercial salmon boat and fished along the north coast of California for many years sharing his love for the ocean with his family each summer. Herky and Billy John lived life to the fullest spending spring and fall in Plumas County, summers in Fort Bragg and winters near Lake Havasu with their large circle of friends.
Herky was an adventurer in the truest sense, as well as an avid golfer, fly-fisherman and craftsman. We will miss his one-of-a-kind laugh and light-hearted ways.
Donations are requested to the United Methodist Church in Portola in lieu of flowers.
Katherine Leal Borden
Katherine Leal Borden, mother, nana, sister, aunt and friend, passed away on Aug. 4, 2018, at the Eastern Plumas Health Care Hospital in Portola, surrounded by her family.
Katie was born in the coal-mining town of Sweets Mine, Utah, on Feb. 18, 1929. She was the fifth child of six siblings born to Sophia and Mike Baich.
She married Forrest Leal and they had five children. After his passing she married Jack Borden. Joining their families together they had 10 children. Her surviving children are Douglas (Lynn), David, Steven (Shawna) and Forrest Jr. (Madge) Leal, Susan Fracasso (Thomas) and Pamela Romero (Gilbert).
She was preceded in death by her son Lynn Leal, daughters, Tamara Litts, Ann Kramer and Linda Rhoades. Over the years her family has grown to 28 grandchildren and 36 great-grand children and numerous nieces and nephews.
Being a coal miner's daughter she learned about hard work at an early age. She carried those ethics through out her life.
Katie was strong willed, kind hearted, loved family and had a wonderful sense of humor. She always had a joke to share and loved doing crossword puzzles, crocheting, playing cards and bingo.
Katie was very involved with the Portola Cemetery District where she served as a volunteer board member. At the Nutrition Center she enjoyed her daily socializing, bingo games and made life long friends there. She was the manager at the Portola Senior Apartments where she created monthly potlucks, weekly card and bingo games and developed a library for the residents. In that circle her nickname was Katie Cards. Katie had many names to those who loved her: Ma, Mom, Kata, Nana, Aunt Katie or Kate.
A Celebration of Life will be held on Saturday, Aug. 25, at the Portola Station Church at 12 p.m. A luncheon reception will follow in the Hall. A private internment will be held at Shady Grove Cemetery.
Her family wishes to thank the staff at Eastern Plumas Health Care Hospital for the excellent care, compassion and support that helped Katie fulfill her wishes to complete her journey.
Having a large family, when anyone would say, "I love you, Mom," she would always respond, "I love you too and I love them all."
Derald Dwight Detrick
Longtime resident Derald Dwight Detrick passed away Sunday, July 1, 2018, at the age of 86 at St. Mary's Regional Medical Center in Reno, Nevada, with his loving family at his side.
Derald was born in Susanville to C.W. and Martha Detrick on Oct. 24, 1931.
Derald leaves brother, Bob, of Sparks, Nevada, and a sister, June Lantrip of Oroville.
He was preceded in death by a younger brother, Earl, in 1992.
He is survived by his wife, Marcia, of 63 years; and two sons, David (Trudy), of Susanville, and Robert, of Oconto Wisconsin. He leaves three grandchildren, Alicia (Eric) Lasecki and great-granddaughter, Scarlett, of Pulaski, Wisconsin; grandson Tim, of Green Bay, Wisconsin, and Emily, of Susanville.
A military funeral service, conducted by the V.A. was held in Fernley, Nevada, at the Northern Nevada Veterans Cemetery where Derald was buried July 12.
At the age of 16 Derald began driving water wagon truck after school, and during the summer for his father's company, Detrick and Ramsey Logging. At 18, he started driving a logging truck that continued for over 65 years.
Derald graduated from Quincy High School in 1951. Upon graduation he joined the U.S. Navy and was assigned to the battleship U.S.S. Iowa as a fireman and damage control man during the Korean War for three years, then he transferred to the U.S.S. Missouri that was assigned to the west coast.
On one occasion while on shore leave he was set up with a blind date with a young lady named Marcia Robison. Derald fell in love with Marcia and the day of Marcia's graduation he proposed. On June 11, 1955, Derald married the love of his life. To this union two sons were born.
Derald became an owner/ operator of his own truck in 1957 until he retired in 2008.
When he was not on the truck, he loved spending time hunting, fishing with his sons, and he loved snowmobiling with Marcia, friends and family. He also loved spending time with his grandchildren and they loved spending time with Papa.
Derald was a friend to many, and was always willing to help anyone seeking his advice or assistance.
After he retired from logging, he spent most of his time creating stained glass windows and lamps, along with stained glass blue star banners for parents of active duty servicemen.
A Celebration of Life will be held at a later date.
Mary DeLores Larios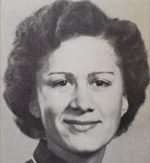 Mary Delores (Elliott) Larios passed peacefully from this life in the early morning hours on Saturday, Aug. 4, 2018.
Mary was born in Witchita Falls, Texas, on May 24, 1936. Moving to Plumas County when she was just 6 years old, she was raised in Spring Garden, attending the one room school in Spring Garden and graduating from Quincy High School in 1955. Growing up, she would sometimes baby sit for children at the original Greenhorn Ranch in Spring Garden before the guest ranch was developed.
Mary married the love of her life, Don Larios, in 1958, after two years of courtship. They recently celebrated their 60th wedding anniversary in June. Mary accompanied Don soon after they were married to Norfolk, Virginia, where Don was enlisted in the U.S. Navy, returning to Quincy in 1960. To their union, they were blessed with three daughters: Sharell, Cindy and Sharon. They remained in Quincy until 1989, when they decided to move to Cromberg, 15 miles up the road. Mary enjoyed the peacefulness and beauty out in the country.
Mary worked at the Quincy Convalescent Home 24 years before retiring. She trained many nursing assistants who went on to be LVNs and RNs. She had a true love for people and took pride in caring for many patients that she had known during her lifetime.
Mary was preceded in death by her parents, sister and youngest daughter.
She is survived by her husband of 60 years, Don Larios, her daughters, Sharell Larios-Jaramillo and husband, Phillip, of Quincy, Cindy Larios-Salvador and her husband. Dan, of Winnemucca, Nevada; her brother, Richard Elliott, of El Dorado; brother-in-law, Steve Larios and wife Tatianna, of Carpentaria; sister-in-law, Alice Malotte, of Grover Beach; six grandchildren and six great-grandchildren and numerous nieces and nephews.
To all those who knew and loved Mary, she will always be remembered as the most kind, giving, caring and loving woman. She never spoke badly of anyone and lived her life as a godly woman. Anyone who knew her was surely blessed. She is now soaring with the angels.
Upon her request, there will be no memorial service. A private Celebration of Life will be held with her family. In lieu of flowers, the family requests donations be made to Plumas Community Hospice in Mary's memory. An opportunity to express condolences to the family along with signing the memorial guest register is available online at fehrmanmortuary.com
Matthew Jared Maddalena
Matthew Jared Maddalena was born Nov. 30, 1969, in Portola's old hospital and passed away July 23, 2018. He was the youngest son of Guido and Adrienne Maddalena.
Matt came into this world before expected and left at the young age of 48.
Matt attended school in Portola. After graduation, he attended Shasta Jr. College. Matt's most memorable jobs were with Joy Construction, Folchi Logging, SPI in Anderson and then Loyalton, and Cox & Cox in Redding. Matt bought his first truck from Cox & Cox, starting his own trucking company, Maddalena Transportation.
Matt sold his trucking business in 2012 and moved to Flournoy to help care for his grandparents and to be closer to his son, Sammy. Shortly after, he went to work for Hart Farms.
Matt was an artist when it came to dirt work. This earned him the nickname of "Magic Man." He was also known as "The Ghost." Matt always had a list of jobs that he carried. When he would disappear, everyone knew he was working on "the list," just not exactly where.
Matt respected, cared for and loved those he worked with and for. They were his friends. When Matt wasn't working, making magic with his backhoe for Hart Farms, he was home with Wendy and Mei.
Matt loved his garden, working around the house and volunteering his time to the Paskenta Community Hall. He was a board member and actively involved in the upkeep of the hall. He was also part of the cooking crew for the two annual fundraising dinners. He assisted in the cooking for many weddings, other fundraisers and holiday parties.
Matt made lasting impressions with those he met. He was fun loving, fair, honest, patient in working through a problem. His work ethic was impeccable. Friendships were lasting. Matt was devoted and loyal to his family and friends. There wasn't anything he wouldn't do for either of them. His tattoo summed up his beliefs, "God & My Country."
Matt was loved by many and will be deeply missed.
Matt leaves his partner, love of his life and soul mate, Mei Vance; son, Samuel Matthew Maddalena, of Sierra Valley; parents, Guido and Adrienne Maddalena, of Mohawk Valley; brother, Darrell (Liz) and nieces and nephews Jared, Andrew, Nika and Allie, of Portola.
Graveside services will be held at the Paskenta Cemetery Aug. 18 at 11 a.m. A Celebration of Life will follow at the Paskenta Hall with a potluck luncheon.
On Aug. 25 a Celebration of Life will be held at the Sierra Valley Grange Hall in Vinton, from 11 a.m. to 2 p.m. with a potluck lunch.
In lieu of flowers, donations may be made to the Paskenta Community Hall, Sierra Valley Grange Scholarship or Plumas-Sierra Cattlewomen's Scholarship.
Harlan (Mac) George McBride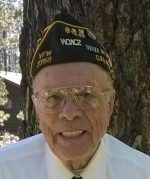 Harlan George McBride (Mac) went home to the loving arms of his Lord, Jesus Christ and his wife Betty Sue, Feb. 4, 2018, in the loving presence of his daughter, Shannon McBride, at home.
He was born Nov. 24, 1924, to George Merril and Dorothy Louise McBride/Erhardt,
He was predeceased by his father, George, in 1936; mother, Dorothy, in 1985; and sister Gerri, in Sept. 2008.
Mac proudly served his country in the Navy Sea Bees (Naval Construction Battalion) 27th Special Company during WWII in the South Pacific. He served on the U.S.S. Ticonderoga visiting islands such as Guam, Tinian, Okinawa and was stationed at Barbers Point, Honolulu, Hawaii. Upon discharge from the Navy, he worked for Bethleham Steel in Long Beach Harbor as a stevedore. He also worked at the Palms Theatre. He went into a career in printing, working at Kello-Brown, Scott & Scott, retiring from Welch Graphics in 1988 and moving to Graeagle.
Mac married the love of his life Betty Sue Bumb in May 1947. When she passed away, they'd spent 54 years happily married.
He was a service-oriented person and in his latter years he was very involved in AA, VFW and the Catholic Church in Portola.
He is survived by his sisters-in-law, Marilyn Wilkinson and Joan Olsen; three children, Harlee, Mark, and Shannon; seven grandchildren, Tracy, Megan, Shannon, Hannah, Andrew, Amanda, Steven; five great-grandchildren, Haley, Colby, Kelsey, Carter and Colton; step-granddaughter, Megan Dean Turner; son-in-law, Fred Dean Turner; and step-great-grandson, Matthew Gonzales; and many nieces and nephews and close friends.
Donations appreciated to VFW or the charity of one's choice.
Private family burial was held Feb. 10. Celebration of Life is to be held Aug. 18 at 1 p.m. At Graeagle Community Church.
Willard (Bill) Harvey Wattenburg, Jr.
Willard (Bill) Harvey Wattenburg, Jr., passed away peacefully on Aug. 2, 2018, surrounded by his family. He was born Feb. 9, 1936, in Chico, to parents Willard "Pop" Wattenburg, Sr. and Hazel (Conover).
In his early childhood, his family moved often as his father's work as a mechanic took them to Livermore, Oakland, Berkeley, Turlock, back to Chico, and then to the mountains of Plumas County in northeastern California in 1942, which many generations of Wattenburgs have called home ever since.
Bill graduated from high school in 1953, attended college in Chico, earned his bachelor's degree in engineering, then moved on to U.C. Berkeley where he earned his PhDs in Engineering and Physics, subsequently becoming a professor of those subjects at that same institution. He then joined the nuclear weapons design teams at the Lawrence Livermore National Laboratory, a relationship that would persist throughout the rest of his life. 
He ventured into television and radio in the early 1970s, a passion he enjoyed for the next 40 years, which also led to dabbling in the movie industry. Throughout these adventures, he maintained his connection to the mountains and often had business ventures pertaining to logging and mining. Bill fashioned his career as a scientist who came up with novel solutions to perplexing problems, some of which are chronicled at www.drbill.us.
Bill was important to many people and well known for his love of children and education as well as his lifelong commitment to helping those in need. In furtherance of this commitment, Bill's family asks that heart-felt gestures of condolence and remembrance be directed in the form of student scholarship support to the Butte Creek Foundation, 14916 Eagle Ridge Dr., Forest Ranch, CA 95942, phone 530-345-1097.
He is survived by his wife, son and four daughters, many adoring grandchildren, along with his sister, brother, and many nieces and nephews. Bill's family will remember him during a private gathering.