Life Tributes for the week of 8/29/18
Dorothy Borneman
Dorothy Borneman passed away on Thursday, Aug. 16, 2018. She was born in Hayward, on July 14, 1926.
Dorothy graduated from Hayward High in 1944 and U C Davis in 1949. She moved to Quincy, after graduation to teach high school Home Economics and PE.
Dorothy wanted to learn how to ski and was set up with Frank Borneman, Quincy's most eligible bachelor, in January 1950. They were married on Aug. 6, 1950, at her parent's home in Pleasanton.
She was an extension home economist for Plumas and Sierra Counties, which she was always and forever heavily involved in the county fair. She spent most of her adult life as a homemaker, wife, 4-H leader and thoroughly enjoyed all her many club associations and activities.
After moving to Gooding, Idaho, in August 1972, Dorothy discovered farm auctions as a hobby. She was also interested in history, art, antiques, genealogy, gardening, flower arranging, wildflowers and being outdoors, especially in her beloved iris patch.
Dorothy lived every day to the fullest. She never stopped moving, learning and striving to improve.
She was preceded in death by her parents, brother, and husband of 52 years.
She leaves behind her son, Bill and daughter-in-law, Donna (Huber), of Edson, Kansas and daughter Kathy Spooner, of Moss Bluff, Louisiana. She is also survived by four grandchildren, Sarah Borneman, of Hays, Kansas; Robert Borneman, of Edson, Kansas; Dawn Spooner, of New Orleans, Louisiana and Austin Spooner, of Moss Bluff, Louisiana.
A Celebration of Life for Dorothy will be held Saturday, Sept. 1, at 12 p.m. at the Basque Center in Gooding, Idaho. The family has chosen to do a potluck lunch, so if you would like to bring a dish it would be greatly appreciated. The family also welcomes everyone to bring a story or memory of Dorothy to share during the celebration. Her smile, dimples and sparkly blue eyes will be missed.
To share a memory of Dorothy or to offer condolences to her family please visit demarayfuneralservice.com.
Phillip Herbert " Moose" Henry
Plumas County native Phillip Herbert Henry passed from this life unexpectedly Thursday morning, Aug. 14, 2018, outside of Weaverville.
Born into his Native American heritage May 16, 1960, to James Sr. and Gloria (Cunningham) Henry in Chester, he was a proud member of the Maidu Tribe.
Moose, as he affectionately became known by family and friends, was a graduate of Quincy High School where he lettered in football. Following graduation, he began a lifelong career in the logging industry as a heavy equipment operator and was employed with Lance Corporation. He loved working in the woods where he felt close to Mother Nature and where he enjoyed fishing and woodcutting.
In his untimely passing he leaves his son, Jacob Henry, of Nixon, Missouri; grandson, Sawyer Henry; brothers; James, of Fairfax, Virginia, Lee, of Homer, Alaska, Charlie and wife, Tina and Michael, all of Greenville, Paul, of Reno, Nevada; a sister, Sheryl LaFlamme, of Sacramento; along with three aunts, one uncle, four nephews and two nieces and numerous cousins.
He joins his father, James Henry Sr., mother, Gloria J. (Henry) Begay, brother, Herbert and one nephew all together in their eternal home.
Phillip will always be remembered for his contagious laugh and the ability to bring a smile to your face whether you were having a bad day or not.
Following a visitation for family and friends at Fehrman Mortuary and Crematory in Greenville, private interment will take place in the family cemetery at Lake Almanor.
Veryl Clive Herbert
Veryl Clive Herbert, 83, passed peacefully from the arms of his family to the arms of those that waited for him in Paradise, on Aug. 10, 2018.
Veryl was born to Cora Lucile and Frederick James Herbert on June 27, 1935, in Los Angeles. While in college he met and married his sweetheart of 63 years, Sharon (Ihnen). Shortly after they married Veryl enlisted in the U.S. Navy and began training in his chosen field as a lab and X-ray technician.
In 1972, Veryl, Sharon and their five children moved to Portola and here they stayed. Veryl worked at Eastern Plumas Healthcare for 30 years as department manager in lab and X-ray, temporary CEO, EMT, fix-it-guy, and whatever else he was called upon to do. The hospital was his second home and he loved and cared for those he worked with and those he helped to heal. His laughter rang through the hallways and there was no disguising his steady footsteps approach. The nurses and kitchen staff were much appreciated by Veryl as a steady stream of goodies appeared, and then disappeared from his desk.
But Veryl's greatest love and pride were his family. He served on the PUSD board for 12 years to ensure that his, and all the other children of Plumas County received the best education possible. He continued to be an active part of his children's and then his grandchildren's lives as his love grew to make room for each new family member.
He will be greatly missed by his wife; his children, Lucie (Kreth), Paul Herbert, Kerri (Duncan), Pete Herbert and Mark Herbert; his 24 grandchildren; and 24 (and 3 on the way) great-grandchildren.
Times change, car models change, we gain weight, we lose hair but Veryl's love for his family and goodness to those around him never changed. The meaning of the name Veryl is  'true, loyal," and that is what he was until his last breath. Thanks for the legacy, Dad. And I am sure those angels in that Heavenly Choir are enjoying that beautiful tenor voice of yours as much as we did.
Helen "Susie" Housen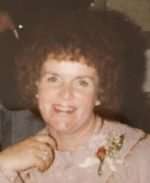 On Aug. 7, 2018, Helen "Susie" Housen passed away in Oroville, at the age of 79 from complications of Alzheimer's disease.
Helen spent the majority of her life in Plumas County, living in Greenville for many years. She was a homemaker but she loved to share her "gifts" of handmade quilts and baby booties with anyone that would be in need. She loved her grandchildren and enjoyed baking for them when they visited.
She was predeceased by her husband, Don Housen, who passed away in 2011.
Helen leaves behind her children, Kim Jergentz (Erin), Debra Housen and Don Housen, Jr. She is also survived by five grandchildren: Kyle Jergentz, Michael Jergentz, Donnie Housen Jr, Adam Mlakar and Wendy Meeks; four sisters; two brothers; four nieces; two nephews; and five great-grandchildren.
No services are planned at this time.
Daniel E. "Dan" Kenney
Daniel E. "Dan" Kenney of Cromberg/Sloat (formerly of Olympic Valley and Palo Alto) passed away in the early morning of May 31, 2018, at the V.A. Sierra Nevada Medical Center in Reno, Nevada. Dan was born in Chicago, Illinois, on June 22, 1940, to Matthew and Julia Ann (Hunt) Kenney.
He is survived by his loving wife of 37 years, Molly Kenney; his son, Brendan Kenney (Kate) and two grandsons, Aidan and Rhys; his younger sister, Louise Abbruzzese (Peter), of Alexandria, Virginia; his older brother, John (Nancy) Kenney, of LaGrange, Illinois; and several nieces, nephews and their spouses.
Dan grew up in Hyde Park in Chicago. He and his sister, Louise went to children's opera, Chicago's museums and Dan was featured as a child on a radio talent show. He attended St. Thomas the Apostle School and graduated from Loyola Academy in 1958. He graduated from the University of Notre Dame in South Bend, Indiana, as a member of the Class of 1962, with a degree in Economics. While at Notre Dame, he joined the Fencing Team, specializing in the epee, was elected co-captain of the 1962 Varsity Fencing Team and was named an All American by the NCAA.
Immediately after graduation from Notre Dame, Dan left for the Navy's Officers' Candidate School in Newport, Rhode Island. He was commissioned an ensign and began the first of several duty assignments. He served on a minesweeper staff with the Navy Eastern Sea Command, under Admiral John S. McCain Jr. His last year of active duty, he volunteered to go to Vietnam. He was based in Saigon in the Mekong Delta Gunboat Command and Vung Tau on coastal surveillance.
After active duty, Dan spent several years in the Navy Reserves at Treasure Island in San Francisco. He retired with the rank of Lieutenant Commander. After the Navy, Dan worked for Motorola in Chicago, as a Stock Broker with Merrill Lynch in Palo Alto and had a few years of working outdoors as a landscape contractor and general contractor.
When he rejoined the corporate world, he worked in human resources for Parsons Brinckerhoff in San Francisco, Kokusai Semiconductor and Identix Corp. in Silicon Valley. He retired as V.P. of H.R. at Identix in 2001.
Dan enjoyed travel, the arts and music. He was a subscriber to the San Francisco Symphony for 20 plus years. He loved his Old English Sheepdogs, enjoyed skiing and spent several years at Hot August Nights with his '64 Chevelle convertible.
Dan's true joy in life was serving others. He joined Big Brothers Big Sisters of the Bay Area, was president of the San Francisco Employer Advisory Council and held positions at the state and national level on Employer and Job Service Councils. He volunteered for many years on the National Ski Patrol. When Dan moved to Sloat, he volunteered for the Long Valley Volunteer Fire Department. During his time on the Department from 2002-2016 he became a licensed EMT and firefighter, He became Chief of the Department in 2008, just as the Cold Fire was starting in the mountains above Sloat.
One of his largest accomplishments was to write a grant request for a new vacuum tanker for the department, which was delivered in 2005. He wrote numerous grants for equipment for Long Valley and other Plumas County departments and encouraged firefighters from those departments to write grant requests.
At the time of his death, Dan was a member of the Plumas Sierra Rural Electric Board of Directors. He was so dedicated that he attended two board meetings via conference call from the hospital. He was also a board member of the Long Valley Community Services District.
Dan was a kind, loving husband and father and a friend to many. He is greatly missed.
A celebration of Dan's life will be held at the Sloat Town Hall, 909 Sloat Road, on Sept. 15, at 2 p.m. Memorial gifts in Dan's name may be made to the Long Valley Volunteer Fire Department, Cromberg, High Sierra Animal Rescue. Portola or one's favorite charity.
Jerry Looney
Jerry Looney was born on Dec. 29, 1935, in Gainesville, Missouri, to Genevieve and Harley Looney. He died Aug. 16, 2018.
He is survived by his loving wife, Jean (married 63 years); daughters, Jeri Kaye Lovitt (Rick), Kathleen Stockman (Ed), Lorna de Bellegarde (Federico); brothers, Phil, of Idaho Falls, Idaho, Leroy of Kansas City, Missouri; six grandchildren; and three great-grandchildren.
Arrangements are by Chapel of the Lakes Mortuary. Call 707-263-0357 or 994-5611 or visit chapelofthelakes.com.
Elizabeth Janette Pruitt
Following a brief illness, Janette left this life to be with our heavenly Father on Friday, Aug. 24, 2018.
Janette Pruitt was born in Wabbaseka, Arkansas, to Lonnie B. and Velma Bogy.
Janette married Robert L. Pruitt on Nov. 29, 1954, in Jefferson County, Arkansas. She gave birth to four children: Robbie, Allen, Teresa and Tim.
She was an amazing wife, mother and nana, always filling in, coaching Little League when her husband was at work on the trains, to caring for her grandkids when needed and even driving long distances to get them to softball and basketball games.
The highlights of her life were the family get togethers any chance she could — holidays, birthdays and just-because days. She was the rock of this family and the mortar that held it together.
Janette was preceded in death by her parents, Lonnie and Velma Bogy and her sister, Linda Stevens.
She is survived by her brothers, Bo Bogy and Pete Bogy; sons, Robbie (Michell), Allen (Sandy), Tim; and daughter, Teresa (Herb); grandchildren, Chandra, Andria, Jake, Kaileen, Cole, Christopher and Malaina; and 16 great-grandchildren.
The family would like to send a huge thank you to Renown Medical ICU Staff who not only showed professionalism, but did it with complete compassion.
A Celebration of Life will be held on Saturday, Sept. 1, at 11 a.m., in Portola at the Baptist Church located at 171 Gulling St.
Arrangements entrusted to Manni Funeral Home of Portola.
Cheryl Mariona Scarlett
Cheryl Mariona Scarlett, 69, formerly of Quincy, passed away Aug. 17, 2018, at her home in Orangevale. She was born in Montreal, Quebec, on March 10, 1949, to Arthur Scarlett and Eileen McKinley Scarlett while Arthur was attending McGill University.
In 1956 the family moved to Quincy and Cheryl attended Quincy Elementary and Quincy High School, graduating in 1967. She attended Chico State and then moved back to Quincy and worked at the Plumas County Probation Office. Later she worked in accounting at the Indian Valley Hospital.
Cheryl was very talented in crocheting, knitting and needlepoint. She made dolls and most notably her crocheted baby blankets which both her nephews have to this day. She was an avid reader and loved it when the Kindle was introduced.
Her two favorite events to follow were NASCAR and the Triple Crown horse racing. She delighted in witnessing two Triple Crowns champions capture the title. Family vacations were important to her and that could include major horse races such as the Kentucky Derby or vacationing in Hawaii with her favorite Island being Maui.
If the opportunity arose, she could be found in Reno playing video poker with her parents. She was known to spoil her family with her amazing cooking.
She is survived by her husband, Jim Finn; and stepdaughter, Amanda; her mother, Eileen Scarlett; sister, Susan Scarlett (husband Dave Truax), of Quincy; and nephews, Whitney Stine (wife Layne) and Taylor Stine (wife Laurie), of Crestview Florida; and her great nieces and nephews, Kaine, Alicia, Juliana, Adriana and Mia.
A remembrance will be held at a later date. Donations can be made to the Quincy Friends of the Library or the Plumas County Museum.