Life Tributes for the week of 8/8/18
William DeWan Burns II, "Boomer"
William DeWan Burns II, known by many of his friends as "Boomer," passed peacefully on July 26, 2018, surrounded by his loved ones.
He is survived by his children: Cynthia, Pamela and William III; their spouses; four grandchildren; 10 great-grandchildren; a niece; nephew; and a cousin.
William was preceded in death by his spouse, Betty Lee Burns.
Boomer was born in Oakland, on Aug. 19, 1918, to Gertrude "Dove" Groves. His father, William DeWan Burns, passed away before he was born due to the influenza outbreak of 1918. Boomer was a graduate of Sacramento High School and was employed as an engineer with the Western Pacific/Union Pacific Railroad for 47 years. He served in World War II as a sergeant in the 88th Division Blue-Devils and was captured in the campaign at Monte Grande, Italy in 1944. He spent six months as a POW in Stalag 7A, Moosburg, Germany where he was liberated by General George Patton's Army.
Boomer was an avid skier and golfer and also enjoyed hunting and fishing. He called Graeagle his home for over 35 years.
The family will be gathering at The Brewing Lair, 67007 Highway 70, Blairsden, on Aug. 19, from 12 p.m. to 3 p.m. They would love to have you drop by and share some of your memories of Boomer with them. In lieu of flowers, the family is asking you to donate to the VFW (Veterans of Foreign Wars), the Paralyzed Veterans or the local Railroad Museum in Portola.
Harlan (Mac) George McBride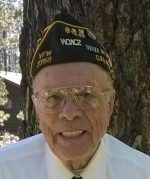 Harlan George McBride (Mac) went home to the loving arms of his Lord, Jesus Christ and his wife Betty Sue, Feb. 4, 2018, in the loving presence of his daughter, Shannon McBride, at home.
He was born Nov. 24, 1924, to George Merril and Dorothy Louise McBride/Erhardt,
He was predeceased by his father, George, in 1936; mother, Dorothy, in 1985; and sister Gerri, in Sept. 2008.
Mac proudly served his country in the Navy Sea Bees (Naval Construction Battalion) 27th Special Company during WWII in the South Pacific. He served on the U.S.S. Ticonderoga visiting islands such as Guam, Tinian, Okinawa and was stationed at Barbers Point, Honolulu, Hawaii. Upon discharge from the Navy, he worked for Bethleham Steel in Long Beach Harbor as a stevedore. He also worked at the Palms Theatre. He went into a career in printing, working at Kello-Brown, Scott & Scott, retiring from Welch Graphics in 1988 and moving to Graeagle.
Mac married the love of his life Betty Sue Bumb in May 1947. When she passed away, they'd spent 54 years happily married.
He was a service-oriented person and in his latter years he was very involved in AA, VFW and the Catholic Church in Portola.
He is survived by his sisters-in-law, Marilyn Wilkinson and Joan Olsen; three children, Harlee, Mark, and Shannon; seven grandchildren, Tracy, Megan, Shannon, Hannah, Andrew, Amanda, Steven; five great-grandchildren, Haley, Colby, Kelsey, Carter and Colton; step-granddaughter, Megan Dean Turner; son-in-law, Fred Dean Turner; and step-great-grandson, Matthew Gonzales; and many nieces and nephews and close friends.
Donations appreciated to VFW or the charity of one's choice.
Private family burial was held Feb. 10. Celebration of Life to be held Aug. 18 at 1 p.m. At Graeagle Community Church.