Local 4-Her successful at state fair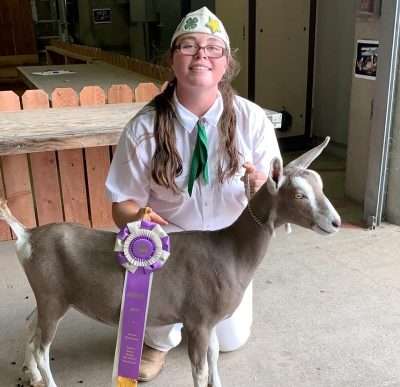 Kristin Roberti, 16, of rural Sierra Valley exhibited seven of her dairy goats July 20 through July 24 at the California State Fair in Sacramento in both the junior dairy goat division and the open (adults) dairy goat division.
Kristin had a very successful show. In the junior show, she received Junior Champion in the All Other Purebred Class and in the open division she received Reserve Junior Champion in the Toggenburg division. In addition, she received five firsts, four seconds, three thirds, four fourths and three fifths in her goat confirmation classes.
Kristin also received a first and second place for her goats udders and mammary system as well as seventh in the senior showmanship class.
Roberti said, "Winning the reserve Jr. Champion Toggenburg goat in the open show is a highlight of my showing career."
Kristin will be exhibiting eight dairy goats and a homegrown market steer at the 2019 Plumas-Sierra County Fair. Kristin is a seventh year member of the Sierra Valley 4-H club where she takes dairy goats, beef, and is teen leader for both the dairy goat and beef projects. She will be a junior at Loyalton High School this fall.
Besides raising and showing animals, Kristin enjoys working on the family ranch, 4-H and FFA activities, horseback riding, roping and volleyball. Kristin is the daughter of Dave and Jane Roberti.