Local event highlights suicide prevention and awareness
Chester resident and event organizer Dana Mollison, owner of Another Man's Treasure, rebranded this year's second annual suicide prevention event held in Chester Memorial Hall on Nov. 4 to highlight a holistic approach, with this year theme emphasizing "Wellness of Mind, Body and Soul," which she said was a more therapeutic approach from last year's somber approach to suicide deterrence.
Mollison said her focus was on healing, where attendees were not only offered educational resources, but had an opportunity to hear guest speakers and interact with a number of contributors offering classes to address measures to alleviate feelings of hopelessness and depression.
Said Mollison, "We wanted to provide a venue where people could come together to discuss their feelings," and to learn what could be done "should a family member or friend suffer from severe depression."
A lot of people attending the event had personal stories to tell of the heartbreak of losing a loved one to suicide, Mollison remarked.
For those currently suffering with depression or for anyone who had a loved one or close friend contemplating suicide, the event included an outreach component in the form of resources provided by Plumas County Behavioral Health and theChester Wellness and Family Resource Center.
A number of free demonstrations and activities were offered for attendees designed to provide therapeutic treatments and techniques using natural methods to mitigate severe anxiety, including a massage table with Erin Maclsaac and Nicole Silvey; "Laughing Yoga" with Nancy Presser; Essential Oils for Emotional Wellness with Kelsha LeAnne; Crocheting with Shayla; a Zumba demo; Macramé with Rita Luallen; art therapy and free counseling sessions along with prayer stations.
Participant Jacquie Cordova provided literature to inform attendees on organizations like Alcoholics Anonymous and Al-Anon family groups with a focus on drug and alcohol addiction.
A "Memory Tree" was located on a wall where people could write the name of a person lost to suicide, as a way to celebrate their memory.
At one of the tables, contributor Rita Luallen said that taking up a hobby was an extremely important way to be creative and focus one's energies.
"When one is depressed, it's always best to keep your hands and mind busy" Luallen suggested, based on her 40 years of experience with macramé, explaining that "crafts are an excellent activity whereby people can derive extreme pleasure," and strive to be carefree.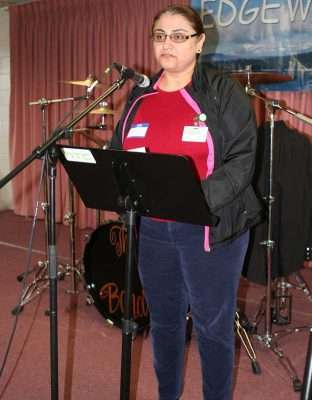 She said that giving away her craft projects free of charge made her feel better when she's feeling down and lifts her "blues."
Nancy Presser said her Laughing Yoga class raised one's spirits through laughter and exercise that increases serotonin, dopamine and endorphin levels — "our happy hormones" — while reducing high levels of cortisol, "our stress hormone," which is what depression meds are supposed to do, noting that laughter does the same thing naturally and includes a number of psychological benefits, without the side effects of drugs.
Dr. Nellie Salehi, D.O., from the Seneca Healthcare District, a rural health center serving the communities of the Lake Almanor Basin, was the first speaker at the event.
She discussed how in her family practice at the Lake Almanor Clinic as an osteopathic practitioner, she emphasized treating patients as a whole, including psychologically, and avoiding what she considered was too often the overuse of medications as the primary treatment, except in cases when prescribing medication was strictly necessary.
"Sometimes we physicians are too quick to write a prescription," said Salehi, "before we ask enough questions about what may be the underlining toxic factors causing the disease," for example the home situation, workplace environment, the misuse of drugs and diet considerations.
Continuing, she said, "Before we start a treatment plan, we must first evaluate the patient musculoskeletally to see if there is something throughout their system that's causing their pain."
As for depression, "We ask the patient about their nutritional habits, family life, support systems, stress factors, and so forth, and then always recommend counseling. … As a last resort, we would use pharmaceuticals like antidepressants — there is a place for them — along with ongoing therapy," she said.
Salehi recognized that sometimes it is very painful when a patient's underlying issue is addiction and they must undergo a long process of detoxification and rehabilitation in order to become pain free.
The next speaker, Pam Birdsall, shared her profound grief after her son committed suicide 17 years ago from a drug overdose at the age of 19, and how she managed over several years to rise above the "emotional darkness" and isolation she felt.
Her talk covered her personal journey and ways to shed the grief that "seems to encompass us when we lose someone we love."
During her talk, she also shared a slideshow of her family; including her deceased son when he was younger and places she's lived like Hawaii where she taught school for a number of years, saw first hand the negative effects of drug addiction and learned to meditate to ease her emotional pain.
"There are many ways a grieving person can help him or herself find healing," she continued, noting that, "Suicide ripples through the family," and into the community.
Birdsall said grief was a huge weight to carry, but expressed how fortunate she was to have friends and a husband who always stood by her after the tragedy of losing one of her sons to suicide.
"What has helped me the most in my healing has been what I call the 'light,' meaning all the caring people who embraced me. … I made a purposeful effort to surround myself with positive and thoughtful people," who were "supportive and uplifting, and shared their love and kindness," even when she was living in a very dark space.
Over time, Birdsall's spirits were raised, "and I realized that thankfully I had a support group around me who basically saved my life."
During the early afternoon, Edgewater 147, followed by a guest performance by Christi Kerzic-Chase, played live music to the crowd of approximately three dozen attendees.
According to a 2016 federal data analysis, suicide in the United States has surged to the highest levels in nearly 30 years, with increases in every age group except older adults.
Increases were so widespread that they lifted the nation's suicide rate to 13 per 100,000 people, the highest since 1986.
The rise was particularly steep for women, based on reports from the National Center for Health Statistics.
A new report from the U.S. Centers for Disease Control and Prevention noted that suicide rates for adolescent boys and girls have been steadily rising since 2007, with an alarming increase among girls 10 to 14, whose suicide rate in 2014 had tripled over 15 years from 0.5 to 1.7 per 100,000 people.
Researchers also found that suicides in middle age adult men was motivated by distress about jobs, failed relationships and personal finances.
A 2017 Huffington Post article online, Healthy Living, stated that the numbers are an alarming reminder that suicide is a growing public health problem.
Shockingly, Mollison said that in Susanville alone there have been a number of suicides in the high schools within the last couple of years, including local suicides in our area, attributed in part to the problems of cyber-bullying, not being popular and feelings of inadequacy, drug addiction, pressures in school and at home, and clinical depression.
  She shared how in the last year she herself has lost three close friends to suicide, people she had known for many years who left behind family and young children.
"It's important that people know that they are not alone, that they need to reach out and not hold in their feelings; to look for resources that will help them not feel isolated."
Terry Hernandez, Chester High School principal, has been very supportive, Mollison said. "He placed posters up at school for this event because he knew there's a lot of students struggling" with difficult personal issues.
Mollison said she hoped that the sponsored event on suicide awareness and prevention would continue annually and grow even larger, because such outreach programs are critically vital to every community.
Anyone in crisis can call Plumas County Behavioral Health at 283-6307. There's also a free 24-hour National Suicide Prevention Lifeline hotline available at 800-273-8255. For information and resources on suicide prevention, visit suicideispreventable.org.