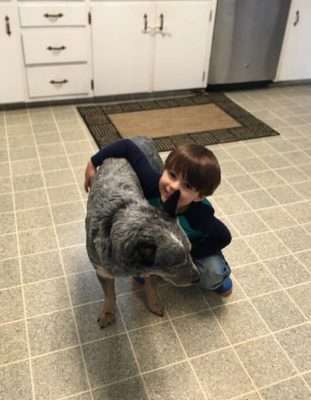 For weeks she looked for him — scoured the streets, put up fliers, posted to Facebook. And for months after that, she continued an online search hoping for a glimpse of him.
Even after she moved to Plumas County from her Sand City home near Monterey, she kept looking. Then it happened. Three and a half years after she last saw him, he was back in her arms — thanks to New Year's Eve fireworks, a caring couple and a chip.
Annie Sommer went out to get something from her truck about 10 p.m. on the night of Aug. 10, 2015 in Sand City. The next morning she couldn't find her dog, Jake, and surmised that he followed her out of the house. She didn't hear him because the collar with a little bell that he usually wore had been removed.
She set out looking for the Queensland heeler. Everywhere she went, individuals confirmed that they had seen him. "He was just here 20 minutes ago," was a familiar response to her question.
"The last time he was seen was at a Home Depot," she said. Sommer checked the animal shelters, looked on Craigslist, posted on Facebook, tacked up fliers. But nothing.
"I went to where the homeless camps are," she said, because sometimes lost dogs can be found there. She even offered a $1,000 reward.
Life circumstances changed and Sommer returned to her native Plumas County where her family lives. Sommer grew up in Indian Valley. But she kept searching online.
"I got the call on Jan. 2," Sommer said of the day early this year when she learned that Jake had been found.
A Bakersfield husband and wife were in their yard New Year's Eve as fireworks were being detonated in the neighborhood, when the man said "a dog came flying over the gate."
When they approached, he came right up to them. The next morning they called animal control and the person who responded checked for a chip.
When Sommer moved, she contacted the company that kept track of the chip in Jake and updated her contact information. After the man called telling her that they had found Jake, she immediately set to work to retrieve him.
"I called the animal control officer and just started crying," she said.
Sommer has a friend in Modesto who also is in animal control and she drove to Bakersfield to pick up Jake and Sommer drove to Modesto for the reunion.
"He was covered with scars and has some teeth broken off," Sommer said, noting that he must have had some rough years.
Sommer said that her dog had been extremely well trained and he remembered most of the tricks.
Jake had always been a very social animal and is "great" with her young children.
Sommer said that her reunion is a reminder of how important it is to have pets chipped.
Advertisement