A long journey to success for powerlifter
There's an air of pride in the Taylorsville post office and a scroll on the wall that says "Congratulations Suzette!" Suzette Reed keeps her two medals she just won with her — everyone's asking to see them.
Reed has just realized one of her lifelong dreams — competing in powerlifting. It's a dream she didn't always think she'd be able to achieve.
She's cheerful and ready for her next challenge. She walks into the post office having just come in from her first fighting lesson — another always wanted to do passion.
At theWorld Association Bench Pressers and Dead Lifters Competition in Las Vegas  on Nov. 17, Suzette Reed won first place in powerlifting in her age range — and then won what she is proudest of — third place in women's all ages powerlifting. At 46 she beat out 20-year-olds.
Her desire to be a powerlifter started early, in high school. She wanted to be strong. Her dad had made a bench with old cement dumbbells on the patio. While other girls were interested in cheerleading she wanted to lift weights.
She began powerlifting at Shasta College, lifting 101 pounds. But she also overdid it. It wasn't long till she hurt herself. There were knee surgeries. She got married. Had her son. Like many post partum moms, she didn't recognize the new body she had. She hadn't meant to get heavy. She was in no shape to lift.
Working in Quincy, she began to notice the gym next door to her work and went over one day asking the personal trainer there to help put her on a diet. He didn't want to do that, but told her to examine what she was eating. It put an end to fried chicken and potatoes. She started working out on her lunch hours. She did mostly cardio work. She dropped 50 pounds. In the back of her head it felt like maybe she could get back to the lifting that she loved.
But an accident at work changed all that. Her dreams were originally dashed when her leg was run over. While her leg wasn't broken, she suffered a soft tissue crush injury.  She began physical therapy, and that's when her physical therapist had a hunch about what was causing her so much pain.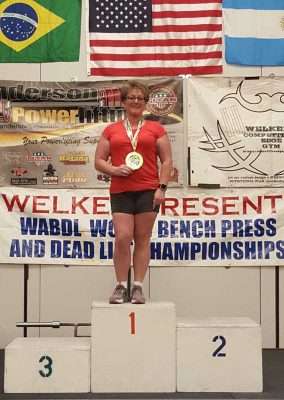 More doctor visits later, she was diagnosed with developed Reflex Sympathetic Dystrophy Syndrome — a rare disease usually characterized by chronic and severe pain in a specific region of the body.
Symptoms of RSD include burning pain, and extreme sensitivity to the touch. Suzette Reed quickly became known as the woman who wears  shorts in all seasons. She couldn't stand the pain of anything on her legs, including cloth in winter. There could be snow outside and you'd still see her in shorts.
Doctors at Stanford marveled at her personality — most people they'd seen with RSD think frequently of suicide. Reed, whose son Matthew was still a child at the time, never thought such things. She thought instead about being a mom.  She'd gained weight too. Didn't look like herself anymore.
Then her mom came down with cancer. "I watched my mom go through everything," said Reed. Her mom did so much and kept up her postal route too, and went through treatment, later succumbing to cancer. Her mother's strength and courage through it all was inspiring to Reed.  Her mother didn't let cancer define her; Reed was done having RSD define her.
After her mom died, Reed began working out again to lose weight. She was back in school too. She was determined to do the things she meant to do with the determination she'd seen in her mother.
Three years ago, chronic pain or no, Reed entered the world of powerlifting again. It was thanks to two people — Gary MacFarland and Jeanette Kowokowski at Feather River College where Reed had been taking classes again.
MacFarland agreed to train Reed to compete the way she'd wanted to do all those years ago, before the accident. She started with a competition in Portola two years ago and did okay. The second one she didn't do as well.
But then she began to hit her stride in Reno, Chico, and Rancho Cordova. She was invited to compete in Vegas — a place she'd never been — and on Nov. 17 she won.
Now, 67 pounds off later, she still carries a photo of herself when she started training. She hardly recognizes the woman in the photo.
She did it. On her own power: food, hard work, dedication, and heart. Like her own mother would have done. In three rounds of competition she went from lifting 149 pounds to 165 pounds.
Mentally she feels amazing, but physically all the activity and competition has taken its toll.
She still can't kneel or have anything touch her lower legs. Her family hoped she'd let the competition win in Vegas be the end of it.
But she's training for a competition in Reno in March. And she's begun fighting lessons. And she's doing her mother's old postal route, a route that's now been in the family 52 years.