Meet the candidates for supervisor
District 1
Name: Dwight Ceresola
Occupation: I am a retired Chief Master Sergeant (E9) from Nevada Air National Guard where I served for 30 years.
How long have you lived in or had ties to Plumas County?
I would like to introduce myself as your candidate for District 1 Supervisor. I am Dwight Ceresola, a full-time rancher in Sierra Valley. My family, my wife Carol, and three daughters and I moved to Sierra Valley in 1982. We still live and work on the family ranch, along with our children and grandchildren. I have been an active part of the Sierra Valley and local communities ever since.
What prompted you to run for county supervisor?
I believe I possess many qualifications for being a supervisor for Plumas County. I have lived in Plumas County for 37 years and I am very knowledgeable with our area. Besides being knowledgeable and having an understanding I have had many leadership positions that provide many necessary skills for being a supervisor. My qualifications are 1974-1976 United States Marine Corp, 1976-1982 Nevada Highway Patrol Trooper, 1981-2011 Air National Guard and 152 Security Forces manager.
I have served on the Resource Conservation District Board for Plumas & Sierra Counties, and currently on the Beckwourth Volunteer Fire Department Board.
With my military positions, board positions, various jobs, as well as a business ranch owner I have experience with budgets, negotiating and coordinating with multiple agencies involving city, county, state, federal and foreign agencies to accomplish tasks that were assigned. In addition, I enjoy working with people and getting the job done and getting it done right.
I feel that it is time for me to utilize my knowledge, skills and abilities to help serve my community and the people of District 1 as well as all of Plumas County.
What do you consider to be the two most substantive issues facing Plumas County and how would you address them?
Since starting this process of running for District 1 Supervisor, and in talking with people, many topics have come up, such as maintenance care of county run sewer system, road maintenance, LAFCO working on combining of volunteer fire departments, opportunity monies coming from Homeland Security Monies and OES monies that can be used in the schools to help with security and safety. These are all issues that I will be following up on during this election process.
One of the topics that has been brought to my attention by several people is road maintenance. There will be a meeting coming up on Plumas County's new transportation plan which I will be attending so I can see the direction they will be going and how they plan on accomplishing the projects. This will allow me to follow it through the process and time lines, so that if elected, I would be able to help keep the process going.
What statement would you like to make to Plumas County voters?
I look forward to meeting and talking with the people of District 1 over the next couple of months as I pursue being District 1 Supervisor.
Name: Jason Christian
Age: 63
Occupation: Economist
How long have you lived in or had ties to Plumas County?
As a native of Loyalton, and lifelong participant in my family's Lakes Basin business, I have had ties to Plumas County my whole life. I moved home to Portola in 2013.
What prompted you to run/rerun for county supervisor?
A friend on the Sierra County Board of Supervisors suggested that our forest health program would be well served by having a Plumas County Supervisor who could work with both local people, businesses, and government and with Sacramento and with the rest of Down-Below California. My ties to the people, businesses, and government of Lower Elevation California are not quite as long-standing as to those of our forest community, but they are strong, deep, and complex. I understand my friend's suggestion as a recommendation as to how I may best serve our community.
What do you consider to be the two most substantive issues facing Plumas County and how would you address them?
Restoring forest health is the dominant issue facing our community.
The strength of the local institutions to address fire danger, is closely related.
The North Yuba Partnership brings together local stakeholders in Sierra and Yuba Counties, our Maidu neighbors, Down-Below water interests, participants in the large financial community, and environmental interest groups, with the objective of addressing the forest health crisis in the watershed of the North Yuba River. Some describe this initiative as Version 2.0 of our Quincy Library Group.
We ask the Governor to direct the resources of California to join us in replicating the North Yuba initiative, on the larger footprint of the watershed of our great Feather River. We ask the Governor to help us save our community, by caring for the forests which serve us all.
Our forests communities have lived with the trees for a year. We are called "loggers," a title of pride and honor. We cut trees with skill and care, and find values in the trees after their long lives. We are great among California's assets.
May the Governor and people of California, help us to care for the trees upon which all depend.
We offer the institutions of the forests communities of Plumas County.
Our FireSafe Council is a model for community mobilization to address California's forest crisis. It is a natural partner in a Feather River Partnership.
The integration of the volunteer fire departments of Eastern Plumas County demonstrates the ability of our local communities to create an organization with the capabilities to work productively with the bureaucracies of Sacramento. We need a stronger CalFire presence in Plumas County; professional leadership through our Eastern Plumas Rural Fire District provides a natural mechanism for bringing in CalFire.
What statement would you like to make to Plumas County voters?
We are lucky, blessed many say, to live here with the duty of caring for the forests upon which all Californians depend. which deliver beauty and health to the planet.
May we bear this load with grace and joy, pride and humility.
Name: Bill Powers
Age: 72
Occupation: Retired Teacher
How long have you lived in or had ties to Plumas County?
All my life (born at the Western Pacific Hospital in Portola).
What prompted you to run/rerun for county supervisor?
Since August, District One hasn't had representation. I have served our community in many capacities since moving our family back here in 1986. I currently serve on more than a dozen committees, commissions, and boards, in areas of concern from hazardous fuels reduction, human health and welfare services, food distribution, mental health, land use planning, and more. My background in education, small business, firefighting, successful grant writing, and public office at state, regional, and local levels make me the most qualified to again hold the office of county supervisor.
What do you consider to be the two most substantive issues facing Plumas County and how would you address them?
Supervisors need to join forces to reduce threats of wildfire and the subsequent reactions of insurance companies to raise to extremes rates to consumers or withhold services entirely. To do this, we need to join with the U.S. Forest Service, private industry, and each of the local community service districts to become "fire-wise," create evacuation plans for each community, reduce fuel loads by up to 80 percent in some areas, and present a complete county plan that can become a model for the rest of the Sierra Nevada counties, and show as proof that we can protect our own by taking action now. In addition all evacuation plans need to be updated, with 100% planning for all residents and visitors.
Mental and behavioral health issues, from completed suicides to domestic violence and child neglect plague our county. Two years ago (2018), Plumas County had the highest rate of suicides per capita in the state. With recent funds from the state, we can provide much better walk-in services and outreach services to all of our communities by directly addressing the need with those departments and non-profits that are in place, and showing full support from the supervisors for the effort. I currently serve at the State level to design and approve policy for students K through grade 14 (community college) and will continue to bring resources back to Plumas County.
What statement would you like to make to Plumas County voters?
Because of my variegated background and continuous service to the needs of our residents, I believe I'm the most qualified candidate in the race for District One supervisor, and know I can help all people who live here improve their circumstances. I work every day to find new ways to provide local jobs, reduce service rates, increase business, and make our county more welcoming to those who come to visit and those who come to stay.
District 2
Name: Greg Cameron
Age: 47
Occupation: Local Employer, Local College Teacher, Local Probation Employee
How long have you lived in or had ties to Plumas County?
My family has had a constant presence in Plumas County since the late 1840's. As such, I have been affiliated with Plumas County my whole life.
What prompted you to run for county supervisor?
I decided to run for County Supervisor because our County is entering into a new era which is going to require a different skill set than currently exists. I bring with me almost 30 years of professional diverse experience.
The following is an overview of my experience:
United States Marine Corps Combat Veteran (Mogadishu, Somalia)
Former California Highway Patrol Officer (Barstow Area)
Former Special Agent with the California Department of Justice and Special Deputy U.S. Marshal  (Los Angeles and Redding Areas)
Adjunct Faculty (Administration of Justice) and Union President at Feather River College
Non-Sworn Staff at Plumas County Probation
Local Plumas County Business owner and employer (Limited Liability Company)
What do you consider to be the two most substantive issues facing Plumas County and how would you address them?
One of the substantive issues facing Plumas County is Public Safety Realignment Spending. Unfortunately, Realignment has turned into what can only be described as an unregulated petri dish of greed, nest-building, and disagreement throughout the State. In fact, some State Senate Public Safety Committee Members and Assembly Budget Oversight Subcommittee Members recently called for audits of the program; and legislation to that effect has been drafted. If elected, I plan on contacting those Members in an effort to develop a localized oversight strategy that is 100 percent in compliance with the legislative intent surrounding Realignment. We should not be doing anything outside the scope of the above mentioned legislative intent. In my opinion Plumas County has created its own micro criminal justice system and programs with these funds. Our Grand Jury has discussed these issues in the past with no remedy. Plumas County should avoid being the, "canary in the mine" when the audits finally arrive, and in the interest of fairness to its citizens. I will demand criminal justice uniformity and compliance.
Another substantive issue is the lack of sustainable substantial commerce; especially in areas outside of Quincy. I have operated a limited liability company since 2012 and would like to share ideas with other business owners and employers. I will listen to any idea. Additionally, I think a lot more can be done to assist new business owners. Starting a business is difficult; and a lot of entrepreneurs become discouraged and quit because they have no guidance. A lot of problems, to include criminal justice issues, tend to self-remedy when people are actively employed and have an incentive to take pride in their community. Creating business will be a constant path of mine if elected.
What statement would you like to make to Plumas County voters?
Dear fellow Citizens, you should know that I will bring all my diverse professional skill set to the table if chosen to serve Plumas County as a Supervisor. I have a verifiable history of standing up for the rights of others, even to my own detriment. As an elected leader and advocate I would require local government treat all Citizens with dignity and respect, shield tax dollars from waste and liability, and expect results from our local agencies; not statistics.
We live in a different time. A time of unprecedented infringements and spending. These times require a solid practiced leader, experience that is diverse, and steadfast courage to do the right thing. I am that leader. Thank you for taking the time to read about me.
Name: Kevin B. Goss
Age: 49
Occupation: Pharmacy Manager, Plumas County Supervisor District 2
How long have you lived in or had ties to Plumas County?
In 1973, my parents Bill and Sue Goss relocated to the quaint town of Greenville, in the heart of Plumas County. They purchased the Hideaway Motel and embarked on their dream of life in a small town, where they could raise my sister and I. Since that time, I've fallen in love with Plumas County and have chosen to make it my forever home. I have been able to pass on the small town values and beliefs to my children, where they are surrounded by a community that is much like a family to them. As the saying goes, it takes a village – and I know without a doubt the people in this community care for my family as if they were their own.
What prompted you to run for county supervisor?
In 2012 I decided to give back to the community that has given so much to my family and was elected Supervisor of District 2. I knew there were many challenges that lay ahead, including a budget that was still recovering from a huge decline, with no reserve and little funding for our retirees. A General Plan in the midst of being updated, with lawsuits on the horizon, and controversial issues such as legalizing cannabis in a community that is much divided on their stance. Our county is also one of three counties without a CAO, which adds another level of complexity to the position. My job as supervisor is far from complete, facing and overcoming these and so many other challenges every day is what has prompted me to run for re-election.
What do you consider to be the two most substantive issues facing Plumas County and how would you address them?
First and foremost our budget, there is a delicate balance between economic development, employee retention, and saving money for the future. We have an amazing crew of county employees dedicated to providing services to the people of Plumas County, people much like myself that are invested in this community and see it as much more than just a place to live. Tough decisions need to be made every day; we need to look towards economies of scale that will provide the funds needed to invest in the promotion of our beautiful county.
Secondly, going hand in hand with the promotion of our county is the long overdue investment and expansion of our internet and communication infrastructure. As many can attest it is nearly impossible to do business, personal or professionally, with unreliable internet and communication resources. These are essential resources, not only for those currently residing and doing business in Plumas County, but for the economic growth and development in the community and for our education systems.
What statement would you like to make to Plumas County voters?
It has been an honor and a privilege to serve as District 2 supervisor for 7 years, my job as supervisor is far from complete. The experience I have gained, and the relationships I have developed over the last 7 years is invaluable, this is a marathon, not a sprint and I am confident if re-elected I will go the distance for the people of our community.
Name:  Michael Grant
Age: 58
Occupation:  Peace Officer
How long have you lived in or had ties to Plumas County?
40-year resident
What prompted you to run/rerun for county supervisor?
I have long felt that accessibility to our elected officials and specifically those on the Board of Supervisors is lacking. On a personal level, I hear the same thing from friends and neighbors, many who have just given up on local issues because they feel there is no available dialog with their respective supervisor to express their concerns.
As a County employee, I see the same thing. It seems much more difficult than it should be to engage with your supervisor, with the results causing delays and inefficiencies that many times costs the County money.
This trend needs to be reversed. I feel it is "Time for a change" and decided running for County Supervisor is the best way to make that happen.
What do you consider to be the two most substantive issues facing Plumas County and how would you address them?
Poor accessibility to our County Supervisors and other inefficiencies in County government.
This position represents everyone that lives in the district, not a few selected people. An open dialogue with constituents to address concerns and issues is critical to providing effective representation and something I pledge to maintain.
The Board of Supervisors need to take a more active role in issues that affect multiple County agencies and work for a solution that is in the best interest of the County, not necessarily the needs of specific departments.
The new position of County Administrator should be vetting and consolidating routine matters the BOS currently handle. This will allow BOS members to work on more important issues at hand.
Work on solutions to the problem of increased costs, and sometimes cancellation, of homeowner's insurance policies.
I have spoken to many people and find that more than 50 percent of people have experienced a significant cost increase in fire insurance policy rates or an outright cancellation.
There have been considerable state level discussions about changes in the policies of the Insurance Commissioner's Office and laws that govern their operations that could provide relief to homeowners. Plumas County should be part of those discussions.
We can take steps locally to help with this problem. This could start with opening a dialogue with insurance carriers to try and understand their decision process and find out what ways the increases can be minimized. Engagement with our local fire departments to help address this issue is also important. One potential solution is every fire department in the County would see benefits with increased volunteer membership, something that the BOS could support at a county-wide level. This effort would lead to a better response and potentially a better rating by insurance companies that could lower rates and reduce cancellations.
What statement would you like to make to Plumas County voters?
I am a 40-year resident of Plumas County and spent half that time working for myself and half for the County. During that time, I have reached out to my supervisor for reasons based on being a constituent or regarding County business as part of my job. I have never experienced such the disconnect I see today between the public and the BOS. I have recently been campaigning extensively and hear the same thing over and over. While each member of the BOS is personable and likeable, they seem to have lost their effectiveness as a group and with that the trust and confidence of the people. If elected, I will stay engaged with the public and work hard to change this perception around.
Name: Phil Shannon
Age: 50
Occupation: Deputy Sheriff
How long have you lived in or had ties to Plumas County?
20 years.
What prompted you to run for county supervisor?
In the years that I have lived here I know that supporting our timber industry and ranchers need to be our priority. Our county needs to focus on improving tourism bringing in family events, open access to mountain roads for off-road activities. I believe that there should be a quicker law enforcement response for Indian Valley residents. As your board of supervisor I will work with the Sheriff in reducing the narcotics that's been brought into this county. I have observed county politics for several years now and know the areas where we need improvement. We need to start working together making our community the best.
What do you consider to be the two most substantive issues facing Plumas County and how would you address them?
A great concern I would have as your district supervisor is that of wildfires. Regardless of global environmental concerns wild fires have had. I feel the fires will continue to have an increased detrimental effect on our way of life here in Plumas County. Not only do they threaten life and property, they have recently begun to increase unexpected out-of-pocket expenses from small family budgets. Some of our insurance companies have decided that because of the danger of fire many of our homes must undergo expensive procedures such as brush, tree removal, roof and or siding replacement and more. Even after the modifications have been made homeowners still find themselves unable to insure their home. This situation is a disaster for lack of insurance. I sincerely feel that more must be done over this issue at the county level, why not create a coalition between the USFS, the board of supervisors and the insurance companies?
What statement would you like to make to Plumas County voters?
The position of supervisor is a servant and voice of the people. In Plumas County, as your representative, I will be strategically placed to be your voice and make sure you are not lost in the crowds. Your concerns are my concerns raging from lack of youth programs, narcotic issues and more help for our elderly and veterans in the community.Living here and working in as a LEO for the better part of 20 years I have seen the problems in the community and know where best to assist in creating a better future for all of our citizens young and elderly alike with your vote we can make a difference!
District 4
Name: Melissa Bishop
Age: 61
Occupation: Certified Nurses Assistant
How long have you lived in or had ties to Plumas County?
I moved to Quincy in 1989 and I didn't know a soul. I unpacked my hope and dreams and never left.
What prompted you to run for county supervisor?
The thought of running for County Supervisor has been on my mind for many years. Between motherhood and work it just wasn't meant to be. Lori Simpson did such a great job for the county and District 4, I saw no need, we were in good hands. I feel with Lori's retirement now is the time.
What do you consider to be the two most substantive issues facing Plumas County and how would you address them?
Transparency within the county itself. I think the people have the right to know what goes on with their local government. For instance lawsuits, I feel if the county or its insurance has to pay out to county employees or citizens the people have the right to know. Some will say it's a personal issue, we can't disclose it. Yes you can, just don't mention the payees name. Just release the amount paid and what department. Let the people know what department heads and elected officials are costing the county, let the people decide if they are worth keeping. With that also are the current hiring practices. I have seen first hand qualified applicants who have been passed over just to put in an unqualified friend or relative in a position.
There needs to be an importance in the current drug problem. Addiction is a horrible thing and I feel there needs to be more programs and funding for the rehabilitation of addicts. I know it's impossible to save them all but the effort should be made to save who we can.
What statement would you like to make to Plumas County voters?
To my community and District 4, I love our county. I do not claim to have all the answers but I will be there to listen and help as much as possible.I hope to be your eyes, ears and voice. As a Plumas County Animal Control Officer for 22 years, I treated everyone equally and respectfully. I plan to do the same as your District 4 Supervisor.
Name: Greg Hagwood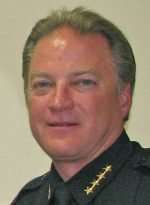 Age: 54
Occupation: Retired Plumas County Sheriff
How long have you lived in or had ties to Plumas County?
The Hagwood family has had ties to Plumas County beginning in the late 1930s. My grandfather fished the Feather River after riding the train to Belden and Keddie and brought his family to Bucks Lake in the 1950s. I moved to Quincy on my 10th birthday in November 1975.
What prompted you to run for county supervisor?
After 31 years at the Sheriff's Office and 10 years as the elected Sheriff, I recognize the need for continuity of leadership and dedication to public service at the Board of Supervisors. I am uniquely qualified to serve not just the citizens of District 4 but all citizens and visitors to Plumas County given my understanding, knowledge, and experience working with local, state, and federal governmental agencies. From establishing access and accountability in the office of sheriff to practicing fiscal responsibility, I want to apply successful principles I learned as Sheriff to the District 4 supervisor position and create policies that will serve the citizens of Plumas County.
What do you consider to be the two most substantive issues facing Plumas County and how would you address them?
Homeowner's insurance and the ability to obtain and maintain affordable coverage in the wake of catastrophic wildfires in the state of California is a top priority. As sheriff during the Minerva Fire, I witnessed firsthand the threat fire presented to our community and the importance of cooperative working relationships with local, state, and federal resources. As supervisor, I will continue collaborating with these agencies to safeguard our communities, neighborhoods, and critical infrastructure against natural and manmade disaster, steps which remain essential to providing necessary services to the residents of Plumas County. In addition to working with state and federal representatives to secure funding and resources to harden our critical infrastructure, I have met with the California State Insurance Commissioner and testified in front of a congressional subcommittee on public land management. In minimizing our exposure to fire risk, we can demonstrate lower liability and negotiate competitive insurance policies for county residents.
Secondly, stimulating economic prosperity and independence will become a critical response to our dependency on unpredictable funding streams from state and federal agencies. Our county needs to establish a sustainable economic engine that will create prosperity and relieve our dependency on unreliable outside funding. Having held local leadership positions within the Sheriff's Office, Office of Emergency Services, the county jail, and Search and Rescue, I have functional relationships with individuals and entities that can figure into our future success. Utilizing our natural resources and recreation industry in such a manner that we distinguish our county as a destination, we can attract people throughout the world to visit, enjoy, and invest in our local communities.
What statement would you like to make to Plumas County voters?
I have had the honor and pleasure of growing up and serving Plumas County for most of my life. In looking forward to continuing my service to the citizens and visitors of Plumas County for years to come, few people have received the blessings and opportunities afforded to me. In running for District 4 supervisor, I want to ensure that opportunities are created for future generations of individuals who value and love our quality of life in Plumas County.