The birds are back. Their chirps and songs were among the first things I noticed when I stepped from the Forest Service-green truck I'd ridden in just two weeks ago to the day. This part of the world was in transition from fire to mop-up and fire suppression repair. Decay and regrowth were already underway.
Deer have been sighted and some bears, shared Leslie Edlund, once again my guide, and Brian Martin, our safety officer for this tour.
A baby bear chewing on a pinecone was spotted one day, Martin said. He indicated with his hands the size of a very young cub. Its mother was close by. It doesn't take wildlife long to return to the area, they agreed, especially when there's a lot of green areas spread throughout the region.
We weren't fortunate enough to spot wildlife or even see the flutter of birds we could hear, but the brilliant blue sky accented by scattered white clouds was a refreshing change on Claremont Peak compared with 14 days earlier.
Revisiting the Minerva Fire
The Minerva Fire started July 29 and spread from Dean's Valley through the Claremont Peak region. It burned 4,310 acres in a predominantly mosaic pattern, Edlund explained.
Now assistant minerals officer on the Mt. Hough Ranger District, Edlund spent much of the first part of her career as a firefighter. Although some of the terminology has changed since she built a hand line, fire behavior and its results are the same.
Last winter's snowfall and spring rains helped in part to prevent more damage, she said, stating her opinion.
What is fact is that in 20 percent of the 4,310 acres, the "fire ripped through," destroying everything, she said.
In 80 percent of the region, the fire burned in a mosaic pattern, consuming underbrush and smaller trees in some areas, leaving others untouched. As the fire hopscotched its way through the forest, it left areas that were susceptible to fire should a smoldering log or tree come to life.
Advertisement
Over familiar ground
Once again, Edlund and I were following a white Forest Service truck down the 24N73 road off La Porte Road. So why was I going back to the area so soon? Two weeks earlier it was my first opportunity to get close to the fire. Although we were above the active fire, we knew from the inversion layer of smoke that it was below us. Those flames were just waiting for conditions to change so the inversion would lift and flames could spring to life.
On that earlier occasion I guessed at the panoramic views the inversion layer was hiding. This time, except for a very light haze, the forest, in all its beauty, was spread out in all directions for the viewing.
But I didn't get to enjoy that marvel until later. Edlund was saving the best for near the last on this second trip.
She wanted to return me to some of the areas we'd visited previously so I could make my own comparisons.
Advertisement
Special assignments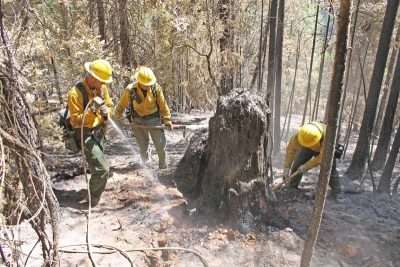 One of the reasons I was again on this journey was to see firsthand some of the work crews had done to check the fire. Forty miles of dozer and hand lines were wrapped around the fire area and must be repaired.
Here and there trucks were pulled to the side of the narrow roads. No people were in sight so I figured their small crews of one or two people were somewhere in the interior of the burn areas carrying out post-fire assignments.
Later I was to meet a few of the 128 firefighters left on duty.
Fire suppression repair
While Edlund drove, she explained that while fire suppression efforts were taking place, other duties were also being carried out.
One was mapping the fire by drone. This was a first on the Plumas National Forest, Edlund explained. Another was performing infrared work by helicopter. The latter was especially important in allowing repair work to begin and, more importantly, be finalized in areas that had completely cooled.
One of our first stops was a dozer line. Martin pointed out a water bar that was created along the wide plowed area during fire suppression efforts. I know what a water bar is, and perhaps it was because I wasn't wearing my glasses, but it took me a moment to spot the contours he and Edlund so easily identified.
Without these repair efforts, including adding water bars, the miles of containment line built around the fire would rapidly encourage erosion.
The first dozer line repair was still devoid of the layer of vegetation that would later be added. Martin explained that this area is still hot, meaning fires were still smoldering under the soil. If green vegetation was added to the top, fire could easily break out. Areas identified as still being hot won't be finalized until they have cooled. This could happen during the first rains, after the first snowfall or even later. Forest personnel will keep tabs on the changes.
Stopping at a wide area, I immediately admired a large fallen log. It was devoid of limbs and it was evident that it had burned a while. I say admired, because the photographer in me recognized a special part of nature.
This log was used across the access point to the treated area. A thick layer of still green brush and smaller trees covered the soil disturbance to protect it from erosion.
While I took pictures, both Edlund and Martin zeroed in on smoke I had initially missed. Up the hill and to the left of the treated area, a standing tree was still burning.
Martin strapped on his fire pack and grabbed a McLeod and hiked up to evaluate the tree. For those who aren't familiar with fire tools, a McLeod is a two-sided tool with a rake-like feature on one side and a blade for chopping or using like a hoe on the other. The other common tool is a Pulaski. This hand tool combines a single-bladed ax at one side of the head and an adze on the other. Both tools have been around since the early 1900s and are nearly indispensable to hand crews.
Courtney Rowe from Nevada City and the Tahoe National Forest, as resource advisor, led the fire suppression repair plan development, Edlund explained.
Although Rowe had left the day prior to our visit, her plan was still being carried out.
Rowe's duties began Aug. 3 when she arrived at the Minerva Fire and joined crews then staged at the Plumas-Sierra County Fairgrounds (later moved to Mill Creek to make room for the annual fair).
According to Rowe, her plans included Stage I repairs including what to do with the miles of hand and dozer lines. She also had to repair the safety zones, those areas designed to allow firefighters somewhere to turn should things get too intense.
Thanks to infrared mapping of the area, Rowe had some idea of which areas within the fire were already cooled and which were still hot.
The first dozer line Edlund and Martin showed me was still hot. Although no active fire was noted within this line, roots, stumps and other vegetation were still smoldering beneath the churned up soil. In a cold area, Martin explained that felled trees and other vegetation would be spread over the soil. This layer too keeps erosion in check. It also helps prevent others from turning a dozer line into an unplanned road or trail.
Before Rowe left the forest to return home, she met with the forest's hydrologist, Joe Hoffman, who is responsible for conducting the Burned Area Emergency Response, also known as BAER. This process identifies areas that could pose safety issues or threats to life, property or sensitive natural and cultural areas.
Throughout this tour, we stopped at several different dozer trails including a contingency line or safety zone.
Martin explained that contingency lines are like having a plan B in place. If plan A, devised to stop or turn the fire failed, crews hoped that plan B would hold.
As in some other areas, Martin indicated how the dozer lines were effective. In one area, the fire burned at a moderate intensity and then jumped a standard dirt road and tore up a hillside, burning far hotter as it went. In this and other cases, the dozer lines held the fire and kept it from spreading.
I asked Edlund to discuss what containment means. The Minerva  Fire had just been declared 100 percent contained the previous day, Aug. 9.
Although there was a line completely around the fire days before, Edlund said that fire officials were reluctant to call it until they were certain the lines would hold. Along the containment line, there were problem areas that had officials concerned. But once that threat was removed, the fire was declared contained.
Containment doesn't mean that the fire is out. Stumps, trees and root systems can continue to burn for days if not months, and with green areas remaining within the contained areas, there is still a chance for flair-ups.
On top of the world
This is where the mop-up crews come in. We met up with one crew from Engine 320 off the Mt. Hough Ranger District and stationed in Greenville.
Martin was in contact with them off and on while we toured the lower regions of the burn. Eventually we met up with three members of that crew atop Claremont Peak.
A little later, I would spot a road below us that I remembered well from the previous tour. I peered down on it with respect — especially the sloping mountain on either side.
Edlund found a parking place near where the Forest Service had set up a weather station to show weather created from the Minerva.
It was there we met up with Bryant Lopez, the talkative one; Dave Dube; and Jon Moore, the quiet one.
Taking us on a trail no wider than a deer path, they went behind the foremost peak and showed off the panorama. There across from us was the Mt. Hough range and Argentine to the right. East Quincy was easily recognizable and to the left a small portion of Quincy was just discernable.
The world was still slightly hazy from the smoke sent up from various isolated fires, but topped with this brilliant blue sky.
From this vantage, the mosaic patterns were easy to see. Below us and to our left were green areas untouched by fire and brown areas that had been burned.
It was difficult to leave such a setting behind, but we were off to view other parts of the fire.
A road more traveled
I don't remember having traveled along the 224N20 road. We waited for a water tender to come down the road and then moved on. That road had seen a lot of traffic in the weeks during the fire. It's the one that leads up around the Valley Heights Apartments and on up to Peppard Flat.
Fire damage, along with the splashes of red fire retardant, was immediately evident.
Edlund and I followed Martin until we came upon a Forest Service engine parked along the road. "Does MNF stand for Modoc or Mendocino National Forest?" I asked Edlund.
"It's Mendocino," she answered. Modoc is signified as MDF.
As we turned around and went back to meet the crew, a large man sporting  a red helmet greeted us. This was Capt. Shannon Banks, who kept watch as one man stood at the engine monitoring the water supply and three others dealt with a large flaming stump. Engine crews have five members.
While Martin hiked down to get photos, Banks explained about the root systems on some timber and how they can burn for months. I watched as the men used tools on the stump, attempting to get at the root system, while another firefighter used water sparingly to douse the flames. In just the time it took Martin to begin taking the first photos to the last, the flames were out.
Back home
There's just something so exhilarating about covering fires. Even the aftermath was fascinating as I checked out burned areas and marveled at how they had managed to keep others untouched.
It's three days now since I was allowed to see what Minerva did to the landscape and what crews are doing to mitigate the damage. Several times a day I find myself looking at that region, remembering especially what the world looked like from on top. It was fabulous, just fabulous.