Movies and special events coming to the Town Hall Theatre in March
Movie show times are 7 p.m. each night, unless otherwise noted, Friday through Monday, with a 4 p.m. Sunday matinee.
For the movie schedule, check quincytownhall.com. The Town Hall Theatre movie line is 283-1140.
"Just Mercy" plays two days,  March 10 – 11, Tuesday – Wednesday.
"Just Mercy"tells the story of Bryan Stevenson and his history-making battles for justice in Alabama. One of his most incendiary cases is that of Walter McMillian, a black man wrongly convicted of murder and sentenced to death.
Bryan refuses to back down as he fights to prove Walter's innocence, with the system stacked against them.
"Just Mercy"will draw you in, make you think and open your heart.
The stellar cast includes Michael B. Jordan, Jamie Foxx and Brie Larson. The film is based on Bryan Stevenson's book, which was the Feather River College Book in Common for the 2018-19 academic year.
FRC is supporting the presentation of this film and will host a brief introductory presentation to the film Tuesday, March 10.
This 99-minute drama is Rated PG-13 for thematic content including some racial epithets.
Web: www.justmercyfilm.com.
"Call of the Wild" plays four days, March 13 – 16, Friday – Monday.
Adapted from the beloved literary classic, and starring Harrison Ford, "The Call of the Wild" vividly brings to the screen the story of Buck, a big-hearted dog whose blissful domestic life is turned upside down when he is suddenly uprooted from his California home and transplanted to the exotic wilds of the Alaskan Yukon during the Gold Rush of the 1890s.
As the newest rookie on a mail delivery dogsled team — and later its leader — Buck experiences the adventure of a lifetime, ultimately finding his true place in the world and becoming his own master.
As a live-action/animation hybrid, "The Call of the Wild" employs cutting edge visual effects and animation technology in order to render the animals in the film as fully photorealistic–and emotionally authentic–characters.
This 105-minute family adventure is Rated PG for some violence, peril, thematic elements and mild language.
Web: Family.foxmovies.com/movies/call-of-the-wild.
"Sonic The Hedgehog" plays four days, March 20 – 23, Friday – Monday.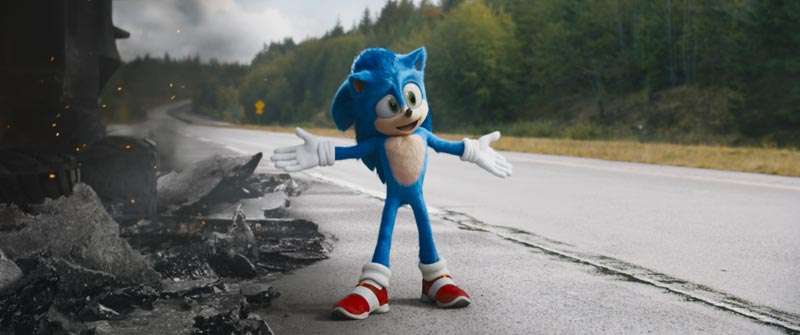 Based on the global blockbuster videogame franchise from Sega, "Sonic The Hedgehog" tells the story of the world's speediest hedgehog as he embraces his new home on Earth.
In this live-action adventure comedy, Sonic and his new best friend Tom (James Marsden) team up to defend the planet from the evil genius Dr. Robotnik (Jim Carrey) and his plans for world domination.
The family-friendly film also stars Tika Sumpter and Ben Schwartz as the voice of Sonic.
This 137-minute animated & live action is Rated PG for action, some violence, rude humor and brief mild language.
Web: www.sonicthehedgehogmovie.com.
"Birds Of Prey (And The Fantabulous Emancipation Of One Harley Quinn)" plays four days, March 27 – 30, Friday – Monday.
You ever hear the one about the cop, the songbird, the psycho and the mafia princess? The next edition in the DC Comics Universe, "Birds of Prey (And the Fantabulous Emancipation of One Harley Quinn)" is a twisted tale told by Harley herself, as only Harley (reprised by Margot Robbie) can tell it.
When Gotham's most nefariously narcissistic villain, Roman Sionis, and his zealous right-hand, Zsasz, put a target on a young girl named Cass, the city is turned upside down looking for her. Harley, Huntress, Black Canary and Renee Montoya's paths collide, and the unlikely foursome have no choice but to team up to take Roman down.
This 109-minute action crime adventure is Rated R for strong violence and language throughout, and some sexual and drug material.
Web: www.birdsofpreymovie.com.
High School Jazz Night for one night only: Wednesday, April 1, at 7 p.m.
Plumas Arts is pleased to welcome dozens of talented high school jazz musicians from our Plumas County schools in Greenville, Quincy and Portola to the 2020 edition of our annual jazz night concert that will take place Wednesday, April 1, at the Town Hall Theatre starting at 7 p.m.
Admission donations will be gratefully accepted at the door. Funds will help to support the music programs at the schools performing.