Multiple fire agencies practice drills
In preparation for fire season, local fire agencies, including CalFire-Westwood, USFS, Chester Fire Department, West Almanor Fire Department and the Indian Valley Fire District gathered at Stover Mountain on June 23 for a Wildland Field Day exercise to practice working in teams as part of a mock fire incident.
"We treated the drill just like it was a real fire," noted Karen Lichti, CFD public information officer and firefighter, which included an incident commander on site whose job it is to coordinate the operation.
As fire units arrived at the location, the incident commander assigned fire crews specific tasks, such as cutting "hand lines" through the brush using shovels, axes, chainsaws and Pulaski tools — a versatile tool for constructing firebreaks, combining an axe and a flat cutting blade in one head — to create trails allowing firefighters a cleared route to the "fire" — as well as laying water hose along the slopes of Stover Mountain and other assignments.
It was also a chance for the different fire agencies to program their radios to the same channel so everyone was on an identical frequency, critical when firefighters are in the field and need to communicate to one another unhindered.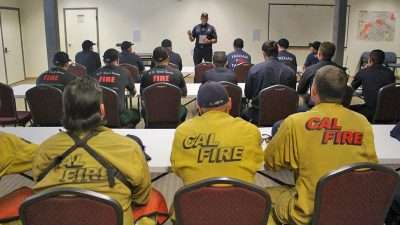 CalFire provided a helicopter that featured a water bucket attached to a cable that could scoop up to a maximum of 300 gallons of water from Lake Almanor (or other water source) to drop along the edge of the fire.
The helicopter, normally stationed in Bieber for the summer, made several runs during the training exercise, taking care not to splash the firefighters in the field directly below as it swooped overhead to deliver its load, although Lichti confided that a few of the firefighters did end up drenched.
As an aside, Lichti pointed out that the higher the elevation of the fire, the less water a fire attack helicopter can carry as the density of the air thins, reducing lift.
Where there are no close water sources for helicopters to draw from, so-called orange-colored "Pumpkins" or Port-A-Tanks are set up and filled by water tenders — water storage vehicles that can hold large amounts of water.
The heavy-duty, vinyl-constructed Port-A-Tanks are open-top, making water easily accessible to helicopters or fire engines and thus improving the efficiency of rural firefighting by enabling firefighters to access more water in remote areas, ultimately reducing the time needed to fight a fire.
With dedicated professionalism — particularly on a day that was approaching sweltering — teams quickly put together 100-foot long, inch-and-a-half diameter sections of hose totaling several hundred feet, starting from the two Forest Service engines that were parked at the base of the mountain. Lateral hoses were also connected to the main hose to provide water to other portions of the mock conflagration.
As in a real fire, Lichti said a variety of colored tape is placed in the field during the exercise to flag hazardous areas; in this case where the "fire" is located, or to identify dangerous locales where a beehive is sighted or a dead tree could topple and so forth.
Chester Fire provided a water tender at the scene capable of holding approximately 2,500 gallons of water, supplying the fire engines that hold less than 500 gallons of water each.
Because water is often a sparse resource at most wildland fires, Lichti said water is sprayed conservatively from hoses as needed, supplemented with ongoing helicopter or aircraft water drops.
Also participating in the simulation was a bus filled with fire-trained, "low-risk" inmates from the California Correctional Center out of Susanville, whose roles during a fire consist mainly of hand crews tasked with cutting firebreaks, clearing brush and using chainsaws to remove obstacles like fallen trees blocking a fire route.
Lichti said in order to keep control of the situation during the exercise — or during an actual fire — the incident commander divides labor into divisions, for example Division "A" covering the left flank of the fire zone, and Division "M" covering the right flank to help keep track of the units involved.
She noted that the divisions could run the gamut from A to Z, as additional fire units responded and depending on the size of a genuine wildland fire.
Describing further how fire crews are organized in the field based on a set hierarchy, Lichti said a division supervisor oversees several firefighters in his or her division.
As pertinent information from crew members is passed first to the division leader and then on to the division supervisor, that information is then communicated by radio to the incident commander, who updates their progress on a map in real time, as well as conveys orders back to the supervisors.
By reducing the number of people the incident commander must keep in touch with over the radio — in this case just two division supervisors — rather than receiving a jumble of messages from several reports coming in at nearly the same time, the more efficient he can be in his intercommunications and directives during what is likely to be a dynamic and ever-changing situation.
"He also keeps a roster on who's responding," Lichti added, oftentimes recruiting a crewmember as a scribe and to assist in other chores.
If there are enough people available in an actual fire situation, task force leaders are in charge of firefighting groups that encompass multiple fire engines and other vehicles and equipment, and are also responsible to report to the various divisions.
For the benefit of the firefighters and support personnel, many large-scale fire confrontations include a safety officer.
Responsibilities of the safety officer include making sure all fire personnel are appropriately dressed in personal protective equipment, are handling their tools correctly, making sure that unauthorized individuals are not present in the fire zone and other safety considerations.
In very large fires, surveillance aircraft provide an overview of the entire field of operations to provide logistic and safety information, as well as information that can be transmitted to local authorities for any communities nearby that may be affected by an approaching conflagration.
A lookout may be employed too, often possessing a pair of high-powered binoculars who is then placed in an area safely away from the theater of operations from which he can observe the development of the blaze, to supply safety and progress reports to the incident commander.
Joe Waterman, Chester fire chief and emergency services director, said every fire presents unique challenges, and that's why it's critically important to schedule a cooperative effort, or what he called "readiness exercises," between multiple-agencies.
"Each fire agency usually undergoes one or more readiness preparation drills" as the fire season gets underway, he said.
Because procedures can vary from one fire district to another, Waterman said, "You want to be aware of some of the differences one department may have from another in its field operations," explaining that separate units working jointly during an exercise allows everyone to integrate better when they're fighting real fires, eliminating or reducing potential glitches in the field, which could be life-threatening.
Waterman said the drill was a great success, with all fire personnel reporting they had positive experiences working together.
At the conclusion of the three-hour exercise, which ended around noon, Lichti said, "We had an after-action review," where personnel had an opportunity to discuss what went well or where there were problems that needed to be addressed.
"The firefighters and support staff go over their experiences and what they learned or where improvements could be made," she said, agreeing with Waterman that everybody had a great day and felt good about their performance during the exercise.