Netherlands' 'VeloX 8' is world's best for 2018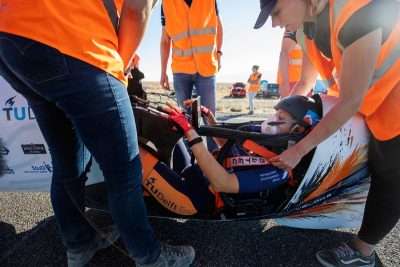 A follow-up on the mid-September story about the Netherlands' "Human Power Team – Delft & Amsterdam" competing in the World Human Powered Speed Challenge (WHPSC) in Battle Mountain, Nevada, will provide pleasant news for those that met the athletic team while they were using the Lake Almanor area as their practice/acclimatization locale.
Upon arrival at the race site on Nevada SR 305 near Battle Mountain, the entire team started the rigorous task of team qualifications for starting times.
According to the WHPSC 2018 Start Order Selection Process:
"Each morning, there will be four or five heats with four or five vehicles in each heat, as time allows. There will typically be a mixture of 2.5-mile runs for qualifying, and 5-mile runs for speed; the exceptions are Monday when there are only qualifying runs, and Saturday when there will be only 5-mile runs.
Each evening, there are a maximum of three heats with four vehicles each. This makes for a maximum of 12 runs. Tradition holds that the last heat of the day is the most likely one for new world records to be set, although there have been some exceptions."
Team member Hannah Timmermans related, "There were some small issues during the week, beginning with a communication problem in the first days.
We where very pleased we could fix it quickly and the rest of the days it worked very well!"
The high winds also created some difficulties because it correlated into multiple non-legal runs for starting times and competition runs, which was quite frustrating for both athletes.
Advertisement
"Jennifer Breet had four days of non-acceptable times due to the wind," added Timmermans.
The VeloX 8 team was at Battle Mountain for a challenge and they successfully overcame both the electronic- and weather-related hurdles and went on to win their division.
Timmermans commented that, "Sadly we didn't break the world record as we had hoped, but Lieke De Cock's time was very close to the record which put her in first place and Jennifer Breet finished second to take the top two spots in the women's competition.