New corrals expand hands-on training at FRC's ranch management program
The tour van bounced along on rutted roads through Feather River College's 180-acre pastureland south of Spanish Creek and west of the Five-Foot Farm. Up came a bump and whomp went the van loaded with FRC trustees and staff on a short break from the September board meeting.
Somebody in the back said, "Whoaaa!" and reached for a handgrip. But Russell Reid didn't skip a beat.
"We have Angus and Herefords, all beef cattle," said Reid, readying to lead the group through the college's newly constructed corrals, chutes, pens and student agriculture lab facilities.
"I thought we were going to have Texas Longhorns," somebody joked, having a little fun with FRC's cowboy-in-charge.
Chairman of the college's agricultural studies program, Reid was all smiles for the walk-through of the livestock management facilities that are now open for classes, thanks to "Strong Workforce Program" grant monies provided by the California Community Colleges Chancellor's Office.
First, there was the matter of inspecting two potential locations where the college could build a small bridge to access the ranchland directly over Spanish Creek near the equestrian facilities. Currently, the only access is over an easement on private property off Bucks Lake Road.
Working with Plumas Corporation consultants, FRC is in the feasibility stage of its planning and research. The college hopes to have all its permits and begin building the bridge within 18 months or so.
After the briefing on the bridge options, it was off to the corrals with Reid and FRC President Dr. Kevin Trutna leading the tour.
"It's one thing to build a facility for handling animals and another to build one suitable for teaching," Reid said, standing at the hydraulic weighing apparatus where livestock will be herded through using "stressless cattle management" techniques to monitor their health and weight gain.
"We had to design this place to have up to 25 students at a time and nobody getting hurt," he added. "It was a pretty good trick. Now we have this student-friendly area where everyone can be around, listen, talk and be part of the class conversation."
Reid said the facility was completed by a contractor with able help from FRC workers and some students in the program.
"Even our alumni wanted to help," he added. "One of the guys from our champion rodeo team, he came and helped."
Overall, the hands-on livestock activities will substantially enhance FRC's notable Equine and Ranch Management degree program. The new corrals and property will be used for FRC's agriculture classes, too.
"All of our technique classes and opportunities, our labs, are out here. That's our branding pen," Reid said, waving an arm to show where students will learn traditional techniques of roping and branding cattle.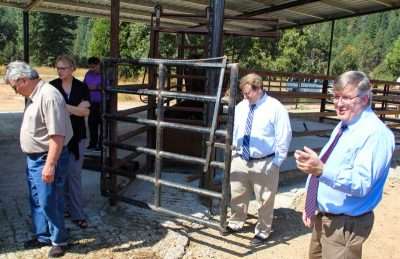 As the group walked around the cattle processing area, trustees and staff learned that the covered outdoor classroom also features an option to plug in laptops so students can track details about the animals for their projects.
"This is pretty state-of-the-art," Reid told the group. "We will have 30 to 50 cows in the program at this stage and we're going to be selling our bulls. The students will record their birth weight, daily gain and more. There's quite a bit to keep track of."
A voice in the crowd made a joke about keeping track of cattle and reminded the cowboy-in-charge about a bucking bull that once strayed from the college.
"Oh yeah," Reid laughed. "He got up to Snake Lake, but we got him back. He was up there a year. We used to get calls telling us, 'Hey, there's your bull. He's in campground seven.'"
Trutna chuckled, too, and reached up to tug on a sturdy, tall gate and rail.
"There are very few facilities better than this one," the college president said.  "If you've ever been around cows and cow chasers, you want to be able to get up and out of the way. Most ranching programs would like to have a space like this and unless you go to some giant operation, this is the cream of the crop."
One fellow on the tour kidded, "This is better than the Harris Ranch, isn't it?"
Reid chuckled, "Oh, I don't know if I'd go that far! But we're close."
Guy McNett represents Indian Valley on the board of trustees.
"This is unique," McNett said during the tour. "We're the only school in California offering this particular degree in ranch management.  Out of 120 community colleges in the whole state, only 30 are approved to offer a bachelor's degree and just 15 campuses are doing so."
The college property that is making such a significant contribution to the school was purchased from the Seguras and is now fenced into individual, smaller pastures to allow livestock to be moved from one place to another. With five-wire fencing marking the boundaries and Spanish Creek running through it, the land will also be available for students studying riparian sciences and other natural resources subjects, an added bonus.
Reid expressed his thoughts about one of the most important benefits of the new facility.
"The hardest thing to teach in this program is the practical information that students can use when they graduate," the cowboy said, explaining FRC already holds a successful annual horse sale every May and the new facility design has paired a model ranch operation with the college environment.
"When we get up to full speed, we'll have about 100 students, freshmen through seniors," Reid said. "We're trying to have the degree represent what the industry needs and to have students be ready to use it on the job, to teach them what they would have to do if they were in the business right now."
The faculty hopes to have three to four bulls in the program by January 2018, with an emphasis on herd development. They already have one 6-month-old Angus bull who has strong potential to be a prize winner. The FRC bulls will be used in the beef industry and Reid said the college aims to teach students how that works.
"Most importantly, we want to get them out," the ag department chair said. "At Red Bluff, they have a big annual bull sale. We'll teach the students how to get the bulls to market. Hopefully, we'll do really well there, win a championship and people will start knowing where Feather River College is. That's our hope and part of what the process is."
Trutna agreed. He said the program was definitely off to a good start and students are working to go into viable careers that are in demand. He also said there are many benefits for students attending FRC and the Equine and Ranch Management program in particular.
"This is an opportunity to learn how to actually operate a ranch, do some animal husbandry, learn some animal first aid and assess them for health conditions," Trutna explained. "Students also learn how to estimate costs for feed for a herd and plan all of that out. You can't just go down to a pet store and get what you need for your cattle."
In addition, it was noted that the cost of a community college education could save families plenty of money.
"The cost of this education is a lot lower," Trutna said. "The vision of the California State Legislature and FRC has been this: if
you're an in-state student, to finish all four years of this bachelor's program—not including living expenses—should only cost you $10,000."
As the corrals tour wound to a close and attendees climbed aboard the van for the bumpy ride back to campus, Reid laughed and said, "Now, just get us a bridge so we can get the hell over here! We already seem to lose our students when it's time for lab and they have to run to town for something first. Can you imagine getting from class to here through downtown and Bucks Lake Road? It'll be a case of, oh I think I need a burrito! And then we'll come over here to do the lab and there will be, like, two of us!"