The new Plumas Action Network gets underway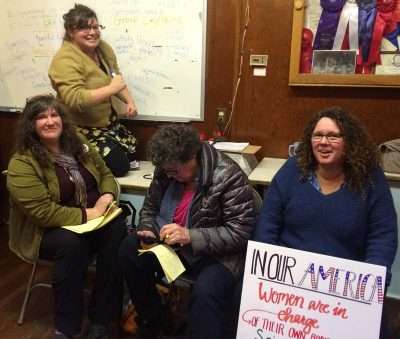 "I have a child. I don't want to have to tell her that I stood by and did nothing while her country was being dismantled," said organizer Amber Hughes to a grange hall packed with 42 people who came to the first meeting of the Plumas Action Network in Quincy on Sunday, Feb. 5.
Together with fellow organizer Kari O'Reilly, Hughes instructed the room of mostly women to introduce themselves and say why they'd come to the meeting on a rainy Sunday from all corners of the county.
Some were seasoned veterans of politics, but most cited a need to be involved in the community and the issues being settled in Washington D.C. and what repercussions they could have for Plumas County.
Local scientists spoke of their work being frozen and not being able to disseminate scientific information. Others reiterated concerns regarding education.
Many attendees had their first taste of activism at the Jan. 21 Women's March in downtown Quincy. No single issue seemed to be the focus of the meeting, but rather a laundry list of concerns brought on by President Trump's executive orders and proposed Congressional legislation.
Attendees ranged in age from 3-years-old to the mid-70s. After the meeting "old-timer" activists –– as they referred to themselves –– said it was exciting to see "young blood." The median age seemed to be mid-30s.
Hughes and O'Reilly said the Plumas Action Network would not cover any one issue and are dedicated to the new political action group being non-partisan.
They asked their audience to shout out issues they cared about to be written on the whiteboard behind them, so they could further organize into committee groups with team leader captains. The interests were varied — from concerns about the dismantling of the EPA, to what hiring freezes would mean to Plumas County's economy. They were concerned about the new education secretary, Betsy DeVos, and what a lack of separation of church and state would look like on a national and state level. There was local concern for proper sexual education courses in schools as well as reproductive rights.
They were concerned about poverty, civil rights, immigration bans, the proposed wall and opening dialogues with people who do not see the world the way they do.
"We need human decency and kindness again," said one woman in reference to the contentious political environment on social media and in every-day life both on a national and local level.
Hughes and O'Reilly have opened a private Facebook group called "Plumas Action Network" to connect those interested in political and "decency" actions. Their goal is a more active citizenry.
"We need all our voices to be heard," said O'Reilly at one point in the meeting. The group is also trying to write a vision statement by consensus.
The first actions suggested at the inaugural meeting were to call representatives to let Plumas County residents' voices be heard on various cabinet confirmation hearings and the Affordable Care Act.
A small group from Greenville introduced a plan that other groups in the 1st Congressional District advanced, to visit Congressman Doug LaMalfa's Oroville office Feb. 14 to let his office know how they feel about health care.
Others suggested citizens be present and more vocal at local board of supervisors' meetings. Some want Plumas County to become an immigration sanctuary county like other cities and towns in California.
Still another subgroup talked about ongoing protests at Dame Shirley Plaza every Friday at 4:30 p.m.
The meeting lasted over two hours. Organizers were pleased with the large turnout and hope more will attend in the future.
"I don't want to do this work alone," Hughes said. "It's up to all of us." Hughes asks that those interested contact her through the group's Facebook page.