Nurse practitioner focuses on behavioral health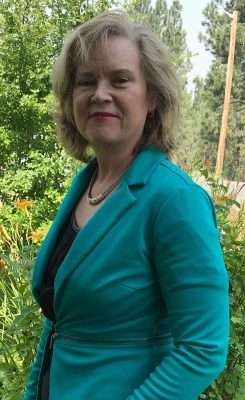 Irene Wojek, certified psychiatric nurse practitioner, works in Eastern Plumas Health Care's (EPHC's) Behavioral Health Program. Her patients primarily are those who benefit from psychotropic medications to manage symptoms of anxiety, depression or psychosis.
A key component of her job is to make appropriate diagnoses and formulate a good treatment plan that includes medication and therapeutic support.
Additionally, patients in EPHC's program need to be under the care of an EPHC primary care provider who will recommend referral to Behavioral Health staff when necessary. Occasionally, Trish Foley, marriage and family therapist, will determine that a patient she is counseling could benefit from medication support, and she'll refer him or her to see Wojek.
Initial patient evaluations consist of an hour session where Wojek will assess the patient's current behavioral health needs and review all medications. "This session is designed to be comprehensive," said Wojek, "and put the patient at ease."
Wojek has a passion for her work and a caring attitude toward her patients. She said that her approach is to "do supportive therapy … if there's a problem, let's really look at it." "There is often a conception that medication will fix the problem," she said, "but if the underlying causes aren't addressed, the patient may not make significant progress."
In certain ways, proper care of psychiatric patients, and positive self-care is an art, not a science. "There's a lot to mental health wellness," Wojek noted. She makes it a priority to educate patients on self-care. "The medications won't work if you don't take them," she said, "so educating patients on the need for consistency is vital."
In addition, it is sometimes a matter of trial and error to find a medication that works best for a patient, so getting patients to observe and report how they're feeling is essential. While she was employed at Ventura County Behavioral Health, Wojek said she used GeneSight, which analyzes patient DNA to help determine the patient's best medication options. This was very helpful if she'd already tried two or three medications with a patient and she wasn't seeing positive results. She hopes to utilize a service like GeneSight for her EPHC patients in the future.
"Many patients suffer from co-morbidities, such as diabetes or high blood pressure, that can exacerbate their mental health issues," said Wojek. She sees an integrated medical and behavioral health care program like EPHC's as the way to better overall patient outcomes.
"Finally, a healthy lifestyle that incorporates a nutritionally balanced diet, proper sleep and exercise all work in concert and can enhance mental health," said Wojek. Her commitment to overall balance and health drove Wojek to complete Loyola Marymount's program to become a certified yoga therapist. "Yoga can be utilized to reduce stress, promote sleep, and increase mobility," said Wojek. She is hopeful that, in the future, she'll be able to incorporate some of the benefits of yoga into her practice here.
Wojek has 16 years of experience in the mental health field. "I love what I do, and I've done it for a long time," she said. Previously, she was a charge nurse for 10 years at Del Amo Hospital, a 170-bed psychiatric hospital in Torrance. For two years, she also worked at Kedren Community Health Center in South Central L.A., which is located in an underserved community that struggles with gang violence. Most recently, she was employed at Sterling Care Psychiatric Group in Ventura County, which treats clients that suffer from a broad spectrum of mental health conditions.
Wojek hopes to make a significant contribution to EPHC's Behavioral Health program. She stated, "I am fortunate to work with a great team of professionals who desire to serve the needs of the community."