Obituaries for the week of 3/28/18
Harley Raymond Bragg
Harley Raymond Braggpassed away in his sleep peacefully athis home in Manassas, Virginia, at 2:15 a.m. on March 16, 2018, at the age of 83, after a battle with cancer.
Harleywas predeceased byhis father, Wallace Raymond Bragg, his mother, Eulah Amy Bragg, and his sister, Barbara Ellen Bragg Boles.
Harleyis survived byhislovingwife, Bobbie, of62years. They were married inSanta Barbara, Dec. 30, 1955.
Harleyis lovingly remembered byhis daughter and son-in-law, Denise and Mark Powers, of Fairfax, Virginia; son and daughter-in-law, Don and Christi Bragg, of San Jose; daughter and son-in-law Dana and John Clark, of San Rafael; his granddaughter and grandson-in-law, Alexandra and Dimitri Fineskos and granddaughter, Jillian Powers, of Centreville, Virginia; and granddaughters Katie and Christie Clark, of San Rafael.
Harleywas born inSanta Ana, on March 31, 1934.He graduated fromWhittier High School in1952and went on to earn aBachelor's Degree fromthe University of California, Santa Barbara in1956. He attended the University of the Pacific in San Francisco where he earned a degree in dentistry. After serving honorably in the U.S. Army, he began his 42-year dental practice in Saratoga and loved his staff as family. Once retired, he took on a new career as a docent at the Steven F. Udvar-Hazy Air and Space Museum and made new friendships to join his already beloved group of friends.
Harley is remembered for his love of life and a good joke. He was giving of his time and expertise with his woodworking skills and spent his retirement years making pizza cutters, furniture and really amazing rocking chairs. He was a 32nd Degree Mason and a member of the Elks Lodge #2626 in Chester.
The Celebration of Life will be held at the Baker-Post Funeral Home, 10001 Nokesville Road, Manassas, Virginia, onMarch 31, with visitation at 11 a.m., service at 12 p.m. and a reception following attheir home. There will be an additional celebration in Saratoga, in August and final burial at Arlington National Cemetery at a future date.
Condolences for the family may be offered online at memorials.bakerpostfh.com/dr-harley-bragg/3451751/obituary.php
Carol Mae Mix Hall
Carol Mae Mix Hall passed away peacefully Friday morning, March 9, 2018, at her home in Meadow Valley. She was surrounded by loved ones who said goodbye to her as she took her final journey to join her beloved husband, Charles Bruce Hall.
She was born on the Nevada City Indian Rancheria, Jan. 29, 1938, to Bert Mix and Myrtle Potts Mix. They soon after moved to the Rancheria in Indian Valley, where she spent most of her childhood with her Mountain Maidu tribal relatives. When she was a child, Carol's father, who was born in Yuba County, worked during the summer months in Plumas County, and the winter months in Butte County.
Carol married her childhood friend Charles to whom she had become reacquainted with while attending church. The couple lived in Oroville where they raised their family. Twenty-three years ago, Carol and her husband moved back to Carol's hometown of Greenville. After residing in Greenville for four years, they moved to Meadow Valley, where she had lived for the past 20 years.
Her passing is preceded by her father, Bert; mother, Myrtle; husband Charles; sisters, Sharon Mix Guzman and Rose Marie Mix; and brother, Darrell Mix.
Carol leaves behind her sons, Jonathan Rose, of Greenville; Les Hall and his companion Meredith, Ethan Hall and his wife Regina, all of Meadow Valley; daughter, Belinda Stevens and her husband Bob, of Oroville; her grandchildren, Robin, Travis, Shateka and her husband Kyle, Ethan and Katie Lee; along with her great-grandchildren, Macayla Faith, Mariah Hope, Malia Love; and numerous nieces and nephews.
Carol will be remembered by family and friends as an incredible woman with great strength, devotion and depth whose tender loving heart would give so unselfishly. She made an impact on many lives and will be profoundly missed by all who knew and loved her, including the Maidu community.
A celebration of Carol's life will be held on Saturday, March 31, 1 p.m. at the Greenville town hall next to the fire department. Please bring a potluck dish and your memories of this wonderful woman to share.
LaYvonne Evans Housel
LaYvonne Evans Housel was born on Nov. 9,1921, in Castle Gate, Carbon County, Utah. She passed from this life on Feb. 27, 2018. At her death she was a resident of Eastern Plumas Skilled Nursing Facility where she received excellent care.
She was preceded in death by Raymond Lee Housel, her husband of 50 years, who passed away in December of 1995.
She is survived by her two sons and daughters-in-law: Stanley Ray and Doris Housel, of Portola, and Ricci Lee and Kathy Housel, of Anaheim Hills. She had seven grandchildren, Brady, Amie, Melissa, Danny, Aubrey, Reece and Allison, all of whom she loved very much. She also had 16 great-grandchildren, which amazed her.
She moved from the coalmines of Utah to Southern California as a young girl. She was a graduate of Bell High School and in 1944 graduated from UCLA with a Bachelor of Science degree. She loved sports of all kinds and was a girls physical education teacher in the Los Angeles City School district for many years. She was a competitive tennis player into her 70s and loved to organize tournaments for groups of women to remain fit and healthy through tennis. She was an active member of the Church of Jesus Christ of Latter Day Saints and worked in the Church's Family History Library for many years.
Vonnie lived in South Gate, Downey, Alta Loma and the last 28 years in Portola.
Everywhere she lived, she was an influence for good in the lives of many.
While she will be deeply missed by all who knew and loved her, she is an enduring example of faith and perseverance that will forever encourage her descendants to follow her example.
A graveside service was held on March 5, at Rose Hills Cemetery in Whittier, where she was interred next to her husband Ray. A memorial service will be held at the LDS Chapel on West Street in Portola, at 11 a.m. on Saturday April 7. All who would like to attend are invited.
Mark L. Klein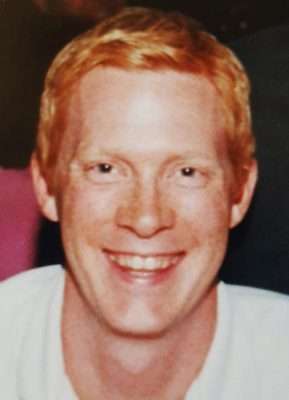 July 13, 1967 – March 1, 2018
Mark was a beautiful soul who could light up a room with just a smile. He touched many people along his journey in life and will be greatly missed by all.
He graduated from Portola High School in 1986 and moved to southern California to follow his dreams. Portola continued to be a part of his heart throughout his life.
To borrow a quote from one of his dear friends, "Today we say farewell to one of the good ones … a funny, unique, tall, wonderful person."
Another dear friend simply said, "He was a piece of work."So true.
Mark is survived by his Mother, Cheri Henderson, of Prescott, Arizona; his Father Roy Klein, of Oroville, California; his Stepmother, Patti Klein, also of Oroville, California; and his Brother, Jeff Klein, of Nashville, Tennessee.
A Celebration of Life will be held by his family and friends at a later date.
Virgil Dale Simon
Virgil Simon passed away at home with his loving wife, Ann and his sister, Linda, at his side on March 21, 2018.
Virgil was born May 21, 1932, in Westmoreland, Kansas. He was a longtime Lassen County resident, moving to Susanville in 1990.
He was preceded in death by his father, Leo Frank Simon; and his mother, Ester; brother, Bobby; sisters, Leota, Verla, Joy and Margie.
He is survived by his wife, Ann, of almost 40 years; his sister, Linda Walterschield; stepsons, Jeff and Adam Cantrell, of Chester and Brett Cantrell, of Janesville; five step-grandchildren; two step-great-grandsons; also numerous nieces and nephews.
Memorial services to include military honors will be held on April 8, at 1 p.m. at the Westwood Community Center located at Third and Birch Streets. Interment will take place in the Veterans section of the Westwood Cemetery. An opportunity to express condolences to the family along with signing the memorial guest register is available online at fehrmanmortuary.com.
Robert Dale Thompson
With his loving family at his side, Robert D. Thompson passed away Friday, March 23, 2018, at his residence in Loyalton. He was born on Feb. 17, 1935, in Boonville, Missouri, during the depression era and moved to California at age three.
He started Thompson Trucking Company in the early sixties, growing the company to 13 trucks, hauling for the Holstrom Lumber Company in Sattley and Sierra Pacific Industries in Loyalton. He later went to work for Sierra Pacific Industries retiring in 1998 as their head diesel mechanic.
Bob enjoyed hunting, stock car racing, camping and traveling. He especially enjoyed his garden and barbecuing for his family.
Bob is survived by his wife, Mary Lou, of 50 years, Rod and Tami Thompson, Cheryl Kelley, David and Kyle Thompson and Kari and Rick Zamora. He had 12 grandchildren and 12 great-grandchildren as well as numerous nieces and nephews.
An opportunity to express condolences to the family along with signing the memorial guest register is available online at fehrmanmortuary.com.