Obituaries for the week of 1/10/18
Steven (Steve) C. Brown
Steven (Steve) C. Brown, 63, of Portola passed Dec. 8, 2017, as a result of complications of a life long illness, polycystic kidney disease (PKD).
Steve made his home in Portola for the last 18 years along with his wife and best friend Mary Hale-Brown. Steve fell in love with the area and chose it for his retirement.
Steve was the son of the late George and Darlene Brown, of Los Banos. His father was a horse trainer and some of his fondest childhood memories were of his days on their ranch in Redding.
After finishing school in Pacifica, Steve pursued a career as a tool and die maker continuing his training and education in order to become the best. Having reached the top of his field in San Jose, he was forced to retire early due to dialysis and a kidney transplant.
Steve's life-long passion was riding, repairing and building motorcycles of all types. He worked as a motorcycle mechanic and rode flat track, trials and dirt bikes all over the state. Steve was inspired by the outdoors and was an avid back-backer, camper and black powder enthusiast. He participated in primitive re-enactments and rendezvous, building his own black powder rifles and knives and made his own buckskins and other gear.
Fascinated by rail travel, he was able to achieve a goal of traveling coast to coast in one train trip. Steve loved to cook and after tasting his cooking, many felt he may have missed a calling as a chef. He also enjoyed repairing vintage and antique clocks. His other great passion was his pets, which he lavished with affection and care.
Steve is survived by his wife, Mary; two sisters, Cathie Regan and Caren Reynolds; two nieces, Corey Regan and Kelcy Zaldivar and a nephew, Christopher Regan; one grandniece and three grandnephews, all of Scottsdale, Arizona.
He was preceded in death by his older brother, Robert Michael, a decorated veteran.
Steve requested that no services be held. Any memorial would best be served by becoming an organ donor or by making a donation to the PKD Foundation.
Lester E. Cotton
Quincy resident, Lester E. Cotton died on Dec. 30, 2017, in Chico. He was 78.
Funeral home arrangements are with Neptune Society, 1353 E. 8th Street, Chico, CA 95928.
Jack D. Handy
Jack D. Handy, of Taylorsville, passed away on Dec. 27, 2017. He was born in Marysville on July 1, 1951, to Floyd and Betty Handy.
Jack was a third generation cattleman. He also worked for Yuba Sutter Mosquito Abatement for over 30 years.
Jack is survived by his wife of 25 years, Evie Handy, son, Cortney, daughter-in-law Jessica and granddaughter Ellie, due in March.
A celebration of life service will be held at the Loma Rica Lions Club located at 5667 Fruitland Road, Marysville on Saturday, Jan. 13, at 1 o'clock.
Brooks Rogers Mabry Jr.
Quincy resident Brooks Rogers Mabry Jr. passed from this life unexpectedly, Saturday, Dec. 30, 2017, at Sutter Roseville Medical Center. His loving family was at his side.
Born May 6, 1930, in Devonia, Tennessee, Brooks was raised and educated outside of Knoxville, Tennessee. At the age of 17, immediately following his high school graduation, Brooks entered the military and began what became a 20-year career in the U.S. Navy as an electronics technician. A veteran of the Vietnam War he was awarded three air medals for his valor. While serving aboard the USS Kitty Hawk he served as a communications specialist for John Glenn's orbit of the earth.
On Nov. 8, 1959, he was united in matrimony to the love of his life Phyllis Asplund in a ceremony held at the Quincy Community United Methodist Church and to this holy union two sons and a daughter were born.
Retiring after serving his country honorably Brooks and family settled in Southern California and took the training he received in the Navy to a new level working for Logicon where he was involved with the programming of the Minuteman Missile system. He was later transferred to their Vallejo campus. Here he and his family owned and operated Executive Maintenance, a landscaping business, before retiring and moving to the northeastern California community of Quincy 37 years ago.
Not one to set idle, Brooks served his fellow veterans as a volunteer driver taking local vets to their appointments in Reno, Nevada, as well as serving as a volunteer driver for the American Cancer Society, tasks he was awarded for numerous times. Brooks was a passionate member of the Quincy Lions Club serving as Past President on more than one occasion, several times named Lion of the Year as well as Lion of the Decade. He obtained great joy in his life volunteering and helping others. A devout member of the Quincy Community United Methodist Church he was always there to help in any needed task. Brooks enjoyed trying his luck at the slots in the local casinos as well as the sport of bowling where he was a member of the 700 Club.
In his passing, he leaves his daughter, Sharon Burris and her husband Sean, of Lincoln; son, Bruce Mabry and wife Angela, of Port Orchard, Washington; he was the proud grandparent to Christopher, David and great-grandson Riley. He is also survived by a brother, Harry and sister Margaret LaConca, both of Knoxville, Tennessee.
Along with his wife Phyllis, who passed from this life in September of 2011, he joins a son, Christopher, in their eternal home.
A time of visitation took place Jan. 6 at the Fehrman Mortuary Chapel-Quincy, interment with Military Honors alongside his late wife in the Quincy East Lawn Cemetery. A celebration of Brook's life was held Jan. 6 at his beloved United Methodist Church, followed by a reception at the church's social hall. An opportunity to express condolences to the family along with signing the memorial guest register is available online at fehrmanmortuary.com. Any remembrances in Brook's memory can be made to the Quincy Lions Club c/o Fehrman Mortuary and Crematory, P.O. Box 53, Quincy, CA 95971.
Dorothy Mae McIntyre
Indian Valley resident Dorothy Mae McIntyre passed from this life with her family at her side, Sunday evening, Dec. 31, 2017, at Enloe Medical Center in Chico.
Born to Nevada County cattle ranchers Warren and Beulah (Buzzard) Ridinger in Sierraville on March 29, 1920, Dorothy was raised and educated in Lincoln, graduating from Lincoln High School as a member of the Class of 1938. She went on to further her education, attending and graduating from beauty school in Oakland.
Following her completion of beauty school, she went to work at McClellan Air Force Base in Sacramento as an aircraft parts inspector, and was later transferred to Anchorage, Alaska, where she worked for a year before returning to Sacramento. It is here she met a handsome young veteran returning from World War II named Kenneth McIntyre and on June 9, 1946, the couple was united in matrimony and to this union two sons and two daughters were born.
The newlyweds moved to the northeastern California community of Greenville shortly after their marriage. Here throughout the years she worked as an assistant to Doctors Mansell and White, the Plumas County Department of Social Services and as a district clerk in charge of personnel and payroll for the Almanor Ranger District of United States Forest Service.
Dorothy served the residents of her community as a Board Member and Interim Director of the former Indian Valley District Hospital and was the first female to drive the local ambulance. She was an avid reader and had just recently finished writing her autobiography.
In her passing, she leaves her son Thomas and wife Nancy, daughter Susan and her husband Gary Neer, all of Greenville, daughter Sally and her husband Manuel Kafkares, of Rio Oso; the proud grandmother to eight grand- and 20 great-grandchildren; as well as being survived by sisters Ruth Wolf, of Chico and Joyce Ayres, of Palm Desert.
She joins her husband Kenneth, son Joe, grandson Michael Murchison and sister Evelyn Poly in their eternal home.
A celebration of Dorothy's life was held Jan. 7, at the Community United Methodist Church in Greenville with a reception in the church's social hall; private interment alongside her husband and son in the Greenville District Cemetery. An opportunity to express condolences to the family along with signing the memorial guest register is available online at fehrmanmortuary.com.
Miguel Lepe Pena
Longtime Chester resident Miguel Lepe Pena passed from this life peacefully under the compassionate staff of those at Seneca Healthcare District early Sunday morning, Jan. 7, 2018. His loving family was at his side.
Born May 29, 1936, in Antengillo, Jalisco, Mexico to the late Jose and Paula Pena, Miguel was raised and educated in Antengillo where he graduated from high school.
Miguel immigrated to the United States in his early 20s, residing in Susanville, where he was employed first for the State Café, later Fruit Growers Lumber, before moving to Chester where he began what became a 35-year career with the Collins family at their Chester Mill. "Little Mike," as he affectionately became known, worked his way up the ladder starting out as a clean-up man to retiring May 29, 1998, as their debarker operator.
Shortly after coming to Susanville he was introduced by family to a pretty young lady named Maria Esther Valencia who soon became his best friend, love of his life and dedicated wife. The couple was married in Mexico in December of 1964 and to this holy union three sons and two daughters were born.
A member of the Roman Catholic faith, Miguel attended the former Christ the King Catholic Church in Chester and later Our Lady of the Snows Catholic Church at Lake Almanor. He enjoyed the outdoors, hunting, fishing, woodcutting, tending to his garden and especially family picnics. He is a longtime member of the Lumber and Industrial Workers Union Local 3074.
In his passing he leaves his beloved wife, Esther, of Chester; daughters Christina Taylor and husband Richard, of Cameron Park, Silvia Qualls and husband Mark, of Ephrata, Washington; sons, Jose Pena, of Susanville, and Paul Pena and wife Amy Walker, of Chester; a sister Agatha, of Mexico, and was the proud grandfather to Duane, Courtney and Joseph.
He joins in his eternal home with the Lord his son Miguel Jr., his sisters, and his brother Roman.
Graveside Blessing Services are planned for 2:30 p.m. Saturday, Jan. 13, alongside his son in the Chester District Cemetery. An opportunity to express condolences to the family, along with signing the memorial guest register, is available online at fehrmanmortuary.com.
Miguel left everyone with the following: "God bless you and take care of one another."
Kenneth James Roller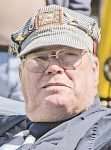 Kenneth James Roller was a man of God. He passed on to be with the Lord on Dec. 31, 2017, at his apartment. He was born May 9, 1948, in Oakland to the late Linuel and Gertrude Roller.
He is survived by a sister, Linda Logan, of Hot Springs Village, Arkansas and a brother, Dennis Thompson, of Martinez.
Ken was a marathon runner in high school and was known to run from city to city and back in the Bay Area. After graduation, Ken enlisted in the Army and served in Vietnam in the mortar artillery division. He was an avid patriot and loved his country. He "met" his first steam train in Thailand and fell in love. This was 1968.
In 1970, Ken moved from the Bay Area to work for the Forest Service in the Trinity National Forest. Trains and trees took center stage in is life. However, not to take backstage was his love of his God.
He attended Ambassador College in Southern California. He was very active in church and Bible study and was known to walk great distances to both.
He attended Feather River College with a major in forestry in 1971 – 72. He was a wild land firefighter in the 1980s in the El Dorado National Forest. Finally he moved to Quincy where he met Norman Holmes.
In 1975 Ken started painting steam locomotives, so Norman Holmes asked him to paint artwork for the cover of one of his books on railroading. In 1983, Ken's love of Railroad Days began. At the Plumas County Fairgrounds, he saw a sign displayed on Clover Valley Engine No. 8 for the first Railroad Days in Portola. He attended every Railroad Days since 1983. He joined the "Rail Society" and assisted them in building the railroad museum so he could "meet and greet" his beloved steam trains. He did window repair, repair of tracks washing engines and was a "gandy dancer." He had a large model train display at the museum.
Ken's 4 x 8 railroad murals graced the town windows. He continued to paint and his paintings are on display in Portola, The Café in Truckee, WPRM and the Loyalton Museum, City Hall and Chamber of Commerce in Graeagle. There are paintings at Portola Station Baptist Church and Sierra Christian Church. He was honored as Grand Marshall of Railroad Days 2017.
Despite his love of steam engines, Ken's first love was God. He never missed an opportunity to share his testimony of how God had worked in his life and relayed information on miracle after miracle. He was content with what he had. He loved God, trains, trees, mountains, friends, church, food, railroad museums and train excursions and he loved a little cat named Hot Box and his old Chevy truck.
Services will be Jan. 13 at 1 p.m. at Sierra Christian Church. Manni Funeral home will be managing the service. In lieu of flowers, all donations can be made to the American Legion, The 700 Club (Pat Robertson), PAWS for Veterans, John Hagee and Support for Israel or Samaritan's Purse.
Betty Smith
Our sweet mother, grandmother, sister and friend, Betty Kay Smith, of Lehi, Utah passed away on Friday, Dec. 22, 2017, after a short battle with cancer at the age of 73. Betty was known as a kind and gentle woman who loved her family, friends and faith.
Betty was born on Sept. 28, 1944 in Westwood, California. She spent most of her youth in Quincy, California and married Forrest Paul Smith on Feb. 14, 1965 in Reno, Nevada. They lived most of their life together in Susanville, California where they raised four children. In 1997, Paul and Betty moved to Pleasant Grove, Utah followed by three of their children.
Betty is predeceased by her parents, Emery and Erma Branson; her brothers, Harold and Dwayne Branson; as well as her husband, Paul. She is survived by her brother, Jerry Branson; sister, Phyllis Reff; her children, Shari Reiniger (Kirk), Paula Christensen (Kelly), Brad Smith and Kara Smith; as well as her grandchildren, David Reiniger, Tailor Rawlings (Shad), Logan Hendricks, Lia Smith and Eastin Smith.
A viewing will be hosted from 6 to 8 p.m. Friday, Dec. 29, 2017 from at Wing Mortuary in Lehi, Utah. A memorial service will be held at the LDS Church on Richmond Road in Susanville, California at 11 a.m. Saturday, Jan. 13, 2018 with a graveside to follow. In lieu of flowers or gifts, please donate to the Huntsman Cancer Institute at donate.huntsmancancer.org/give or your local cancer institute.
Ted White Jr.
Ted White Jr. was born on Nov. 19, 1945, in Oakland. After a long battle with COPD Ted passed away on Dec. 9, 2017, at Rosewood Rehabilitation Center in Reno, Nevada.
Ted was preceded in death by his parents Theodore Rutland White Sr. and Virginia Sturgis White.
He leaves one sister, Jennifer White Breschi (Craig); niece, Kimberly Breschi Petrini; nephew, Scott Breschi (Xiomara); great-niece, Giuliana Petrini; and great-nephew, Rico L. Petrini.
Ted was raised in the Oakland Hills and attended Joaquin Miller Elementary, Montera Jr. High and graduated from Skyline High School (class of 1963) where he excelled in wrestling and gymnastics.
In the late 1960s Ted served in the Intelligence Division of the US Army in Vietnam. It was there he earned the Bronze Star for Valor. His service in Vietnam took its toll because he and many other veterans were exposed to conditions that affected their health in later years.
After the war, Ted settled in Quincy, where he attended Feather River College, coached a local women's baseball team and worked as a surveyor and CADD tech for the US Forest Service retiring after 30 years of service.
One of his greatest pleasures in life was the game of golf. In his retirement days, he enjoyed making golf clubs and worked part time at the golf pro shop in Graeagle. A special thank you to his good friend and working companion, Pandora Valle who faithfully visited him and kept him in good spirits during his last days.
Also, thank you to the expert team of nurses and doctors that cared for Ted at the Rosewood Rehabilitation Center and those at the Hospice Circle of Life.
A memorial service will be posted at a later date and will be held at the Alta Sierra Biblical Gardens in Grass Valley.