Obituaries for the week of 10/25/17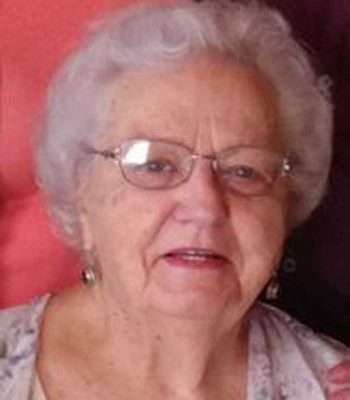 Marjorie LaVerne Cagle
Marjorie LaVerne Wilson Cagle passed away at her Lake Almanor home of 41 years, on Oct. 17, 2017. She was 95 years old. Margie was born June 10, 1922, on the H.C. Wilson family ranch in Cloverdale.
She enjoyed life to the fullest sharing time living with her aunt Clara, sister Lila and cousin Dorothy in the redwoods of Leggett Valley and the rolling hills of Sonoma County.
In 1944 she married her true love, Joe, after only knowing each other three months. Their marriage thrived until his death in 1999 but the love lasted forever. Joe and Margie raised their four children and numerous pets on Eastside Road near the Russian River. Margie worked as a secretary at the Mark West School District until she and Joe went into business and moved to Plumas County.
Margie is survived by her children Ron Cagle (Sherry), Rusty Cagle (Lisa), Judith Cagle Lee (Jim) and Carol Cagle (John); her grandchildren, Melinda Mordecai McCallum, Dreu Mordecai, Lori Stevens (Ken), Guy Marcucci (Valerie), Jason Snow (Marissa), Joe Cagle (Kerri), Natalie Voss (Jamie), Rebecca Marcucci, Jennifer Burnett (Bob), Ross Petersen (Jessica), Hulda Fowler, J.P. Fowler, Liz Lockwood and James Lee Jr.; and many loving great-grandchildren; her nieces Dolores Ramsey, Peggy Casselman and Linda Brooks. She also left behind surrogate son, Bob Hopkins, many dear friends and her devoted dog, Bear.
A special thank you to caregivers Carol Gutman, Heather Stephens and Laurie Allen.
A celebration of Marjorie's life is planned for 1 p.m., Saturday, Nov. 4, 2017, at The New Life Vintage Church, 3300 Sonoma Ave., Santa Rosa. Marjorie's interment will be with Joe at the Oak Mound Cemetery in Healdsburg. Flowers or donations to an organization of your choice would be greatly appreciated. An opportunity to express condolences to the family, along with signing the memorial guest register, is available online at fehrmanmortuary.com.
Maribeth Wilson Collins
Maribeth Wilson Collins passed away on Oct. 4, 2017, at her home in Portland, Oregon. She was surrounded by close family and was just 23 days short of her 99th birthday. Lucid, and engaged with her family and close friends right up to her last few days, her body finally gave up her spirit.
Maribeth was descended from Methodist ministers on her father's side who took strong positions on civil rights and temperance in the late 1800s and early 1900s. On her mother's side were deep Oregon roots from pioneers who came west with covered wagons in the early 1850s.
Maribeth Collins was the widow for 53 years of Truman W. Collins, a third-generation lumberman and President of Collins Pine Company from 1943 until his death in 1964, who established the sawmill at Chester in the early 1940s. Maribeth remained true to the vision and values of her husband, a pioneer in sustainable forest management, and was a moral influence in maintaining those values throughout her life.
Maribeth was Chair of the board of Collins Pine Company from 1964 until 2005 and remained a board member after that. She saw the company through decades of changes and did so with concern and caring for the Company and its employees. She was also president of The Collins Foundation from 1964 until 2005, which makes grants to non-profits that help the people of Oregon. She continued her engagement there as a trustee until last year.
Maribeth was always supportive and engaged with her family and the community. She loved poetry, art, fresh corn on the cob and taking rambling automobile trips to out-of-the-way places. Despite the pains and disabilities that come with advanced age, she continued to approach life in a positive way, attending family reunions, connecting with friends, and taking short trips.
She is survived by sons, Timothy, Terry and Truman; daughter, Cherida Smith; seven grandchildren and five great-grandchildren. She will be greatly missed.
A celebration of life for Maribeth Collins is scheduled at the First United Methodist Church, 1838 SW Jefferson Street in Portland, Oregon, on Nov. 18 at 2 p.m. In lieu of flowers, the family would appreciate gifts in her memory to a local art, food or education organization in Plumas or Lassen County.
Cathy Reddig
Cathy Reddig, 60, of Reno, Nevada, passed away surrounded by family on Oct. 14, 2017, in Sparks, Nevada.
She was preceded in death by her parents, Robert and Katie Keppel, and her sisters, Cindy Smith and Christina Youngberg.
Cathy is survived by her sons and daughters-in-law, Justin and Kim Reddig, Josh and Stephanie Reddig; and her siblings, Robert and Tim Keppel, and Candy Ross. She is also survived by many nieces, nephews and grandchildren.
Cathy spent many years in Portola. She will be remembered for her loving and sharing nature in which she would provide anything for her friends and family. Her twin sons are her legacy and gave meaning to her life.