Obituaries for the week of 12/27/17
Til "Poppy" Bazzani
Til "Poppy" Bazzani, 91, died peacefully on Dec. 16, 2017, in Grass Valley. Married to Dixie for 66 years until her passing in 2014.
He is survived by his children: Michael (Pam), Janice (Charlie) and Steve (Bobbi); beloved grandfather of Matthew (Marcy), Aimee (Jesus), Kelly, John (Elise), Nicole, Lindsey, Aaron and Haley; cherished great grandfather of Noah, Antonia, Miabella, Joaquin, Lucy and Odella. He was loved and respected and will be missed by many other family members and friends.
Born on July 21, 1926 in Bagolino, Italy,he eventually became a U. S. Coast Guard veteran serving in the Philippines. Attilio was a partner in the San Mateo County Scavenger Co. and was actively involved in the St. Matthew's Catholic Parish community.
Once a Chicago Cubs catcher, his passions included baseball, golf, coaching youth baseball, poker club, cribbage and Italian "green thumb" gardening. He vacationed and later lived in Blairsden-Graeagle, where he marshaled at Plumas Pines Golf Course.
Til loved his family and embraced their many friends, threw classic parties on 16th Avenue and enjoyed a good cigar. Every person who met or knew him was a better person for it.
Family and friends are invited to attend a Celebration of Life memorial with reception following on Sunday, January 14, 2018, at 1 p.m. at Redwood Chapel, 847 Woodside Road in Redwood City. Internment will be held at Mohawk Cemetery in Blairsden.
Daniel Gordon Lewis
On Dec. 19, a wild and windy night, Dan Lewis passed from this life after a two-year battle with the rare and aggressive appendiceal cancer. His spirit was swept to the heavens and was sent with the love of his children, Dayne and Helen, his sister Julie, his loving parents, Norma and Gordon and his best friend, Ceci, by his side.
Dan moved to Quincy to start a family. Because he had a wonderful childhood in Monterey, surrounded by a large and loving family and many friends, it was important to him that grandparents, cousins, aunts and uncles would be in Dayne and Helen's lives. Dan was proud to be a tradesman and loved to work, he was happiest when working on a project that required his considerable finishing skills. Many of you have enjoyed living with his meticulous handiwork.
Dan is recognized in the community for walking his Golden Retrievers, Luke and Harald. His beloved Luke passed from cancer just three months prior, a great loss. Dan was also known as someone generous with his time. Long and meaningful conversations, his sensitivity and wisdom, his tender heart, a willingness to help his friends, an avid reader of history and a keen eye for beauty are traits that those who knew him appreciated.
Dan was a serious collector. He surrounded himself with his treasures and made them part of his everyday life. Music was integral to his happiness and not many knew that Dan had a beautiful singing voice and that he once played the piano.
May The Four Winds Blow Him Safely Home.
Services will be held at the Lutheran Church in Quincy on Jan. 2, 2018, at 2 p.m. All are welcome to attend.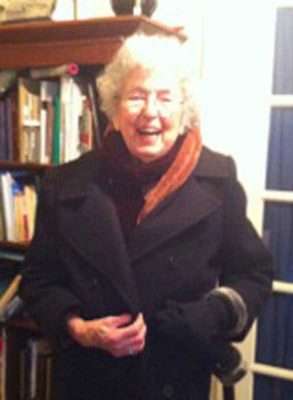 Nancy Lund
Nancy Lund was preceded in death by her husband Dick and her seven siblings.
She is survived by her three children, 13 grandchildren and two great-grandsons.
Mom was born in San Antonio into a Jewish family. Her mother, Estelle Lyon was a remarkable woman, who had gone to art school and late in life kept drawing, even after her vision was severely compromised. Estelle also took up acting, from the Pasadena Playhouse to small parts in movies and on TV.
Mom was the rebel in the family. She got into trouble at the El Paso all-girl school, so the teacher asked for a conference and after hearing Grandma out said, "Oh I understand, she's an only child." To which Grandma replied, "Yes. One of six only children." It would later be eight.
The eldest and youngest were boys, in between were six girls. Though the third eldest Mom was the last survivor.
Mom's father was a successful businessman, owning a chain of grocery stores in and around El Paso. Early life was affluent, with nannies, a chauffeur, Chinese cook, et cetera. Her father's business would have survived the Depression except for two occurrences.
Safeway built stores next to all of his and cut their prices to cost. But his customers were loyal and he would have weathered that. Unfortunately his bookkeeper was an embezzler who kept double books and didn't pay suppliers though it looked like he did. This forced Grandpa to sell and Safeway demanded that as part of the contract he could not open any business in El Paso for five years. So Mom's family had to move to L.A. in 1936.
It crushed her father. He never recovered, feeling for the rest of his life that he'd let the family down. (The crooked bookkeeper managed to funnel enough money to the joke of a Texas governor that he received a pardon and escaped jail entirely.) This all served as a lesson to Mom of how cutthroat capitalism actually worked. A decent man, a sterling citizen of his community, was driven from his business, even his home, by people with no scruples.
Though her family would never be rude to anyone Mom, briefly attending UCLA, got up when the only Black in the class sat next to her. A friend asked how would you like it if people moved when you sat down. Mom asked why would they do that? He answered you're Jewish, some people don't like Negros, some people don't like Jews. It got her thinking.
Participating in a Jewish drama group, she came into contact with radicals. It was a time when people believed there had to be a better system, one that benefited the average worker. Marxism offered itself as a scientific analysis, predicting how societies were destined to reorder themselves. She joined the communist party when it was legal and many were looking for a better way. At one point, no one else available, she was asked to head the San Diego chapter. That's where she met Dad.
Everything she did was out in the open. Her friends in the party were wonderful people. They were selfless people — all they earned from their membership was persecution. And though its never mentioned they believed in democracy, equality and freedom. They were convinced if the average person was presented with a fairer system they would vote for it. A solution achievable by voting, never by violence.
Undoubtedly they were also naïve utopian dreamers. They believed all the Western reports were propaganda smears therefore it was a severe blow when Khrushchev revealed that Stalin had not been a hero of revolutionary change but a murderous tyrant. This, along with the 'inevitable' never happening, precipitated an exit from the party from Mom and Dad and a lot of their friends.
Mom moved away from the party and towards more pragmatic mainstream organizations. In the time of the Vietnam War the Republican Party was 100 percent pro war and crony capitalism. So that only left FDR's party. But the Democrats were split 50/50 on Vietnam. People forget that Kennedy sent the troops, Johnson escalated, and the AFL-CIO supported the war.
Mom worked with the Sunland-Tujunga Democratic Club, eventually becoming its president. In '68 she backed McCarthy, who lost to Humphrey. Probably the apex of her work as a Democrat was as a supporter of McGovern — who she believed a great man — becoming one of his delegates to the 1972 convention in Miami.
Having to work once the family moved to L.A. she tried many careers, green grocer, baker, finally drafting. Mom only got to be draftsperson because it was World War II, the men were gone and the need was great. She struggled to get employment after the men came back, and as long as she worked for others was always paid less for doing the exact same work. Dad had admired her principles and courage when she was just someone he read about in the San Diego papers. Still the truth was when she would come home from eight hours of work we'd all expect her to make dinner.
It was noticeable in the Civil Rights movement, the Democratic Party and the Anti-War movement, that women did the real work while men got the positions and the ink. And the male leaders tended to be competitive, egocentric and not all that stable; while the women under the radar who kept the organizations functioning were dedicated to the goal — not themselves and in general were cooperative and sane.
When Dad retired and they moved from L.A. to Plumas County — a decision they never regretted — a certain adjustment was required. Their views, on both politics and the environment, were minority views here. They loved the people just as much as they loved the nature. They were able to see past the differences to the good. Mom altered her drafting to set up a business of drawing house plans for people planning to build their dream home. She loved not only the drawing challenges (promising to get building department approval or any changes were on her); but trying to match the house to the personality and interests. She had a zest for problem solving in general, from crossword puzzles to playing Scrabble on her lap, where she was one player and the other was her late sister Mary.
As Mom and Dad changed their focus in Plumas towards senior activities by happenstance they finally fell in with a powerful group. Politicians feared seniors. With Mom and Dad as key movers the local AARP and the lunchtime Nutrition programs became vital. This lasted until the joiner generation all passed away. She was active in the League of Women Voters, an important civic group. And she had wonderful friends in a unique book group. And a writers group as well.
Over the years Mom was also key in working with our Board of Supervisors — who, whatever their personal politics, have always been so good on senior issues — to get programs to benefit our isolated population. Mom got elected to the Senior Senate in Sacramento. She got elected to the Indian Valley Community Services District. She pushed to take over the local water company and stop poisoning the water with chlorine to make up for the leaking pipes. When our hospital went belly up she worked to make sure there was an ambulance and helicopter service to take any emergency patients to a hospital.
     In 2012 Mom wrote a memoir of her life, "In the Land of the Shoes" which retraced her fall from affluence, in a way addressed to her mother, explaining what she had done with her life; and to her grandchildren, explaining the past; not hiding her radicalism (the subtitle was "A card-carrying optimist reflects on her long life"). Mom regretted that she'd never gone to jail, what sort of committed person were you if you never found a cause important enough that it needed protesting all the way to imprisonment? Her family did not necessarily share this regret.
The day before she died she told us to include in her obituary: "How lucky I am to have had such a loving family." But of course we were the lucky ones, she reaped the love she had sown. You reached 100 Mom … with your mind. We certainly have no complaints. We all love you and we will miss you.
Robert Schoensee
Dec. 13, 2017, Robert Schoensee passed away, at the age of 99, surrounded by his loving family, in his Mohawk home on the bluff overlooking the Feather River.
He was born in Milwaukee, Wisconsin. As a high school senior in 1935, he held Wisconsin's record as the fastest runner of the half-mile. He loved baseball and played on the high school and college teams stealing many bases. He graduated from the University of Minnesota with a degree in Forestry in 1939. Quincy's Diamond Match Company hired him as Assistant Manager in 1941. Here he met and fell in love with Jean Campbell who was from a Sierra Valley pioneer family. She was a registered nurse at Plumas Industrial Hospital. They met playing volleyball at the high school.
After the attack on Pearl Harbor, Bob enlisted in the army. He and Jean were married on July 25,1942, and moved to Fort Benning, Georgia for officer training. He became 1st lieutenant and company commander of 220 African-American soldiers. Soon after, his company shipped to England and became the 264th Port Company. In August 1943 Bob and Jean's first daughter, Barbara, was born. In June of 1944 he and his company landed on Utah Beach, the fourth day of the Normandy invasion. As captain, he led his troops to their new assignment, the port of Cherbourg, which had recently been liberated from the Germans. Bob and his men were personally commended for their work by General Patton as he passed through Cherbourg.
In May of 1945 he was given orders to take charge of 5,000 German prisoners with the task of restoring the French countryside. This was likely because he spoke fluent German taught to him by his mother. That same year he became a major and was appointed Education Officer for France. January of 1946 he was released from the army and arrived home to his wife and daughter in Plumas County. A second daughter, Suzi, was born that year.
Jean and Bob bought 40 acres of the Knickram property and settled in Mohawk. They acquired and ran Mohawk Boy's Camp, which continued until 1971. It occupied property in the current Plumas Pines development approximately where Hole 3 is located next to the river. Bob worked at Graeagle Mill until he was recruited to teach at Mann Schoolhouse in Graeagle. In 1951 their third daughter, Kathryn, was born.
During this time he studied under the GI Bill and received a masters degree in Education Administration from Stanford University. He taught and counseled at Portola High School, then became Vice Principal, and Principal until 1961. That same year he accepted the position of Assistant Superintendent of Plumas Unified School District and moved with his family to Quincy. When Grant Youngs retired he stepped into the Superintendent position and served until his retirement in 1975. He and his board were instrumental in establishing Feather River College in Plumas County.
Bob and Jean envisioned, designed and built the Middle Fork Mobile Home Park in 1968. After retirement from education, he began a new career in real estate working with Archie Hamlin in Graeagle. In 1980 he and other community members founded Plumas Bank. He served on its board for 21 years and retired as Vice Chairman. Being a lifetime member, Rotary Club was an important part of his life in Portola and Quincy.
Bob was an avid outdoorsman and conservationist. He loved fishing, hunting, hiking and Jeeping. He was a volunteer docent at Plumas Eureka State Park, leading hikes until age 92. He was adventurous, and fun loving. He and Jean traveled extensively throughout the world until her death in 2010.
He is survived by his daughters: Barbara, Susan, and Kathryn Schoensee; five grandchildren: Ian and Dylan Morris, Andrew Ringwald (who along with his wife, Bria, cared for him his last year of life), Anthony Schoensee and Crystal Finn; seven great-grandchildren: Tupelo, Kalyx, Favor, Rosalie, Rhoan, Delphina and Lukah. He will be missed by all who knew him.
If you would like to send condolences, in lieu of flowers, the family wishes that you give to the Mohawk Stewardship Council, Feather River Land Trust or the Robert Schoensee scholarship fund at the Feather River College in Quincy. A Celebration of Life event will be held in the near future.