Obituaries for the week of 2/7/18
Phyllis Cross
Phyllis Cross was born Oct. 8, 1930, and entered Heaven's gate on Jan. 26, 2018.
A native of California, she moved with her mother, Gertrude and two sisters to Loyalton 70-plus years ago. Her mother secured a teaching position and they lived in the Loyalton Hotel for a time.
Gertrude and Reverend George Snyder, the pastor of the Baptist Church, married and they lived at the parsonage after that. She met Leland when he came to visit the area with a good friend of his. After a whirlwind three-week courtship they were married. She dedicated her life and skills to her husband and children. Phyllis was a consummate homemaker, lover of music, gardening, sewing, camping and family.
She is survived by her husband of 68 years, Leland Cross; her children, Pam Whitley and husband Marty; son Greg Cross and wife Karen; daughter Pattie Williams and Rod Williams; daughter Penny Gamble and husband Mark. She left a legacy of 11 grandchildren and 18 great-grandchildren.
Arrangements entrusted to Manni Funeral Home
John Gauss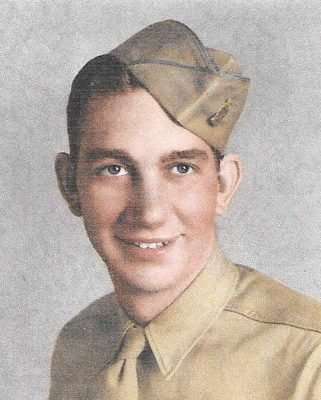 John Gauss died Jan. 21, 2018, at the age of 94. He was born Feb. 10, 1924, in San Diego.
In 1942, John graduated from Herbert Hoover High School in San Diego. He went on to earn a bachelor's degree in three years and later a master's degree from San Diego State University.
John served in the US Army in WWII (1943-1945) Antitank Company, 152nd Infantry Regiment, 38th Infantry (Cyclone) Division. The division killed 30,000 Japanese soldiers during 236 consecutive combat days on Luzon in the Philippines. This included remnants of the 11th Imperial Marines, a picked group of six-footers that guarded the Emperor's palace in peace times and had fought in Manchuria. The 38th Division was preparing to invade Japan when the war ended.
At one point John escaped in a lifeboat from a troop ship that, after undergoing a day of airplane attacks on the convoy, was sunk by a kamikaze pilot off the Leyte coast. He was uninjured, as a Japanese artillery shell exploding eight feet away killed six men. The shell was defective and threw the main blast to one side. He was one of nine survivors in the original platoon of 40 men.
Military decorations included Combat Infantryman Badge, New Guinea, Southern Philippines and Luzon Campaign ribbons, Presidential Unit Citation, Philippine Liberation ribbon with Bronze Star and Philippine Independence ribbon.
John taught in junior high schools for 28 years in El Cajon. He accompanied San Diego County spelling champion student Cris Waller to Washington D.C. for spelling finals in 1976. John also owned a Christmas tree ranch in Alpine, San Diego County. He became a writer since he retired from teaching in 1978 and became a writer. He moved to Portola in 1981.
John's writing included three books: "So You Wanna Teach, Huh?" (a college textbook); "The Badge and the Man, (a policeman's biography); and "Black Flag! Black Flag!" (a Civil War history book). He also wrote a satire, "Socrates," that was reprinted in 19 books and dozens of magazines in the US and England; numerous tests for both the GED and the ACT testing programs, school workbooks for McGraw-Hill; jokes for "Oben's Comedy," and magazine articles in publications as diverse as "Phi Delta Kappan," "Oasis," "Touring Bike," "Persimmon Hill," and "Civil War Times, Illustrated."
John is survived by his wife, Joyce Trumble Gauss, of Portola; daughter, Julie Outland, of Chester; son, Martin, Gauss, of Moreno Valley; sister, Kate Runalls, of San Diego; four granddaughters and one grandson.
Arrangements are entrusted to Manni Funeral Home of Portola.
Darlene Rae Krato
Darlene Rae Krato, aged 85, died on Jan. 27, 2018, in Oberlin, Ohio.
She was born Darlene Rae Clayton in San Rafael, on Oct. 27, 1932. She graduated from Portola High School. She was the niece of Mildred and Austin Lambert and the cousin of Richard and Margaret Lambert. Her memorial service is Feb. 10 in Oberlin, Ohio.
Claudia Kay North
Greenville native and lifelong Indian Valley resident, Claudia Kay North passed from this life Sunday, Jan. 28, 2018, at Plumas District Hospital located in Quincy, following a courageous battle with cancer.
Born in Greenville on Nov. 19, 1945, to the late Norval and Cecilia (Cox) Gates, Kay, as she was affectionately known, was raised and educated in Greenville and was a 1963 graduate of Greenville High School, where she served the student body as a cheerleader.
Kay met and later married on Dec. 30, 1966, the late James "Jimmy" North in Reno, Nevada, and to this union two sons were born. The newlyweds settled in Crescent Mills where Kay had resided since 1966.
A devoted wife and mother first and foremost, she took great pride in the care of her family. She enjoyed gardening, crocheting, cooking and life itself.
In her passing, Kay leaves her sons Chad and Lance North, of Crescent Mills; brother, Richard "Dick" Gates, of Gooding, Idaho; sister, LaVern Ryan, of Crescent Mills; and was the proud grandmother to Sydney North, of Chico.
Private family services will take place at a later date. An opportunity to express condolences to the family along with signing the memorial guest register is available online at fehrmanmortuary.com
Theodore (Ted) Ward Ramelli
Theodore (Ted) Ward Ramelli, 91, was born Jan. 28, 1927 and peacefully passed away Jan. 29, 2018, at his home on the Ted Ramelli Ranch near Vinton. Ted spent almost his entire life working the family ranch, interrupted only by service n the Navy during WWII and his studies at the University of Nevada, Reno (BS, Agricultural Sciences, 1950).
Throughout his life he was deeply involved in his community. He served on the governing board of the Sierra-Plumas Unified School District (21 years); the Plumas County Planning Commission (22 years); the Sierra Valley Volunteer Fire District (over 50 years), the Portola Cemetery Board, Farm Bureau, The Cattlemen's Association and many other committees He was a member of the Sierra Valley Grange (77 years), where he served as Master and Treasurer. Ted was a member of the Holy Rosary Catholic Church in Loyalton and had a lifetime membership in the Knights of Columbus.
Ted had a life long interest in weather patterns and always kept a daily log of temperatures and precipitation. For more than 30 years, he served as an observer for the National Weather Service. He held this position until the time of his passing.
Ted married Elizabeth (Betty) Dhom at St. Thomas Aquinas Cathedral in Reno, Nevada, on May 8, 1955, and in 2017, they celebrated their 62nd anniversary.
He is survived by his wife Betty, son Tom (wife Leslie), son Alan (wife Andrea) and daughter Andrea Ramelli; grandchildren Elise Welge (husband David), Justin Ramelli (wife Dani Kay), Brianne Stokey (husband Treyson), Cory Ramelli (wife Raquel) and Devin Ramelli Wright; seven great-grandchildren, and dozens of nieces, nephews and cousins.
He was predeceased by his parents Rudolph and Nellie Ramelli, brothers Lloyd and Lester, and sisters Velma Hill, Helen (Pedersen) Foster, Nellie Cain, and Edith Baggett.
A Memorial Mass was celebrated Feb. 3, at the Holy Rosary Catholic Church in Loyalton. Father Brian Soliven officiated. Internment was held in the Vinton Cemetery. Arrangements were under the direction of Manni Funeral Home.
In lieu of flowers, please make any donations to the Holy Rosary Catholic Church, 108 Taylor Ave., Portola, CA 96122, or to the Sierra Valley Grange, P0 Box 15, Vinton, CA 96135.
Daniel Lawrence Rooney
Greenville resident Daniel Lawrence Rooney passed from this life early Friday morning, Feb. 2, 2018, at Enloe Medical Center located in Chico.
Born June 9, 1935, in Alameda, he was raised and educated in Berkeley. Dan, as he was affectionately called, went to work as a professional truck driver out of high school working for United Grocers until moving to Plumas County some 35 years ago. He owned and operated the former Watering Hole, a tavern located in Canyon Dam, during its mining heydays before going to work as a log truck driver for Sierra Pacific Industries where he retired after 55 years driving truck.
In March of 1995, Dan married the love of his life, Marietta Paulson, a union that has lasted some 23 years.
Dan was an avid outdoorsman who loved to hunt and fish. He was a staunch supporter of Pheasants Forever and enjoyed immensely spending time fishing with his son in the San Francisco Bay. A longtime member of Mt. Hough Golf Course he found pleasure in the challenges in the game of golf, as well as a good game of cribbage. As a young man he competed in roping competitions throughout the state.
In his passing, Dan leaves his loving wife, Marietta, of Greenville; daughter, Maria Woodruff and husband Larry, of Vacaville; sons, Danny Rooney, of Washington and David Rooney and wife Celeste, of Richmond; sister, Ann Griffith, of Benecia; stepsister, Maureen DeVine, of Vacaville; and stepbrother, Michael Devine, of Sacramento; along with seven grandchildren and numerous great-grandchildren and his "favorite" sister-in-law, Karen Peters.
Dan joins a stepson, Patrick in their eternal home.
A celebration of Dan's life is being planned for a later date. The family asks that any remembrances in Dan's memory be made to the Greenville Chapter of Pheasants Forever, P.O. Box 1025, Greenville, CA 95947. An opportunity to express condolences to the family along with signing the memorial guest register is available online at fehrmanmortuary.com.