Obituaries for the week of 4/19/17
Marilyn Frances Box
Chester resident Marilyn Frances Box passed from this life peacefully, early Tuesday morning April 11, 2017, as a resident of the Long Term Care Unit of Seneca Healthcare District.
Born in Port Huron, Michigan, on May 1, 1930, to the late James and Olive (McIntosh) Wellman, she was raised and educated in Kalamazoo, Michigan, graduating from Kalamazoo High School as a member of their class of 1948. She went on to obtain her Bachelors of Arts Degree from Northeastern Michigan University as well as receiving a lifetime teaching credential.
On May 1, 1958, after being introduced to each other at a church social, Marilyn married William L. Box Jr., and to this blessed union two sons were born. She and Bill moved west to settle in the Southern California community of Thousand Oaks and it is here where she began her 40-year career as an elementary school teacher. The family later moved to San Ramon,  where Marilyn continued her teaching career until her retirement. The couple retired to the Northeastern California community of Chester in 2001.
Marilyn is the past president of the San Ramon Chapter of the American Association of University Women as well as being a member of the infamous Red Hat Ladies of Chester and was a longtime member of the American Legion Auxiliary. She was currently a member of the Chester Wesleyan Church and is a former member of the Chester Community United Methodist congregation. She enjoyed relaxing reading, found pleasure in attending dinner parties and traveled the world with her late husband.
In her passing she leaves her loving son, Matthew Box, of Chester; her precious grandchildren, Justin, Christopher and Conner and great-grandchild Kenyon, along with her sister-in-law Marilyn Bartow, of Petaluma,  and nephew William Bartow Box, of Porterville.
She joins in her eternal home with the Lord her husband; William L. Box Jr. and son; William J. Box.
A Celebration of Marilyn's Life is planned for 10 a.m., Saturday, April 22, at the Chester Wesleyan Church, corner of Frost and Gay Streets, Chester. Interment will take place alongside her husband in the Chester District Cemetery. An opportunity to express condolences to the family, along with signing the memorial guest register, is available online at www.fehrmanmortuary.com.
Monte Eugene Depolo
Born in Oakland, on Oct. 29, 1942, to the late Eugene and Virginia (Cook) Depolo, Monte was raised and educated in the San Francisco East Bay graduating high school from San Lorenzo High School as a member of the Class of 1960. He went on to join the U.S. Marine Corps shortly following his graduation and served his country honorably as a mortar man with the Corps for four years.
In 1970 Monte married his wife, Shirley Jean Ritter, and to this union one son was born.
Upon his discharge, he returned to the East Bay where he began an apprenticeship with the Automotive Industries Union, leading to a 27-year career with Lucky Stores retiring in June of 1995 as a foreman with their truck maintenance facility.
Monte relocated to the northeastern California community of Portola in 1996 from Hayward. It was here, following Shirley's passing in 1998, that he met MaryJane Leal and the two were later united in matrimony on Oct. 10, 2010.
Monte was proud of his country and his service to it and was a longtime member of the American Legion Post 1000 of San Francisco, as well as being an active supporter of the Wounded Warrior Project.
A formed racer himself, he enjoyed following Kyle Busch on the NASCAR circuit. He was a ham radio enthusiast, who also enjoyed the art of custom automotive painting, but first and foremost in his later life was spending time with his grandchildren.
Monte was a member of the Dublin Local of the Automotive Industries Union as well as a 30-year member of Lodge 1546 of the International Association of Machinist and Aerospace Workers.
In his passing, Monte leaves his wife MaryJane, of Portola; sons, Gerold Maffei and Monte Depolo Jr. both of Reno, Nevada, Jeff Leal (Beth), of Modesto, Josh Leal (Missy), of Portola, Jamie Leal (Becki), of Bemidji, Minnesota, Steve Cesena (Lydia), of San Lorenzo; daughter, Jacqie Leal (Nick), of Portola; sisters, Wendy Heimsness, of Rochester, Minnesota, Kathy Depolo, of Placerville and Charlene Sanders, of Portola. Monte was the proud grandfather to 15 grandchildren and three great-grandchildren, as well as survived by numerous nieces and nephews.
Monte joins his wife Shirley and one grandchild in their eternal home.
Graveside services with Military Honors were held on Monday, April 17, in the Northern Nevada Veterans Memorial Cemetery, Fernley, Nevada. A celebration of Monte's life is being planned to take place locally at a later date.
An opportunity to express condolences to the family along with signing the memorial guest register is available online at fehrmanmortuary.com. The family asks that any remembrances in Monte's memory be made to the American Diabetes Association c/o Fehrman Mortuary and Crematory, P.O. Box 2215, Portola, CA 96122.
Wanda Elaine Donges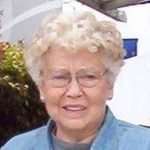 Wanda Elaine Donges peacefully passed from this life Sunday, April 9, 2017, at Banner Lassen Medical Center located in Susanville.
Born June 2, 1932, in Uniontown, Pennsylvania, to the late Pennsylvania natives Albert and Lorena (Poad) Baird, she was raised and educated in Uniontown, graduating high school as a member of the Class of 1950.
Shortly following her graduation, Wanda moved west to settle in the San Francisco East Bay community of Fremont. She had been employed as a mail clerk for Safeway Stores for 15 years.
First and foremost a loving mother and grandmother she found great pleasure in spending time with her grandchildren, tending to her flowers in her garden as well as RVing.
In her passing, she leaves her son Gary and his wife Colleen of Lake Almanor; along with her precious grandchildren, Alexia and her husband P.J. Skarlanic and Andrew; and great-grandchildren, McKay and Isla.
Wanda had just lost her husband William in March of this year and along with him joins a brother and sister in their eternal home.
Private family services will take place at a later date. Inurnment will take place in the Centerville Pioneer Cemetery, Fremont.
Doris Fay Livingston
Doris was born to John and Flora Berridge on July 10, 1939, in Almont, Michigan. John was a dairy farmer in Dryden Michigan where Doris helped milk the cows and pick the vegetables. John developed silage fever and his doctor told him to move to sunny California. So at age 7, Doris and family moved to Burbank. She couldn't understand why the boys were wearing cowboy outfits with gun belts in a city.
Even though she preferred the beach to school, Doris graduated from John Burroughs High School in the winter of '57. In Southern California she worked as a theater usher, a roller skate carhop at Bob's Big Boy, a switchboard operator for the phone company, a dance teacher at Arthur Murray Dance Studios, one of very few women working as a buyer in the electronics/aerospace industry, a school bus driver on the dreaded LA freeways, and a special education teacher.
Doris married Ralph Pershing on June 28, 1958, at the Self Realization Lake Shrine Temple in Pacific Palisades. Jeffrey Pershing was born Sept. 10, 1960, in Burbank and they lived in Tujunga.
On April 3, 1965, Doris married Ronald Pound in Tujunga. Doris gave birth to Damon Pound, weighing in at 10 pounds, 14 ounces on Sept. 28, 1969. Their house sustained considerable damage in the 1971 San Fernando earthquake.
Doris and Ronald Pound purchased Paxton Lodge and moved there with Jeffrey and Damon in 1973. Doris and family did extensive repair work to get Paxton Lodge and the surrounding cabins ready for residents that were mostly Feather River College students
Doris took on the duties of cooking, cleaning and surrogate parenting for many students.
Doris moved to Quincy on the first day of 1976. On June 16, 1976, she moved to beautiful Dixie Canyon to live with Bruce Livingston.
Bruce, Doris and her mother, Flora, bought Dixie Canyon on July 14, 1980. Bruce and Doris were married in Taylorsville on Aug. 15, 1981.
Doris' employment in Plumas County began as a clerk typist at Feather River College in 1975. She was promoted to Program Assistant, then EOPS Program Director, and finally to Dean of Student Affairs. She taught dance at FRC for years. After "retiring" as dean, she continued to work as the FRC Elderhostel Coordinator and served as temporary Dean of Students at Delta and Antelope Valley Community Colleges. She even worked as campground host at Bucks Lake for a summer.
Doris became a Universal Life Minister at the request of friends who wanted her to perform their weddings. She performed scores of wonderful weddings for Plumas County residents. She was awarded a Doctor of Universal Life Degree in 1991.
A beloved daughter-in-law was added to the family in 1993 when Damon married Lisa Sandberg. That union gifted Doris with two grandsons: Avery Pound, in 1994; and Cody Pound, in 1997.
Doris loved dancing, family, music, parties, ukulele, hula, adventures, camping, gardening, animals, writing, coconut ice cream and beer.
Doris passed away at Dixie Canyon on April 11, 2017. At Doris' request, there will be a celebration of life consisting of "music, dance and merriment" on July 8 at Dixie Canyon. "My life has been a great celebration and so it should end in the same manner."
An opportunity to express condolences to the family along with signing the memorial guest register is available online at fehrmanmortuary.com.