Obituaries for the week of 5/31/17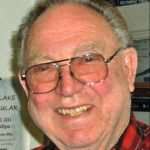 Leland Paul Anderson
Leland Paul Anderson passed from this life peacefully in his sleep on May 15, 2017. He was born in Nebraska on April 16, 1936. Leland is survived by his wife Marylyn McDonald and three children from his first marriage, Dave, Dan and Deborah; and three grandchildren, Jacob, Daniel and Wyatt, all of southern California.
Leland raised his family in Southern California and, as a widower, attended his 55th class reunion where he and Marylyn McDonald were reunited. They reminisced on dating during their teens (ages 16 and 17), a relationship rekindled, and they were married in St. John's Catholic Church at ages 76 and 77. Together they loved the mountains, lakes, streams and the peace of Meadow Valley.
Leland lived his last seven years in Meadow Valley. He was an active member of St. John's Catholic Church, where he ushered and enjoyed the company of his church community. He was an active member of the Knights of Columbus and enjoyed his time at the local Meadow Valley Gun Club.
Services will be determined at a later date.
Robert "Ralph" Diggs
Robert "Ralph" Diggs passed away May 4, 2017, at the age of 85. He and his mother, Lottie, and father, C.K. Diggs, and family lived in Texas for a time, then found their way to Westwood where they made their home, worked and went to school.
Upon graduating from Westwood High School in 1950, he married Ila Diggs, and served in the U.S. Navy for four years. The couple had three children: Steven Diggs, of Chico, daughter Julie Brown, of Oregon and John, who lives in China.
Ralph also leaves behind three brothers and two sisters: Donald, of Portland, Richard, of Yuba City, Kenneth of Chester, and Betty Conklin of Chester and Myrna Guerra of Reno. He also leaves behind seven grandchildren, one great-granddaughter and several nieces and nephews.
Ralph's main love was listening to music whenever possible and sports, of course. He also loved math and history.
He was a railroad engineer for a while, then worked as a guard at the High Desert prison in Susanville for seven years and then he returned to the railroad until his retirement in 1996.
After Ralph's first wife Ila passed, he later married Norma Ransome Diggs from whom he was widowed again.
He went to a Westwood High School reunion on Oct. 5, 2013, where he met an old classmate, Georgia Ballinger, with whom he comfortably spent the rest of his life.
He will be greatly missed by those who knew him.
Patricia Alice Guibault
Lake Almanor resident Patricia Alice Guibault passed from this life peacefully, Monday evening, May 22, 2017, at her residence.
Born August 21, 1931, in Lusk, Wyoming, to the late Albert and Ida Mae (Schurck) Guibault, Pat — as she affectionately became known — was raised and educated in Lusk, graduating from Lusk High School as a member of the Class of 1949. She went on to continue her education at San Diego State where she obtained her Bachelor's Degree and teaching credential. She was awarded a lifetime teaching credential from the State of California on Feb. 21, 1968. Pat spent her teaching career as a member of the staff at the Jurupa Unified School District. Her first employment out of college was as a chemist for Rohr Industries.
Upon her retirement, Pat moved to the northeastern California community of Lake Almanor in 1980. Here she worked for a period of time at the former Lake Almanor Post Office. A devout member of the Roman Catholic faith, Pat is a former nun with the Carmelites and, while residing at Lake Almanor, was active in the parish of Our Lady of the Snows where she was a longtime member of their Altar Society. An avid sportswoman, she enjoyed all the activities of the area to include both water and snow skiing as well as hiking.
Pat is survived by her sister, Phoebe Deitchler, of Susanville; a niece, Marlene Schmidt, of Sheridan, Wyoming; two nephews, Fred Guibault (Pat), of Salton Sea, and Pat Deitchler (Kathe), of Goodyear, Arizona, along with numerous great- and great-great-nieces and nephews.
She joins in her eternal home her sister, Bertha Pepper Mortimore, and brother, Eugene A. Guibault.
A Memorial Mass will be celebrated for the repose of her soul at 1 p.m., Saturday, June 3, at her beloved Our Lady of the Snows Catholic Church with inurnment to follow in the Chester District Cemetery.
Pat had requested any remembrances in her memory be made to the Catholic Relief Society, c/o Fehrman Mortuary and Crematory, P.O. Box 803, Greenville, CA 95947.
An opportunity to express condolences to the family, along with signing the memorial guest register, is available online at fehrmanmortuary.com.
Norman Jeffrey Muir
Norman was born to Robert and Mary Muir on July 17, 1953, in Glendale.
He learned classical piano at a very young age, often entertaining his parents' musician friends and the residents at a retirement home where he worked as a teen. He was raised in SoCal and graduated from Van Nuys High school in 1971. He then studied refrigeration at Pierce College.
Norm was an inventor, an early day repurposer/recycler and a Scot through and through. He could repair anything. Always with his head in the stars, he built his first telescope at the age of 12, grinding the primary lens himself by hand, and virtually making everything else from scratch. (This telescope is still being used today.) He was a member of the Los Angeles and Polaris Astronomical Societies and attended weekly "Star Parties" near Mt. Pinos.
While still in L.A., he worked for McBain Instruments, servicing and repairing microscopes and other optical devices at hospitals and technical firms.
Norm finally had enough of the city lights and bought a cabin in Frazier Park to be closer to the stars he enjoyed watching so much. Norman loved bombing around off road in his "Dirty Datsun" 510 and also loved the high Sierra and enjoyed summers hiking and mountain climbing around Mt. Whitney and Tuolomne Meadows in Yosemite. He always loved nature, animals and music (from Pink Floyd to Debussy.)
Norman first came to Quincy in 1982 to help his sister Meridy and her then-husband Bill, open and run "The Loft" restaurant (now Sweet Lorraine's.) He built the tables and chairs, built the "dumb waiter" to the second floor and fixed the refrigeration systems. Norm would do dishes, serve ice cream and later serve the beer. (His favorite!) He also worked at Sierra Technical, servicing copiers and typewriters. (Remember them?) He worked for Coast-to-Coast Hardware (now AVH) and was known as the "go to" guy for help as he was so good at fixing things.
Norm was also an accomplished piano tuner in town for many years, doing it the "old-fashioned way" by ear, as he had learned from his dad. He also serviced vacuums and just about anything that people brought to him.
He enjoyed being with friends and family at the local swimming holes and had been notorious for his rollerblading escapades into town. His quiet times were spent around his small house, tinkering in the yard, babying his fruit trees, and running his toes through the grass; always while listening to music.
Normie had a heart bigger than this world and made himself available to everyone and anyone and rarely accepting anything in return. He will always be remembered for his non-judgmental acceptance of friends and strangers alike. He had a great wit and sense of humor and could always make people laugh with his puns and limericks. His inner child always shined bright and he had a smile for everyone.
Norman passed beyond this life on April 20, 2017, into the true love of his Lord. He leaves behind his brother Malcolm Muir and sister-in-law Linda Lyn; and his sister Meridy Muir and brother-in-law Greg Jewers, all residing in Quincy; also his close cousin, Lyn Simon and her husband Mike, of Portland, Oregon, as well as the many friends he made along the way.
He is very missed and will always be an inspiration of what "unconditional" love is. He will be forever in our hearts as a bright and shining star, reminding us all to LOOK UP!
A memorial will be held at a later date for family and all friends.