Obituaries for the week of 8/16/17
David Hugh Cameron
David was a quiet man. His life began in Wichita, Kansas, on Jan. 29, 1933. The Lord took him peacefully on July 7, 2017.
He served in the Air Force, after which he attended UC Berkeley. A number of years and many adventures later, he moved to Merced, where he was employed by the Merced High School. Following his retirement, he purchased the Town Frosty in Snelling, where his business boomed for approximately seven years. David then moved to Greenville, where he lived until his final move to Susanville in 2006.
David is survived by three sons: David Paul Cameron, of Chico; Glen Cameron, of Salmon, Idaho; Gordon Cameron, of Merced; and one daughter, Cherie (Cameron) Colaw, of Tempe, Arizona; two grandsons; one granddaughter; three great grandchildren; and his girlfriend, Carole Siekierski, who shared with him his last 30 years.
David had the patience of Job and a heart full of understanding. There will be a void in many lives with his passing.
Kay Adoris Hohlfeldt
Kay Adoris Hohlfeldt, age 93, was born on Aug. 31, 1923. She passed from this life on Nov. 16, 2016, and is now at peace with her God and family.
Kay was born in a small township in Minnesota, however she moved to Illinois at a very young age. She grew up in the Chicago area. After high school, Kay attended a business school in Chicago. When she graduated, she became a secretary at an insurance firm, where she met her husband, Kenneth W. Hohlfeldt, who was in the Coast Guard in WWII. Upon his arrival back home, they were married Dec. 31, 1942.
They moved to the suburbs of Chicago and had two sons. Kenneth was offered a job in Santa Cruz so the family moved. Kay took a job as a librarian at Campbell High School in San Jose until she retired in 1970. They retired to Lake Almanor, where Kay became active in the community. She volunteered at Seneca Hospital, was a member of Hamilton Branch Firebelles and was active in a gourmet dinner club.
Kay was preceded in death by her husband of 53 years, Kenneth Walter Hohlfeldt and her two sons Kenn Richard Hohlfeldt and Keith Darren Hohlfeldt.
Kay is survived by her daughter-in-law Judy P. Hohlfeldt and her husband Joseph A. Frederick.
A Celebration of Life will be held Saturday, Aug. 26, at 11 a.m., at 2763 Big Springs Road.
Your memory will be with us forever.
Catherine Marie Miller
Cathy Marie Miller went home to be in the arms of our heavenly Father on Sunday, Aug. 6, 2017.
Cathy was born in Panorama City, on Sept. 3, 1973, to parents Donald and Linda.
Cathy began her family in Southern California and, after many challenging years, she decided to relocate her family to Plumas County ten years ago to be closer to her mother and search for a new beginning. Cathy found this new beginning in the form of school. She attended Feather River College and graduated with honors with an AA degree, a shining example to her two children.
Cathy is survived by her husband Dan Miller, children Joey Marrero and Melissa Miller, father Donald Borner, mother Linda Glondeniz, grandmother Betty Wilson and brother Donald Borner II.
A private family gathering was held for her at her request. An opportunity to express condolences to the family along with signing the memorial guest register is available online at fehrmanmortuary.com.
Cathy will be missed dearly, but never forgotten. Her fighting spirit is an inspiration to us all, but now she is full of peace, resting in the arms of the Father. In the words of our Lord Jesus Christ, "Come to me, all you who are weary and burdened, and I will give you rest."
Richard Wade Sargent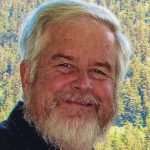 Quincy resident Richard Wade Sargent went to his eternal home with the Lord Friday morning, Aug. 4, 2017, at Renown Medical Center in Reno.
Born Sept. 18, 1946, in Fayetteville, Arkansas, his family moved west to settle in the San Francisco East Bay community of San Leandro where Rick graduated from Arroyo High School as a member of the Class of 1965. While residing in San Leandro with his (late) stepfather and mother, Roy and Marjory (Skelton) Sargent, he played Little League baseball as well as high school football.
Shortly following his high school graduation, Rick joined the U.S. Army where he was trained as a combat engineer and demolitions. He attended Jump school at Ft. Benning, Georgia, and here was trained as a parachute rigger and in aerial delivery and was attached to the 82nd Airborne Division. In 1967, he was assigned to the prestigious 101st Airborne Division, known as the Screaming Eagles, and served a year in Vietnam. He returned stateside to finish his career as a Parachute Rigger at the Presidio in San Francisco. Upon Specialist 1st Class Sargent's honorable discharge, he returned to the San Francisco East Bay where he entered an apprenticeship program for carpenters and at its conclusion was given his journeyman's card. He went on to obtain his contractors license in 1970.
On June 7, 1969, in Hayward, Rick married his sweetheart, Joanne Lujan, who he'd known from high school and they began a family of one son and one daughter. The family settled in Pleasanton, before moving to the northeastern California community of Quincy in 1978, where he continued his trade as a building contractor until 1988 before working for the Plumas National Forest until his retirement in 2004. Rick went on to successfully build and operate a business in East Quincy.
A devout member of the Roman Catholic faith, Rick was an active member of St. Johns Parish in Quincy where he was instrumental in the remodeling of the parish priest's residence and the parish hall. He served the Quincy community as a Little League coach, a coach of youth football, and was a member of the Quincy High School's Football Chain Gang for over 15 years. He enjoyed downhill skiing and, in his later years, he and Joanne enjoyed riding a motorcycle and taking trips.
In his passing, he leaves his beloved wife of 48 years, Joanne, of Quincy; son Sean, of Redding; daughter Regina Sargent Hanson, of Salt Lake City, Utah; grandson Jamie Thames, of Quincy; his father, James Tomlinson of Winslow, Aizona; brothers, Darrell and his wife Cathy, of Angels Camp, Gary, and his wife Jan, of Surprise, Arizona; his half-sister, Ann Malkie, of Winslow, Aizona; and numerous nieces, nephews and many other family members.
Along with his parents, he joins his sister, Cheryl Nikander in their eternal home.
A Vigil Service to including recitation of the Holy Rosary took place Aug. 15, at Fehrman Mortuary on Lawrence Street, Quincy, with a Mass of Resurrection to take place at 11 a.m., Wednesday morning, Aug. 16, at St. John the Evangelist Catholic Church. Military Honors will be bestowed at the graveside in the Old Quincy Cemetery following the Mass. An opportunity to express your condolences to the family along with signing the memorial guest register is available online at fehrmanmortuary.com. The family asks that any remembrances in Rick's memory be made to the Plumas County Parks and Recreation Department, c/o Fehrman Mortuary and Crematory, P.O. Box 53, Quincy, CA 95971.
Jack Dale Tucker
Crescent Mills businessman Jack Dale Tucker passed from this life peacefully, Saturday evening, Aug. 5, 2017, at his residence in Crescent Mills following a valiant battle with cancer. His daughter and son were at his side.
Born into a migrant farm workers family, Jack and his family settled in the Salinas Valley where Jack graduated from Salinas High School as a member of the Class of 1946. While attending high school, he lettered in football and enjoyed woodworking.
Shortly following his high school graduation, Jack along with a couple of his buddies joined the U.S. Army Air Corp where Jack served his country honorably for three years as a classification specialist, helping in the discharge of World War II veterans.
He returned to the Salinas Valley upon his discharge where he worked as a hotel supply salesperson, an automotive salesperson as well as owning and operating numerous restaurants and taverns.
Following an earlier marriage that ended in divorce, but gave Jack two daughters, Jack married the woman who became the love of his life, best friend and business partner, Barbara Joan Parkey. To this union two sons and a daughter were born.
Jack, Barbara and family relocated to the northeastern California community of Crescent Mills in 1975 where for 22 years, he, alongside Barbara, owned and operated the Crescent Hotel and Restaurant. Following the sale of the hotel and restaurant, he could be found helping Barbara and their daughter Lisa around Crescent Country Gift Shop. He enjoyed collecting antique cars and firearms and later in life gardening.
In Jack's passing, he leaves his daughters, Lisa Forcino, of Crescent Mills; Teri Haas, of Quincy; and Kim Tucker-Wolf, of Galina, Alaska; and son Jon Tucker and wife Lisa, of Tulsa, Oklahoma; along with 12 grandchildren and 11 great-grandchildren.
He joins his beloved wife Barbara and son James "Jim" Tucker in their eternal home.
Private family services will take place at a later date. An opportunity to express condolences to the family along with signing the memorial guest register is available online at fehrmanmortuary.com.
Dirk Anthony Wightman
Portola resident Dirk Anthony Wightman passed away Aug. 4, 2017. On Aug. 14, a funeral mass was celebrated for the repose of his soul.
Dirk was a widower who had been married to his wife, Anna Mae, for 55 years. They had five children, 10 grandchildren and eight great-grandchildren. Dirk died of Alzheimer's at the age of 87.
Dirk was born Oct. 12, 1929, in Long Beach. He was an only child raised by his mother Dorothy Edith and his Aunt Fanny. He served for two years in the Korean War and was married in 1957. He worked at AT&T for 30 years as a refrigeration and air-conditioning technician. Dirk and his family lived in Silverado, Wrightwood, Soda Springs and Portola.
Dirk loved to hike, ski, golf and work in his tool shed. He also enjoyed woodworking. He was proud of the many trails he created behind his property, and the driving range he built to help with his golf game.
In passing, Dirk leaves behind his daughters Peggy Cordero, of North Tustin; Heidi Wightman, of Portola; sons Dane Wightman, of Reno; Eric Wightman, of Idaho Springs, Colorado; and Bret Wightman of Truckee; and grandchildren Mia, Sean, Kathryn, Levi, Scarlet and Savannah, of California; and Thomas, Joseph, Christopher and Michael, of Colorado. He also leaves behind his great-grandchildren, Kiara, Savannah, Brianna, Brooklynn, Blake, Gideon, Natalie and Michael Jr., of Colorado.
The family suggests remembrances in Dirk's memory be made to High Sierra Animal Rescue in Portola California.
May you rest in peace Dirk.