Oliver honored as Quincy's 2017 Firefighter Of The Year
Quincy Volunteer Firefighter Johanna "JoJo" Oliver was honored as the 2017 Quincy Volunteer Firefighter of the Year at the department's 140th annual Installation of Officers banquet Saturday, Feb. 17, at the fire station.
The list of accomplishments that this individual has made in the relatively short period of time she's been with the department is truly remarkable.
In presenting the coveted award, Fire Commissioner Chuck Leonhardt said Oliver was selected from an impressive list containing the names of seven volunteers nominated by their peers at the department that "best embody the mission and values of the department."
In his presentation Leonhardt noted that since joining the department Oliver hit the ground running achieving her state certifications in EMT-B, low angle rope rescue operations, fire apparatus driver operator and pump operations in addition to numerous other training activities.
Along with her many outstanding achievements, he noted that Oliver was also recently honored by the Board of Supervisors for saving a life using techniques she learned as an emergency responder.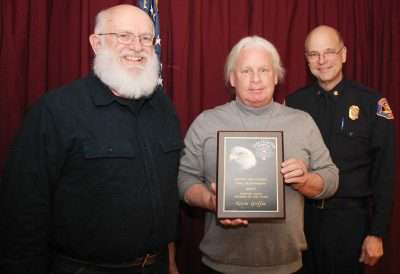 "Her perseverance and passion for learning is nothing short of inspiring. One of the most important qualities of leadership is motivating the people around you. This firefighter continues to demonstrate an outstanding work ethic and unwavering positive attitude toward both fellow firefighters and citizens in the community," Leonhardt said as he introduced her to the audience.
Dixon Fire honored
This dinner also marked the 50th anniversary of the special relationship shared by the Quincy and Dixon fire departments, considered by many volunteer firefighters throughout the state as a "uniquely healthy and envious family relationship" where these two departments travel a great distance to prepare and serve the dinner at each other's annual installation banquets.
Advertisement
On behalf of her late husband and Quincy's longtime fire chief Andy Anderson, Gayle Anderson took the crowd for a 50-year trip down memory lane that culminated with her presenting a commemorative plaque to Dixon's department accepted by Dave Horigan.
Officers Installed
Quincy Fire Commissioner Mike Taborski introduced and installed the department's 2018 officers: Fire Chief Robbie Cassou, Deputy Chief David Windle, Assistant Chief Frank Carey and captains John Gay, Dony Sawchuk, David Schmid, Matthew West and Kevin Correira.
Fifty-Plus Awards
Members of the volunteer department who have improved their run attendance by making 50 or more calls this year from the previous year were also honored at the banquet.
They included Christina Weinberg and Alexander Stowe, both with 50 calls; Kyleigh Green, 54; Johanna Oliver, 58; Deputy Fire Chief David Windle, 65; Assistant Fire Chief Frank Carey and Jacob Hutson, both 98; and Johanna Burgueño topping the list with 129 calls.
Top Responders
Captain Dony Sawchuk presented awards to the 2017 top three non-rank responders for 2017. They were Burgueño, Weinberg and Charlie Read, who took the gold medal responding to 134 calls.
Other acknowledgements
C. Ray Nichol, the QVFD's Support Team leader, announced that Kevin Griffin was chosen as the 2017 Support Team Member of the Year. Sara Frigio and David Kantoff were also introduced as two new members joining the department's support team this year.
During the evening's ceremonies, Chief Robbie Cassou also proudly introduced Burgueño, Oliver, Rachel Burns and Angela Hauner as the department's newest certified firefighters.
Cassou went on to introduce the auxiliary team members who are working their way through the ranks to become certified firefighters. They include Parker Carey, Kyleigh Green, Jeremy Hammond, Jacob Hutson, Deirdre McCarthy, Barbara Schott, Stowe and Eric Vinyard.
Currently, the department has 28 volunteer firefighters and auxiliary members, 14 volunteer support members and a paid staff of three: the chief, an administrative secretary and a mechanic/facilities manager.  The department is always looking for volunteers to become firefighters or a member of the support team. Chief Cassou encourages anyone interested in learning how to become a part of this family to talk to him or with one of the department's other volunteers or staff.
Quincy Fire Department's 2017 summary of operations
Volunteer firefighters and auxiliary: 28
Support team volunteers: 14
Fire stations: 3
Quincy, East Quincy, Chandler Road
Response calls
Total response calls: 745
Total individual responses: 3,272
Average personnel per call: 4.71
Total time
Total response hours: 1,849
Training hours: 5,294
Support Team hours: 1,124
Other volunteer hours for outreach programs: 2,192
Total documented volunteer
hours: 10,605