One medium, two perspectives at November's Plumas Arts Gallery show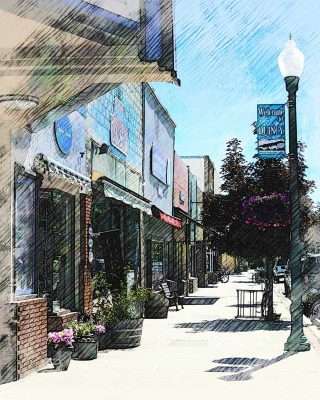 The Plumas Arts Gallery, located at 525 Main St. in Quincy, will host a reception Friday, Nov. 3, from 5 to 7 p.m., for two photographers: longtime local Kimberly Carroll of Just Imagine Photography and newcomer Jim Longnecker. Meet the artists, mingle with your friends and neighbors and enjoy a light repast of beverages and appetizers.
"This will be such an interesting show!" commented Plumas Arts Gallery Manager Lori Davis. "The exhibit really exemplifies how one medium, in this case photography, can take such different paths depending on the artist. Kim's dynamic photos reflect a real connection to people and place, while Jim's images have a moody, evocative quality brought out by the velvety black and white prints."
Carroll, who has lived in Quincy since 1972, has enjoyed photography since she was a little girl, growing up with several old cameras, taking pictures of whatever she could. Her interest flourished when she had children of her own and use of newer equipment.
She took a few photography classes at FRC from Plumas Arts Executive Director Roxanne Valladao and has been shooting ever since. She started with entering photos in the fair as an amateur and now enters as a professional photographer. Her business, Just Imagine Photography by Kimberly Carroll, keeps her busy with weddings, family shoots and events, all of which she enjoys tremendously. Her greatest joy with photography however, is the ability to take a photo and then turn it into something that displays her own thoughts and creativity. She tinkers with many of her own photos to bring about a different view, a more artistic view of them. She hopes you enjoy her work.
A mostly self-taught photographer, Jim Longnecker has a background in architecture and design where he has honed his sense of aesthetics and composition. He said, "I have a deep passion for things of nature and the world of outdoors and I spend as much time as is affordable immersing myself in the natural world in search of intriguing displays of patterns, light and shadow. I have been fortunate enough to have had the opportunity to travel, by way of bicycle, foot and motor. Many of the images you will see have been taken from my times of travel."
The exhibit will hang at the gallery throughout November, alongside the work of Plumas Arts member artists. The Plumas Arts Gallery and office hours are Wednesday, Thursday and Friday, from 11 a.m. to 5 p.m., and Saturday, from 11 a.m. to 3 p.m. Visit Plumas Arts on the web at plumasarts.org for more information about their programs and to see the gallery exhibition schedule for 2017.