Lake Almanor is one of the premier lakes in Northern California for recreational activities, including water skiing, swimming, jet skiing, kayaking and boating.
When the water is at its maximum height of 4,494 feet above sea level, the deepest section is approximately 90 feet. The lake is 15 miles from one end to the other, by 6 miles across, making it the third largest manmade reservoir in the region, right behind Shasta and Oroville reservoirs.
During the summer tourist season, over 2,000 recreational boats are on the lake daily, according to Wes Scott, boat patrol officer for the Plumas County Sheriff's Office for the past nine seasons.
With that much activity, patrols can be kept quite busy making sure boaters are safe and comply with the rules of the lake.
From May through September, there are nine shifts to cover during the week, Scott noted. In the fall and winter season, there are no patrols, but boaters are still permitted on the lake.
The other Lake Almanor boat patrol officers are Bob Orange, Rich Ross and Steven Brown.
Scott said he patrols Lake Almanor on Wednesdays, usually starting his shift at Plumas Pines Resort or occasionally from Big Cove Resort. On Fridays, Saturdays and Sundays he patrols Butt Valley Reservoir.
Along with Lake Almanor, "We have six other lakes that we patrol, including Butt Lake, Bucks Lake, Frenchman Lake, Lake Davis, Antelope Lake and Little Grass Valley Reservoir."
Scott said they have a number of official responsibilities while patrolling the lake. "We're charged with making sure everyone is operating in a safe manner and the enforcement of boating laws."
A two-hour tour
When Scott starts his day, he carries with him a bag consisting of first aid equipment and binoculars, plus a handheld radio and his personal cell phone, "Which we are using more often than we used to for keeping in touch with people who need our assistance."
Scott added that a big part of his job is rescuing boaters who suddenly find themselves adrift with an inoperable motor, for example, and towing them back to shore.
He explained how boaters who find themselves in trouble usually call 911, "and then the sheriff's office dispatcher in Quincy calls me and includes the boater's phone number so I can call him right back," for specifics, instead of having to go back and forth over the radio.
Scott said whenever a call comes in that requires action, "They let me know what the situation is — whether it's someone misbehaving, broken down or whatever — and what part of the lake they're located, and I respond accordingly," using an onboard GPS unit that keeps track of the patrol boat's location within the lake.
All patrol officers are thoroughly trained in CPR, along with the use of an automatic electronic defibrillator, which is kept on the boat during each 10-hour shift.
Scott uses a Boulton Powerboat for patrol duties, boasting an 8.1-liter V-8 engine capable of speeds of up to 50 knots. It's owned by the state of California, he said, which provides the vessel to the Plumas County Sheriff's Office to operate until the season is over. Then it goes back to Quincy where it is stored during the off-season.
Besides working the lake, Scott said he scans the shoreline for problems as well. "If we're able to see something on the shore that's possibly illegal or there's a medical emergency, I can call a land-based unit or an ambulance for backup, and let them know that there's a situation that needs to be responded to."
Conversely, land based law enforcement units may contact water patrol officers for visual support if they need help locating someone in need who can best be seen from the shoreline.
Scott is technically not a peace officer and therefore he doesn't carry a sidearm.
"But I do have full peace officer authority under Harbors and Navigation when I'm on the water, which means I can arrest and detain," if necessary. But once he steps off the boat "I no longer have that power." He added, "In my nine years as a boat patrol officer I have never found it necessary to carry a gun."
Whenever Scott does encounter a belligerent person on the lake, which is rare, he said his response is to "not overreact," and to maintain his composure and professionalism. "It simply doesn't serve any purpose to get upset."
He does have the authority to order people out of the lake if they become confrontational or fail to obey the rules, he added.
In any case, if there's a situation where someone is combative or antagonistic, Scott can always call for backup from the Sheriff's Office or Highway Patrol and a land-based unit would respond promptly, he said.
Sadly, Scott said one of the more difficult aspects of his job as a patrol officer is dealing with drownings, which thankfully are uncommon.
"If there's a drowning victim, that can be very difficult for the officers, because there's probably a family involved that we have to contact."
He recalled that three years ago, a young man drowned in Lake Almanor, "and his mother came while we were searching for the body and sat on the dock for days." He recalled how painful it was to come on duty and see her sitting and waiting for her son's body to be retrieved from the water.
Lake rules
People are allowed to bring beer and alcohol onto the lake, Scott remarked, but in principle they still can't get rowdy or drunk or possess a blood-alcohol level at or above .08 — the same as a land vehicle — because they are still operating a watercraft and an inebriated boater could be a hazard to other people.
"One of our more common violations is people failing to carry life jackets," he said. "Many people are not aware that when using a kayak or a paddleboard, they are still required to carry a floatation device. I'm constantly reminding people to carry their jackets if they want to stay on the water."
Children 12 and under must always have a life jacket on, while adults must have the floatation devices available to them located on the boat for easy access or whenever they are waterskiing or riding a jet ski.
In general, boaters don't have to worry about excessive speed, as long as they aren't close to the shoreline or too near other boaters.
"Out in the middle of the lake, there is no speed limit," so full throttle is permitted.
However, a boater that approaches a buoy or is within 200 feet of the shoreline must slow down to five miles per hour or less. "It's one of our strictest rules."
The lake is open for recreational boating 24 hours a day, but overnight camping on the water is prohibited in Plumas County.
Although Scott is authorized to give citations, he prefers to give warnings instead. "A warning is usually all that's necessary. … Our job is largely educating people."
Advertisement
Like a land based CHP cruiser, the patrol boat is equipped with lights and a siren, too, if Scott needs to get someone's attention.
There is a recommendation as to the number of people that a boat can carry, but that's strictly a suggestion, "nothing that's actually enforceable," he said.
Currently, boat patrol officers are not required to look for invasive species of mussels clinging to boat hulls. The mussels have been propagating in Southern California, like the quagga mussel, for example. But this may soon change as policies are reviewed or revised.
Hidden Islands
Scott turned off the engine for a few minutes to talk about the three major islands in Lake Almanor that become visible when the water level drops sufficiently. These include Goose Island, Flag Island and North Island. Buoys demarcate their perimeters.
Scott said they work with PG&E, owners of Lake Almanor, to monitor the depth above the islands, and also to identify where there are obstacles near shore to prevent boaters from running aground. Buoys clearly mark areas to alert people where they must be cautious.
The islands are generally six to seven feet below the water line when the lake is full. Boaters can go over the islands when they are submerged, but must drop their speed accordingly.
The north end of the lake is relatively shallow, Scott pointed out, only 10 to 15 feet deep even when the lake is at capacity.
"One can see North Island sticking up near the causeway just outside Chester when the lake drops below a certain level," later in the season.
"I heard that a number of years ago before I came on board there were two couples who were speeding along at night and slammed into one of the islands that was exposed above the surface, killing two of the occupants. It was a horrific accident."
Continuing the tour
Advertisement
Scott rounded PG&E's Rocky Point Campground and near Goose Island, currently submerged, making his way to the Almanor Dam and intake tower located at the southern end of the lake. The intake tower feeds into the Feather River. Also located nearby is the Canyon Dam boat launch ramp.
Along the route, Scott pointed out "Geritol Cove," the whimsical name given to a small cove where "all of us old fogies come to fish."
Afterward, he hightailed it back into deeper waters, heading near the east shore and then on his way to Hamilton Branch, where several grebes appeared floating in groups, apparently unimpressed by the speeding boat passing through.
After arriving at Hamilton Branch, Scott turned off the motor to take a minute or two to enjoy some sightseeing and convey information about the area.
The waters at Hamilton Branch flow into Lake Almanor from the Mountain Meadows Reservoir in the town of Westwood. The location is a popular fishing spot and also provides power to the Hamilton Branch Powerhouse.
Next to the powerhouse is a fish hatchery operated by the Almanor Fishing Association.
To complete a sweep of the lake takes approximately three hours, but Scott said cruises aren't restricted along a predetermined route.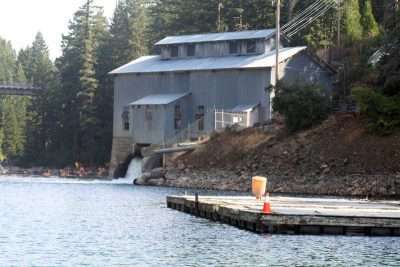 After the two-hour tour of the lake was over, he motored back to shore where he docked at Big Cove Resort for a short break before venturing back out.
Scott shared that he very much enjoys his work patrolling Lake Almanor and the other lakes in the region.
Every day is different, he continued. "One of my favorite parts of the job is finding someone who has run out of gas or has a dead battery or what have you, and helping them out so they can continue to enjoy their day. It's a very satisfying feeling."
As a lifetime boater, "I clearly love being on the water. That's what brought me to this job in the first place."
He said his leisure pursuits include riding snowmobiles in the winter, and camping and kayaking with his wife Jane, "Because we like outdoor activities so much."
In addition to being a boat patrol officer, Scott is also board chair for the CPUD and Exalted Ruler for the Lake Almanor Elks Lodge in Chester.
Scott said he's especially fond of the people who live in our mountain community.
"People are more friendly here than in the big cities," he said, "and are happy to pitch in and help each other out. It's a great place to live."