Paws on Parade: Doggone fun for the whole family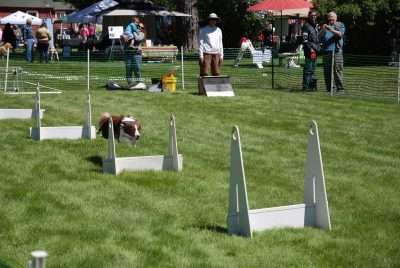 Paws on Parade takes place at the park in Graeagle on Saturday, June 23, from 10 a.m. to 3 p.m. This family-friendly festival is organized by High Sierra Animal Rescue and features multiple activities for adults, children and dogs. The event is free and open to the public, and serves as a fundraiser for HSAR so they can continue their important work placing homeless dogs into "forever" homes.
Highlights of the event include the Retrievers Ball, a drawing where the winning balls are selected from the Graeagle Mill Pond by a rescue dog; and the Walk to Save Homeless Pets, a walk around the Mill Pond aimed at raising awareness and funds for local homeless pets.
Agility and flyball demonstrations are scheduled throughout the day, as well as dog musical chairs and a dog scavenger hunt. Dog training demonstrations will be available for attendees wanting to hone their dogs' obedience skills. These will be offered by Hannah Tomatis, HSAR's volunteer dog trainer.
Live music by Penny & Dude, food by Graeagle Millworks and Philosophy Cafe, drawings, face painting and vendor booths will round out the activities. Several adoptable dogs will be on site, as well as informational booths for those wanting to learn more about the rescue organization.
Flyball is a fast paced dog race involving hurdles and balls, and Silver Streaks Flyball will be running their dogs on the course all day. Participants can also try their luck racing the dogs, and receive training from Silver Streaks for this fun sport.
John Parks will be at the agility course throughout the day with his dogs Bella and Gabby, and Penny Woodruff will run her dog Flo. Agility is a popular sport where a dog handler runs their dog through a series of hurdles, gates, tunnels and ramps.
Paws on Parade is a fun community event for the entire family, and a great way to show support for HSAR and their important rescue work in the community.
HSAR is a no-kill, nonprofit animal rescue organization, committed to saving local homeless dogs and advancing pet welfare. All donations are tax deductible. Founded in 1999, HSAR has placed thousands of homeless animals into loving homes. The rescue is funded solely through donations, memberships and fundraising events. As expenses continue to rise and the number of neglected or abandoned animals continues to grow, HSAR needs your support to continue this vital community service.
For more information about HSAR, Paws on Parade or to volunteer, visit highsierraanimalrescue.org, call 832-4727 or e-mail [email protected].
Paws on Parade schedule
10 a.m.: Event and booths open
10 a.m. – 3 p.m.: Agility Course Demo every half-hour throughout day
10:30 a.m.: Dog Training Demo
11 a.m.: Flyball race
Noon: Walk to save homeless pets
12:30 p.m.: Flyball race
1 p.m.: Retrievers Ball at Mill Pond
1:30 p.m.: Dog Training Demo
2 p.m.: Flyball race
2:15 p.m.: Prize drawing
3 p.m.: Event close