Plumas Charter student wins breakaway at Corning rodeo
Taylorsville native Addie Tilton broke away from the competition for a win at the California High School Rodeo Association Battle for the Saddle rodeo in Corning earlier this month, earning her a chance to compete in the Challenge of Champions event in March.
She won the breakaway event with two identical runs of 4.43 seconds and placed second in the average in team roping, reported her mother, Veronica Tilton. This means Addie, along with her roping partner, Paden Prior, can move up to the Challenge of Champions rodeo set for March 15–17 in Plymouth.
Addie also holds the student secretary position for CHSRA's District 1.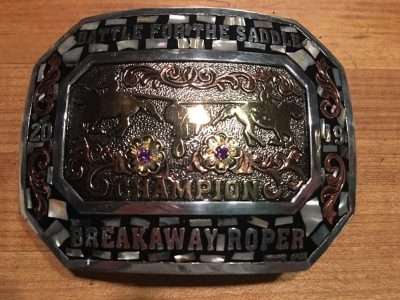 "Addie has been riding since she was a toddler and competed horseback in her first rodeo when she was 4 on a miniature horse named Taz," said Veronica. "She is the fifth generation of our family to live in Taylorsville, where our family has had a ranch since the 1920s."
Advertisement
Addie is currently a 10th-grader at Plumas Charter School's Indian Valley Academy, and she has just begun taking Feather River College classes as a co-enrolled high school student.
"Addie plans to study nursing and has the ultimate goal of being a labor and delivery nurse," said Veronica.
Veronica, who works as a teacher at IVA, said that the personalized learning approach PCS offers has been "instrumental" in Addie's equestrian skill development.
"PCS's flexibility has allowed our family to go to Arizona each winter for around a month where Addie gets the opportunity to rope daily and get instruction from professionals," said Veronica.
"She also can count her riding/practice time for her PE, which allows her to maximize her practice time. PCS has been super supportive any time she needs to miss class to travel to a rodeo."
PCS Executive Director Taletha Washburn said Addie's situation is a perfect example of how personalized learning can support students. "We are so proud to see our kids achieve their dreams, whatever they may be," said Washburn. "Personalized learning is all about doing what we can as teachers to help that happen."