Plumas Children's Council announces coloring contest winners
Plumas Children's Council is happy to announce the winners of its Holiday Coloring Contest. There were over 60 submissions and the council greatly appreciates all the kids who participated. Every child who submitted a drawing or coloring page will be mailed a $5 gift card for either Quincy Provisions/Carey Candy Co. or Dollar General (depending on where in Plumas County the child lives). The winners in each category will receive gift cards and additional age-appropriate prizes. The artists' managers (parents/guardians) of the winners will be contacted after Christmas to arrange for pick-up or delivery.
A few examples of the winning entries are attached. To see all of the winner's entries, go to: https://www.facebook.com/plumaschildren or http://www.plumaschildren.org/ .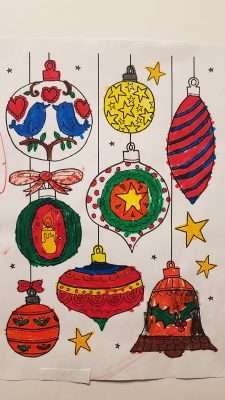 Age group 4 and under:
Best Coloring: Claire (2)
Age group 5-7:
Best Cookie Coloring: Allie (6)
Best Gingerbread House Coloring: Madelyn (6) – two pictures
Best Ornament Coloring: Josie (7) and Hugo (5
Best Tree Coloring: Louis (7) and Kasey (7)
Best Mickey Mouse Coloring: Auri (7)
Best Cat Coloring: Kat (7)
Best Freehand Drawing: Rylynn (7) and Lilyanne (7)
Age group 8-10:
Best Tree Coloring: Hannah (8)
Best Merry Christmas Coloring: Brayden (10)
Best Gingerbread House Coloring: Kendrick (10)
Best Ornament Coloring: Giles (9)
Best Freehand Drawing: Vayden (10) and Alicia (10)
Best Coloring: Jemma (11)
Best Freehand Drawing: Liam (11)
Age group 14+:
Best Coloring: Bri (14)
Best Freehand Drawing: Sarah (14) and McKynlee (14)