Portola celebrates 35 years of Railroad Days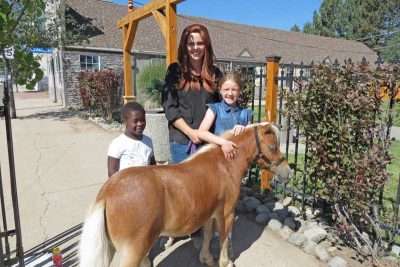 The 35th annual Railroad Days weekend kicked off on Friday, Aug. 25, with vendors arriving from near and far to set up shop in the Portola Park, along with a beverage booth by the Lost Sierra Chamber of Commerce serving drinks to those attending the final summer concert in the park featuring the Soul Persuaders.
Badges, Bandits and Bloomers, a western reenactment troupe, put on their first show of the evening to the laughter of many, while others enjoyed the ice cream social, which was complimentary due to the generosity of Leonard's Market and the Graeagle Lions Club.
Saturday dawned with a beating sun and clear skies as attendees trickled in to downtown Portola to check out the Tennis Jamboree put on by Sports Success, as well as placing chairs along the parade route, down Commercial Street, in preparation for the 35th annual Golden Spike Parade.
According to event organizer Patricia Ryan, this year's parade was very well attended and there were over 50 entries, with multiple people in each entry.
Care Flight started off the parade with a helicopter fly-over, tilting and nodding the craft toward attendees as the helicopter circled the parade route. A full motorcycle brigade, roaring and revving their engines, cruised the street to the cheers and whoops of bystanders, as Dan Gallagher of Nakoma Resort served as parade announcer. The 2017 Grand Marshal turned out to be none other than long time locomotive lover and train art aficionado Kenneth Roller.
The American Legion and VFW marched in the parade as well, earning many hands over hearts and some salutes from attendees as they proudly held their flags high against a brilliant blue sky.
A group of locals dressed to the nines in pink attire and shouting "Rah-Rah for Tatas" promoted Breast Cancer Awareness as candy was thrown to children lining the parade route eagerly holding out their hands.
Las Plumas 4-H had a float in the parade as well, and two goats marched along the parade route, evoking happy exclamations from the little ones watching. Beautiful Feet Dance Company glittered and shimmered as they danced their way along the route.
The parade wrapped up with a happy, hot crowd and according to Patricia Ryan, "We had a great turnout for the parade, but the heat seemed to drive a lot of people home fairly soon after the parade ended." Those that elected to stay and play were treated to free pool time at the Portola Community Pool, strolling magic shows by Bill the Magician and pedal car races near City Hall.
Parade organizer Rich McLaughlin helped cheer on little drivers during the pedal car races as they pedaled fast and furious around the temporary course, with parents cheering them on from a shady corner nearby.
Badges, Bandits and Bloomers put on another show following the parade, with a focus on gun safety. Actors explained to children that "Guns don't kill people, people kill people."
Bill the Magician performed his much-anticipated stage show, with assistance gladly given by kids and adults. His act concluded with a magical transformation of a stuffed rabbit in a cage into a real, live rabbit twitching its nose at the audience.
The young athletes of Sports Success put on a gymnastics exhibition for the crowd, with purple sparkles dazzling the crowd as the girls proceeded to tumble, cartwheel, leap and twist through a routine that the girls put together themselves, according to Sports Success Executive Director Susan Jacobson.
On the heels of the gymnastics exhibition came the Lucky Duck Race in the Feather River, with winner Bradfield's duck coming in first place earning a $300 prize, Melissa Klundby's duck came in second, winning a $100 prize and Jeff Perron's duck came in third place, earning the $50 prize.
Guitar Town then went on to entertain attendees with live acoustic/electric music, followed up by Blue Haven playing the blues late into the summer night.
Sunday started bright and early, with participants in the annual Willie Tate Memorial River Run lining up and stretching to prepare for the 5K/10K event, with more than 50 entrants ranging in age from 10 to 79. The event this year was dedicated to Garrett Powell.
The Willie Tate Memorial River Run winners are: 5K Women's winner Heather Wick took first with a time of 20:49:10, and Ryan Ress took first in the Men's 5K, with a time of 18:50. The 10K had Ramona Sanchez in first, with a time of 36:23:98, and in the 10K Men's race, Ray Bailey took first with a time of 50:42:15.
In a twist on tradition, there were two Rusty Spike awards given to the most veteran runners — 79-year-old Jay Headley and 79-year-old Joann Lamantia.
The Western Pacific Railroad Museum did indeed get one much anticipated Heritage engine up for viewing for the weekend, the Union Pacific 1982. According to WPRM volunteers, the weekend had been "slammed with visitors and train enthusiasts." The anticipated two Heritage engines that had initially been lined up for Railroad Days, incidentally, took an unplanned trip to Portland instead of Portola.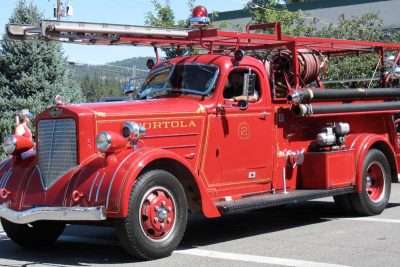 The Pancake Breakfast at the Park, offered by the Portola Volunteer Fire Department,  was lightly attended, with those at the tables enjoying watching the runners as they competed in the Willie Tate Run.
Badges, Bandits and Bloomers put on a final show on Sunday morning, a skit entitled, "Aces, a card game that goes real bad, real fast." Hilarity ensued as a card game went awry, pistols were pulled and "shots" were fired, ending with many thanks and deep bows to the audience.
"Overall, it may have been too hot, so numbers were a bit down, but we had some good, solid vendors who enjoyed coming, and we think it's been a good year," said Ryan. Those that attended the annual, local tradition expressed many of the same sentiments, with all looking forward to Railroad Days 2018.