Professional Artisans Cooperative offers arts and crafts show at Bidwell House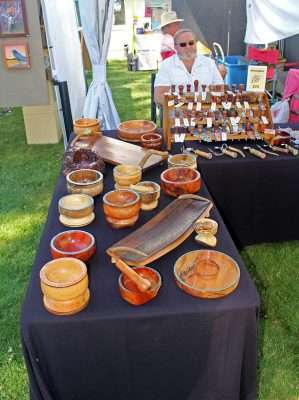 The biannual Bidwell House Fine Art & Craft Show, hosted by local and statewide members of the Professional Artisans Cooperative, was held in Chester on The Bidwell House lawn July 27 and 28.
Approximately 35 booths featured a variety of quality handcrafted products, including wood pieces, jewelry, leather goods, paintings, quilts, hand-forged iron garden tools and cooking utensils, mixed-media, ceramic pottery, unique handmade soaps, quality-sewn children's clothing, decorative and functional made-by-hand wood carvings and so much more.
Patrons enjoyed iced-coffee, bagel sandwiches and donuts provided by Blue Ox Coffee & Bagels of Westwood as they strolled the spaces between the tents of the arts and crafts event, while listening to acoustic music by the two-person band Sunday Iris, with musicians Dave Elke and Lisa Langley of Chico performing.
According to the co-op's website, "Professional Artisans Co-op events are held in Northern California where the scenery is as beautiful as the artwork on display," and is dedicated to "restoring and preserving the tradition of the art and craft show as a place where customers can go" to meet "a great selection of local and regional artisans."
As part of their stated mission, The Professional Artisans Cooperative work as a group to find venues and organize events where "the artists can display and sell their work, and to engage the communities in which the shows are held in ways that will benefit their residents."
The Bidwell House Fine Art & Craft Show has grown to over 200 members, and hosts "seven of the best art and craft shows in Northern California." The nonprofit said it "is committed to promoting the arts."
  The next crafts show by the Professional Artisans Cooperative is scheduled Saturday, Aug. 10, and Sunday, Aug. 11, again on the grounds of the Bidwell House Bed & Breakfast Inn in Chester.