Proposed student-run FRC coffee bistro business met with interest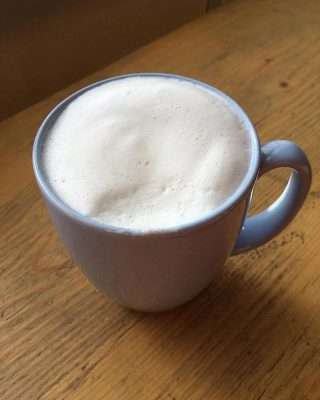 Feather River College Trustee Trent Saxton likes a really good cup of coffee and he's betting that students and staff on the Quincy campus do, too.
Meeting recently with college administrators and his fellow trustees on the FRC Board of Trustees, he put forth a proposal to create a student-run, espresso-based coffee bistro that could be located within the Eagle's Perch, FRC's café.
"My plan is simple. I'd like to see this tied into our business courses," Saxton told the board and his proposal suggested the coffee business could be run under the tutelage of FRC Chef Sean Conry.
The fledgling bistro might be named The Eagle's Perk, would operate during campus daytime hours, and be run "in a business-like manner." The proposal stated minimum wage would be paid, students could keep their tips, and any profits would pay the student salaries as well as help support the student union.
Advertisement
Saxton has expressed a strong interest in vocational education, job training and prioritizing helping students to graduate job-ready with opportunities for good careers ahead of them.
His vision for the coffee bistro includes students learning to run their own business operations, how to acquire business machines and perform the necessary ordering and inventory tasks. Saxton outlined a plan that would include learning to brew coffee and tea and much more.
He foresees educating students about unit cost, overhead, equipment maintenance, keeping books, scheduling employee hours, understanding advertising costs, ways to reduce waste generated by the business and how to deliver a quality service.
"These lessons would apply to any business they strive to work for (or establish) in the future," Saxton explained. "What we need is equipment and I have people willing to sell us equipment at cost."
Saxton is a local businessman who lives in the Portola-Lake Davis area, but he serves as a representative to the FRC board on behalf of the county at large.
He described his plan as a proposal that would benefit the whole campus and perhaps reach further.
His briefing document stated he believes FRC could sell its coffee and tea drinks at lower, competitive prices than those in the private sector while also boosting patronage of the Eagle's Perch Café.
Saxton has already arranged coffee vendors locally where FRC can acquire organic coffee at cost and he suggested the college might receive a donated espresso machine to lower startup costs. Paper products and coffee at wholesale prices were also supplies he has investigated to support the proposed business.
In addition, the trustee's statement indicated The Coffee Tree Express in Portola has offered to train the student-barista staffers and sell FRC coffee beans at $8.75 lb.
The board members and administrators listened to Saxton's presentation with interest, but took no formal action as no vote was needed.
FRC President Superintendent Kevin Trutna, Ph.D. spoke about the board's role on policy issues and since the proposal did not fall into that category of responsibilities, he outlined an action plan for the administration to return with a business plan or report at a future trustee meeting.
The board asked FRC Student Trustee Gracie Yates what she thought about the Eagle's Perk idea.
"I agree, it would be nice to have on campus," Yates said, adding that she wasn't sure what the economic impact might be in Quincy. "I think students' current needs for caffeine are being met downtown."